On Sunday I threw together a soup using a bunch of stuff from my cupboards.  It wasn't supposed to be a soup originally but I changed my mind mid recipe.  It was seriously good and easy.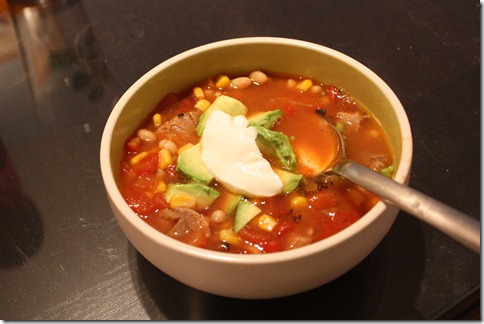 Ingredients:
-Tri Tip
-1 TBSP Paprika
-2 TBSP Montreal Steak Seasoning
-S+P
-1 Box Chicken Broth
-2 Cans of Navy Beans, drained
-1 Can Chopped Tomatoes with Roasted Garlic
-1 Can No-Salt Corn
I took a big hunk of tri tip that I had in my freezer from Lu's birthday party-probably around 1.5 pounds and put that into the crock pot frozen.  I topped it with the seasonings and a little chicken broth.  Cook on low for 4 hours. 
I added the rest of the ingredients (including all the broth) and cooked on low for an additional 2 hours.  I had envisioned the meat shredding but that didn't happen.  So I took it out and that end and sliced thin pieces of meat (like Carne Asada) and added it back to the soup.  I think the sliced beef ended up much better than shredded beef would have been.
I topped mine with Fage and Avocado.  Shaun got Sour Cream, Avocado, and Cheese on his.  I think it would have been great with some corn chips too.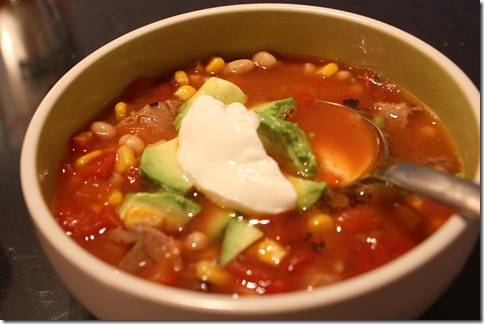 Lucy gave it a "mmmm-mmmm-mmm-mmm" and Shaun gave it 3 stars-big praise from a man who claims to "HATE soup".
Category: Recipes | Tags: crock pot, recipe 3 comments »