Tonight the plan was to make salmon casserole inspired by this recipe.  When I got home it turned out that I didn't have 2 cans of salmon like I thought and so I had to get creative.  I came up with this: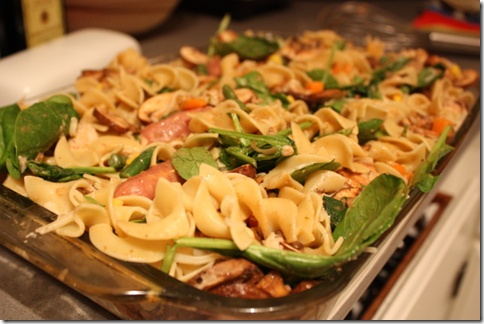 Ingredients:
1 can salmon
1 package mini apple and chicken sausages
1 package frozen veggies (carrots, peas, and green beans)
1 package chopped mushrooms
3-4 handfuls of spinach
1/2 cup of low skim mozzarella cheese
1 TBSP of vegan butter
2 TBSP whole wheat flour
1.5 cups chicken broth
1 package egg noodles
3 tsp paprika
2 tsp Tony's Seasoning
S+P to taste
Instructions:
Preheat oven to 350*. Boil water for noodles and cook according to package. 
While the noodles cook, melt the "butter" and add the flour and stir until a roux is made (kinda like a paste).  Slowly add the chicken broth while whisking.  It will thicken.  Add to that the seasonings.  SIDENOTE: Whenever a recipe calls for cream of anything soup, I do this instead.  It's MUCH healthier and gives you a similar result-plus no dairy!
Add to that the frozen veggies and mushrooms.
In a casserole pan add the salmon and sausages and the spinach.  When the noodles are done, add them to the casserole dish and add the veggie/chicken broth mix.  Mix it up well and add the cheese (I find that a little cheese helps casseroles and I can handle a little bit of part skim mozzarella-it's fine without).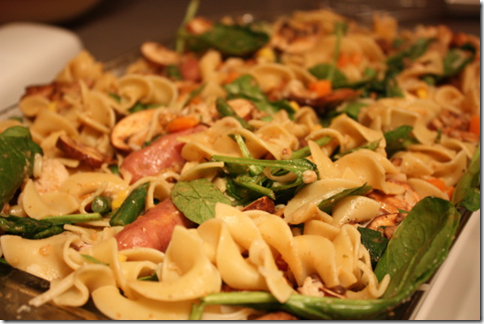 Cover with foil and cook for 20-30 minutes or until spinach is wilted and cheese is melted.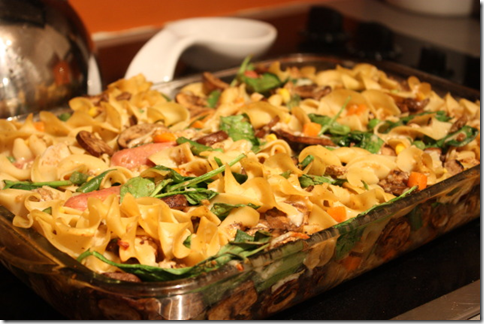 I cherry picked so that I had more spinach.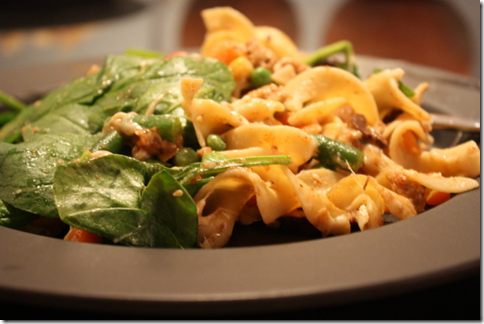 Lu liked it.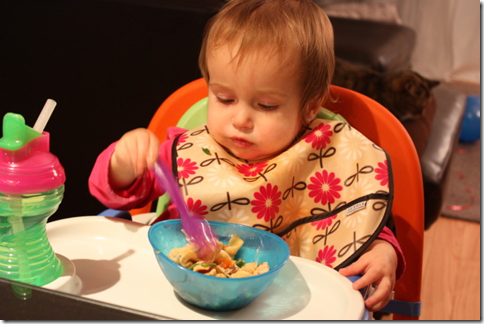 But not as much as she likes cookies.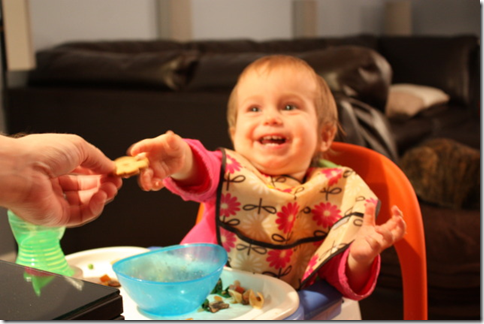 Shaun gave it 3 stars 🙂
Really you can throw almost anything together like this and it'll work.  You just need a starch (noodles, rice, potatoes), veggies, protein, and either cream of something soup or a roux. Voila dinner is served!
Category: Recipes 2 comments »