Last night was the big Thanksgiving shopping trip.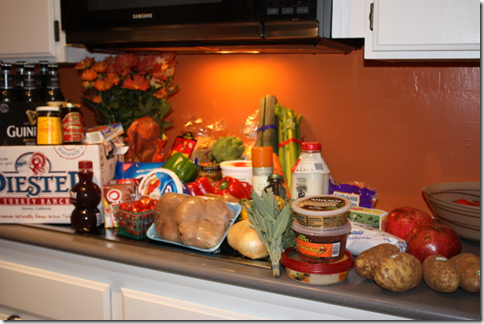 On the menu?
Pre-Dinner:
-Vegetable Crudités with 2 kinds of hummus
-Chips, Salsa and Guac (at Shaun's request)
–Artichokes in the Crock Pot
Dinner:
-Pomegranate-Glazed Roast Turkey
-Green Beans with Roasted Chestnuts
-Coconut-Cardamom Sweet Potatoes (I'm SO excited about these!)
-Mashed Tators for my hubby
-Turkey Gravy
-Mushroom and Leek Stuffing
-Cranberry Sauce with Apples and Ginger
Dessert:
-"Clean" Molten Lava Cakes
-Fruit Tarts
-Oreo Pudding Pie for my hubby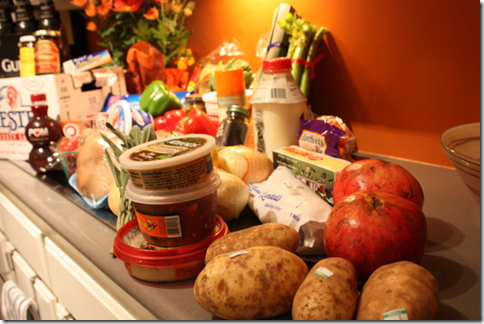 If the menu looks familiar it's because we're using Clean Eating Magazine's Holiday Feast almost entirely with a few tweaks.  Richard and Elaina are coming over and Elaina and I are going to do all the cooking.  This will be our third Thanksgiving together and it's always wonderful.
I'm a little sad that I won't be making my grandma's corn bread stuffing.  I could probably do it "clean" using honey in the cornbread and then using whole wheat bread instead of white bread. Hmmmm…maybe if I REALLY miss it tomorrow I'll make a small batch this weekend and send all the Mushroom and Leek Stuffing home with Elaina.
Doesn't that Cool Whip look out of place?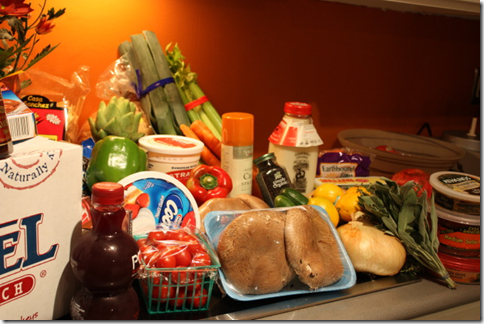 I asked Shaun what Thanksgiving dessert he couldn't live without and he said "Oreo Pudding Pie".  I USUALLY make Oreo Pudding Pie for his birthday but since Lu was so sick this year it didn't happen.  So he'll get his Oreo Pudding Pie after all.
Here's the fridge packed to the gills: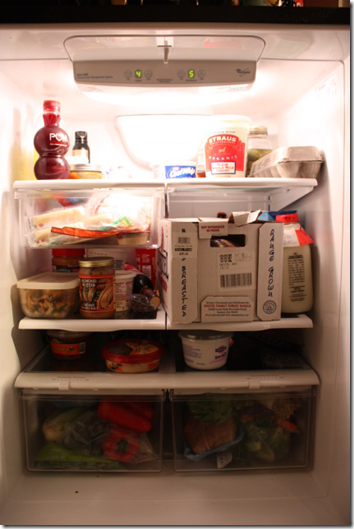 I tried out a new local market for my shopping and I think I may be making a switch.  It's similar to Whole Paycheck but it's overall cheaper!  My organic, free-range turkey was $1/pound less than it would have been at Whole Paycheck.  Their organic produce selection isn't quite as good BUT their local selection is phenomenal.  They also have everyday things like zip lock, Oreos (not that I buy these all that often), normal brand shampoo, you know, all the things that I have to make a second trip for because Whole Paycheck doesn't have them.  I'll need to do a non-Thanksgiving trip there to really determine if I'm making the switch permanently.
On a completely unrelated topic.  Last night I heard Shaun and Lucy pull into the garage but it was taking them forever to get to the door.  I opened the door to find this (sorry for the blurriness):
Lu wanted to walk and Daddy let her.  It looks like I have a WALKER and a TALKER!
I can't believe there's only 5 more days of this! Today I decided to not be as serious and to be grateful for POMEGRANATES!  Oh how I love thee!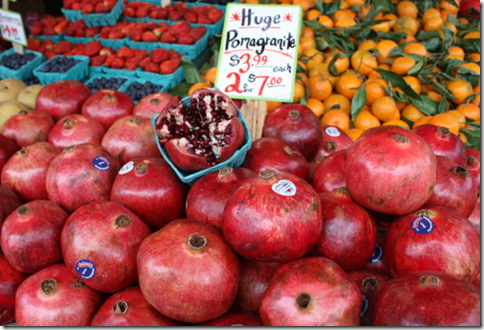 (love how they misspelled it on the sign!)
Category: Uncategorized 4 comments »