Over 100 pictures were taken yesterday!  I sat down to write a post last night and it took almost an hour for my pictures to upload.  I have no clue why it took so long but it did so I'm posting today instead.
Yesterday was FABULOUS!  I did hit a few snags but I improvised and it turned out perfectly. 
The first snag was my table cloth.  I got a new table between last year and this year and I didn't think that I'd need a new table cloth. I was WRONG.  I ended up using a white bed sheet as a base and my table cloth on top.  It was a TON of ironing but oh well.  I had a pretty table!  All that ironing made me late but again OH WELL!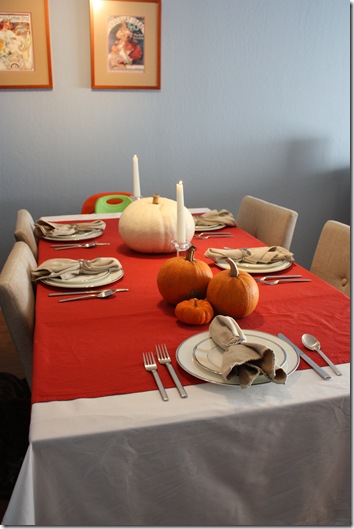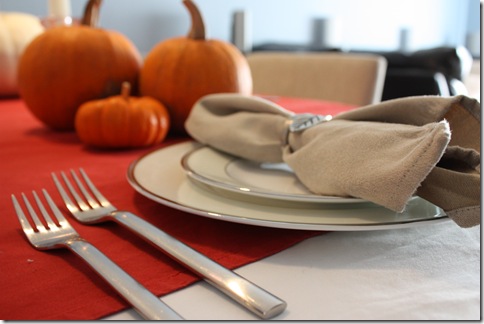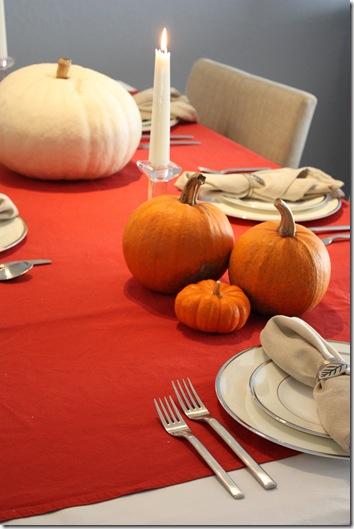 I got to use my nice china-it's so pretty!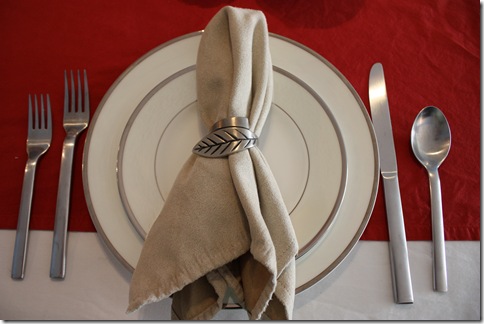 For appetizers we had chips and salsa: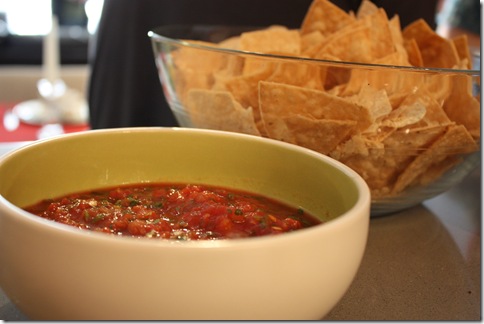 and guac: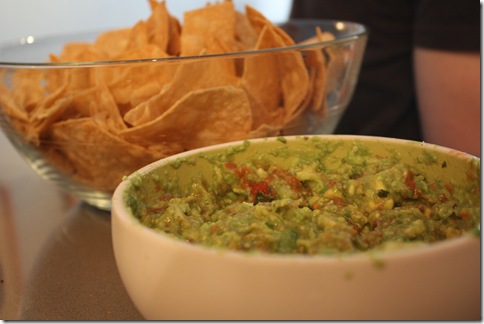 I also did crudités with hummus and olives: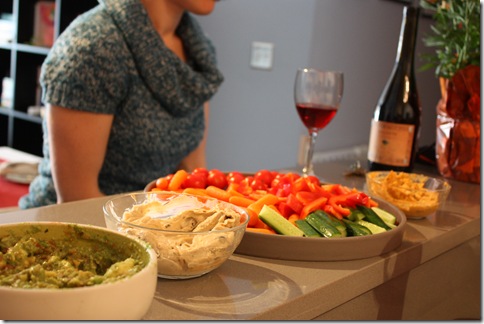 And, lastly, artichokes: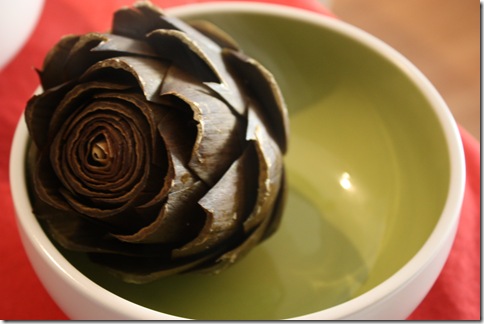 Elaina and I basically shared cooking responsibilities (I did appetizers, the bird, stuffing, gravy, and mashed potatoes. She did the sweet potatoes, green beans, cranberry relish, and dessert).  We shared the kitchen well 🙂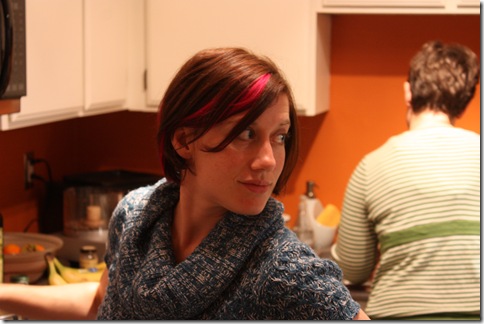 While dinner cooked, Lu and Brea (Richard and Elaina's child…I mean dog) hung out: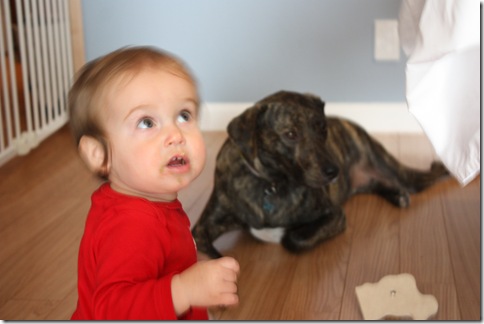 Love this one: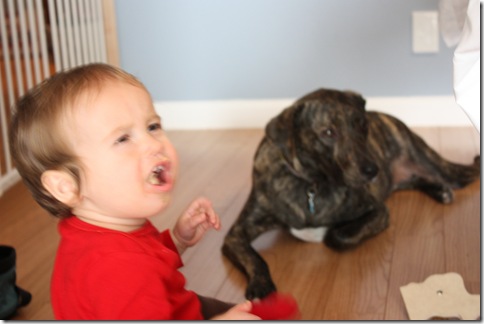 Lu then had a costume change!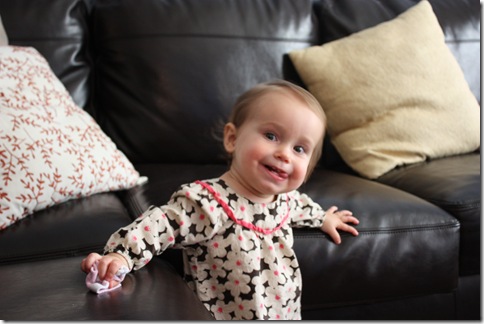 The food was finally ready and waiting to be plated: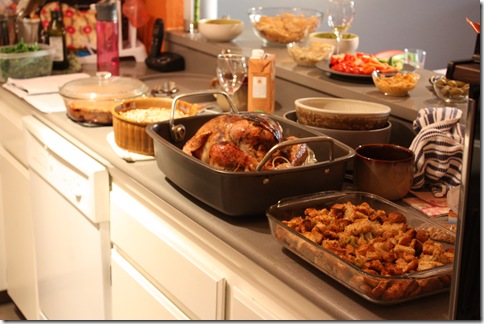 The bird: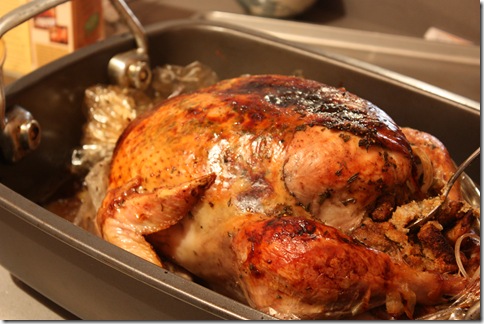 Lu was HONGRY! (Nevermind the pound of guacamole and crudités she ate)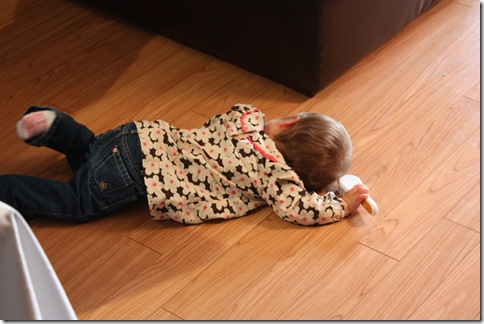 (My child is actually pretty well behaved but she IS 14 months old. Fits kinda come with the territory)
Brea pouted because Auntie Chelsea didn't give her any turkey: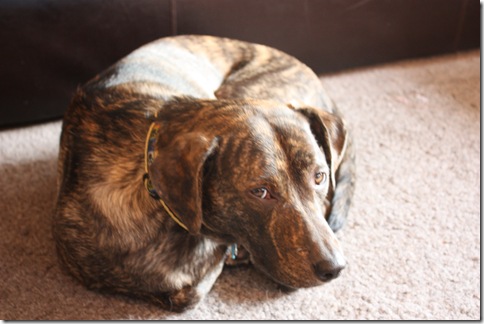 Dinner is served!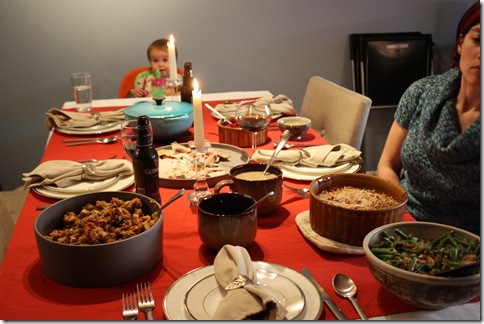 Lu LOVED Mommy's cornbread stuffing (I decided to make it):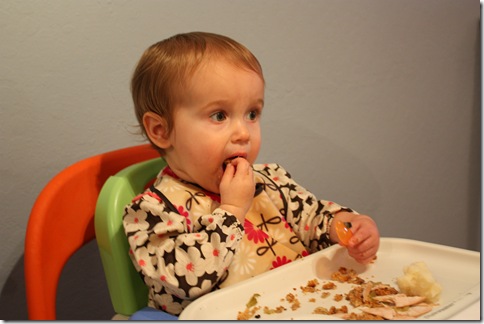 It was all DELISH!  I highly recommend the pomegranate glaze on the turkey and the coconut cardamom sweet potatoes-I think I would omit the cayenne pepper from that recipe though. I don't know the protocol for posting recipes from magazines.  Is it a big no-no?
I stopped eating before I was full because I knew we had desserts.
Peach and Berry Cobbler (clean and SOOOOOO GOOD):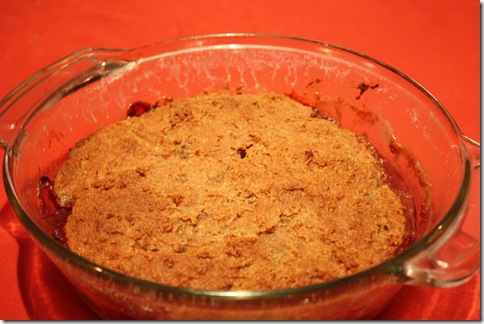 "Clean" Molten Lava Chocolate Cake that I didn't get a picture of.
And, my "famous" Oreo Pudding Pie: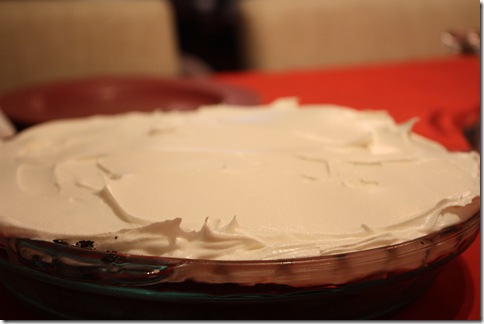 I had a bite of that.  Shaun claims that I could win a contest with that pie-I highly doubt it.  All it is is Oreo cookie crust (which they no longer sell and I have to make-Oreos crushed mixed with melted butter pressed into a pan and baked for 10 minutes), chocolate instant pudding, and Cool Whip.
Lu wanted nothing to do with it, but she did manage to get it ALL OVER (notice the back of the chair):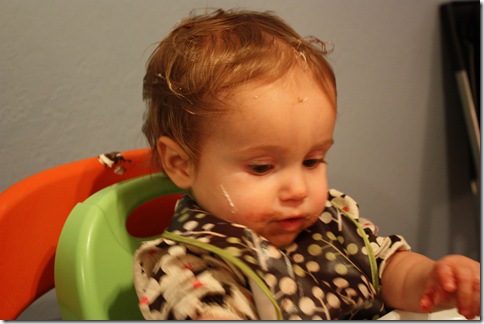 And, in her hair: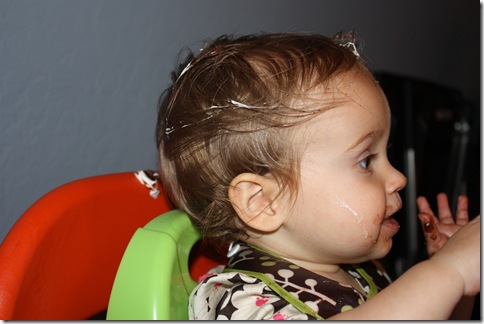 Lu was one tired girl by the end of the night and we couldn't even get a smile out of her for a family picture: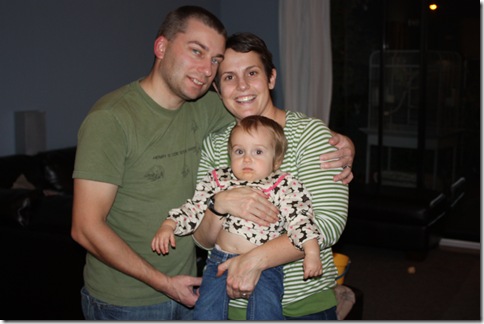 Richard and Elaina took home some leftovers and we were left with the perfect amount: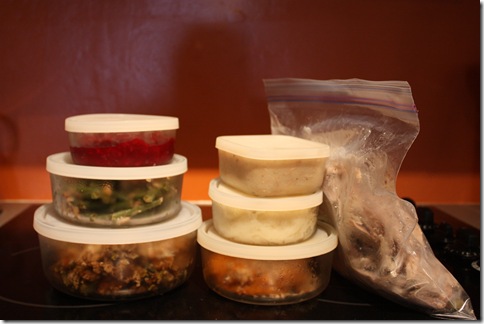 The turkey carcass went right into a pot of water and I plan to make turkey soup tomorrow.
Look at all the dishes my sweet hubby did!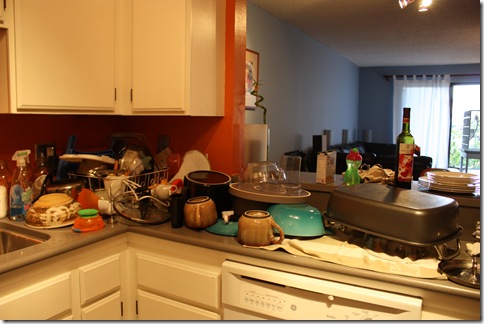 And finally-it's time for Christmas!  Lu got her Christmas jammies tonight: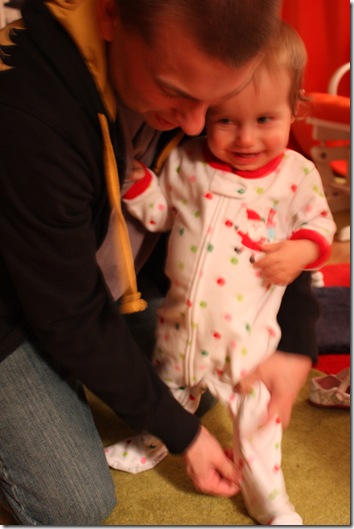 Today I'm thankful for hot showers!  Sometimes there is really nothing better!
Category: Uncategorized 6 comments »