My goal last night was to get in bed by 9:30.  That SO didn't happen.  I got done folding laundry (I DID do it) and I wanted a pomegranate and I wanted to hang out with my hubby.  So we watched a tivo'd Survivor and then we headed to bed.  I didn't get to bed until 10:30 and I fell asleep at 11.  When the alarm went off at 5:30 this morning I could NOT do it.  I slept in. 🙁 The plan is to go out at lunch for a walk and maybe I'll do something tonight.  I WILL get in bed by 9:30 tonight and hopefully fall asleep by 10.
Speaking of laundry, here's Shaun's pile: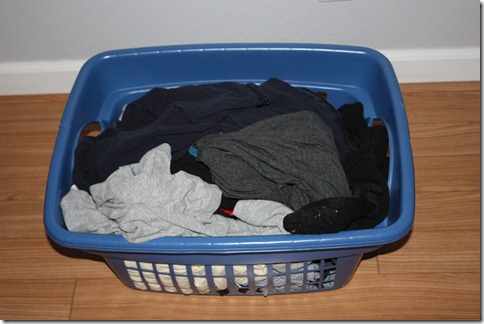 Lucky guy.
Last night I did decorate our tree.  It turns out our living tree from last year was half dead :(  I guess you're supposed to plant those things, not keep them in their container and so we decided to get a tree from Home Depot.  A cut one.  It seems so wasteful but it's not anymore wasteful than my half dead one in a container. 
Here's Lu with our tree at the lot: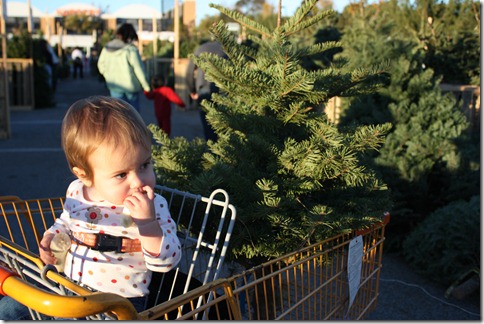 She's much more interested in her nanner.
Our tree was so little it fit standing up in the back of the Element: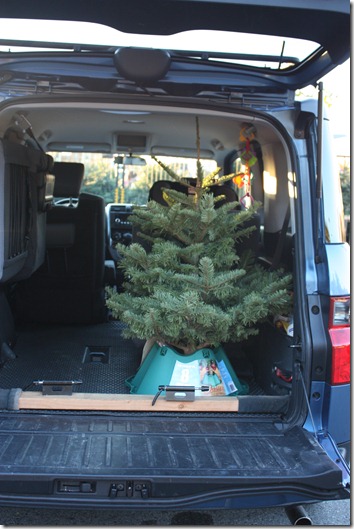 It's so cute though!  We don't have room in our condo for a full sized tree, so we put it up on a table.  Here she is all decorated: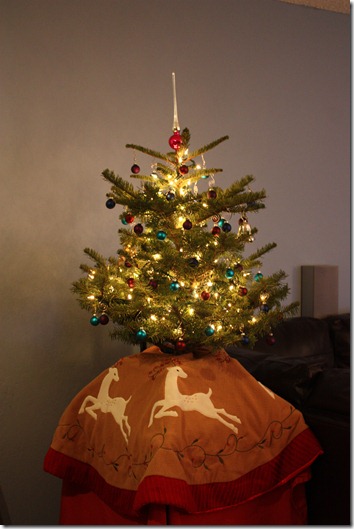 Here's Lucy's 2009 ornament: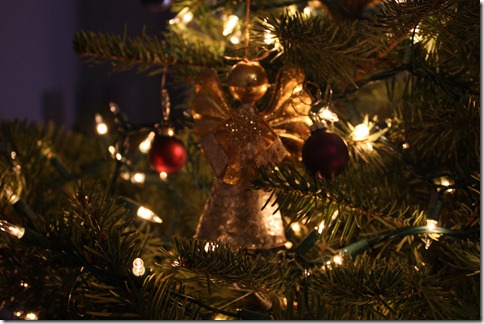 Her name and the year are on the back.  My Mom has a great tradition of getting us an ornament every year.  The idea is that once we have our own house we would get all the ornaments.  My Mom kinda likes to hold on to things though, so she still has all of our ornaments and still gets us one every year.  I love the idea though and it's a tradition that I gladly started with Lucy.  Here's her ornament from last year: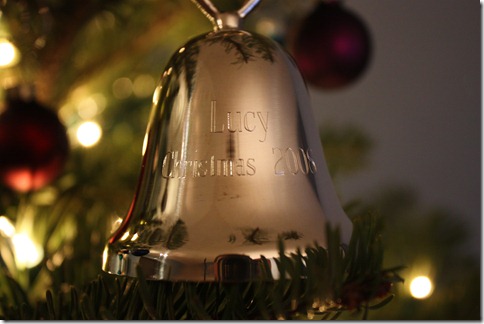 I spent a little bit more on her first ornament ever 😉
Yesterday we finally went on our Thanksgiving hike.  It was beautiful!  Shaun took us to Waterdog.  It's where he mountain bikes when he needs a short ride.  Most week's in the summer he goes to Waterdog at least once after work.  I had never been but it is really neat.  It's a preserve right in the middle of a bunch of houses.  It's about 15 minutes away and really beautiful.
Lucy LOVED it.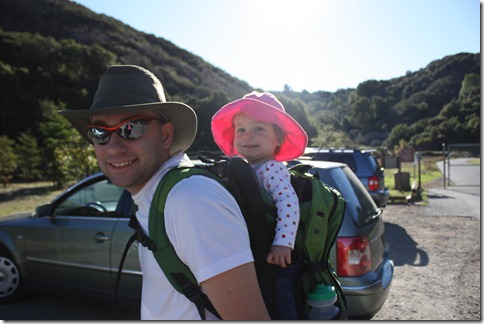 Here's the start of the hike, the pavement ended very shortly: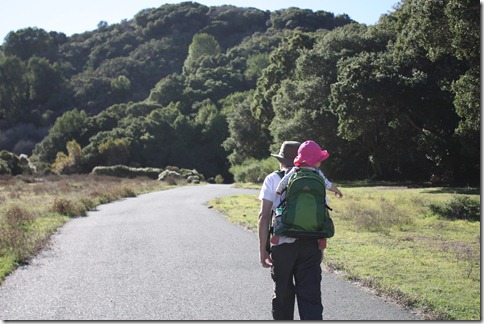 Up on a ramp: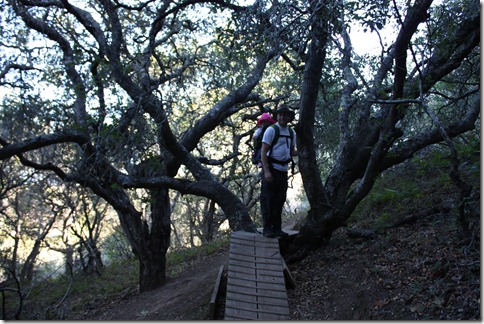 Views!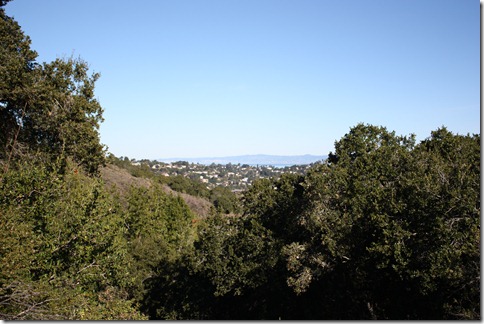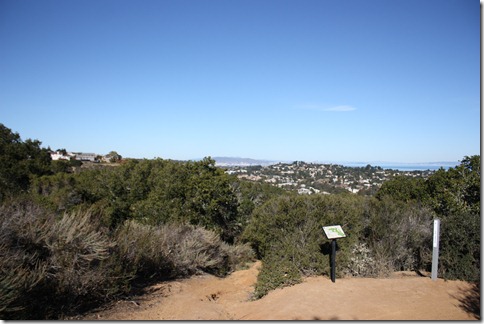 See the houses right in the middle of the picture. It must be hard having a preserve as your backyard!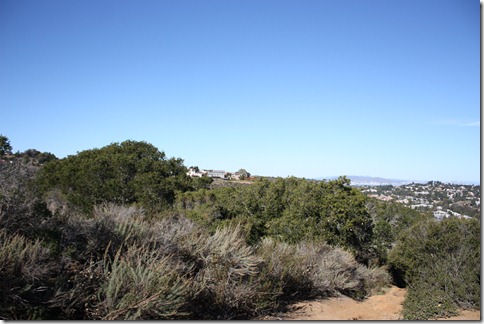 Our car! (If you look really hard you can see it right in the middle of the pic)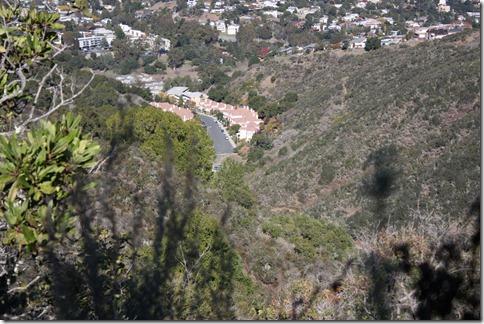 Some manzanita: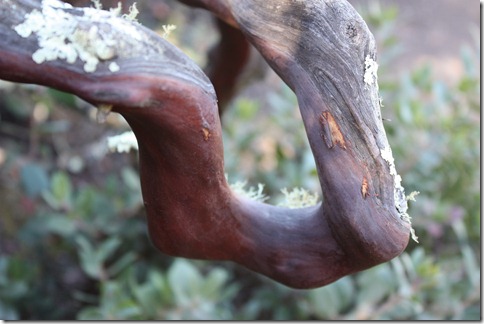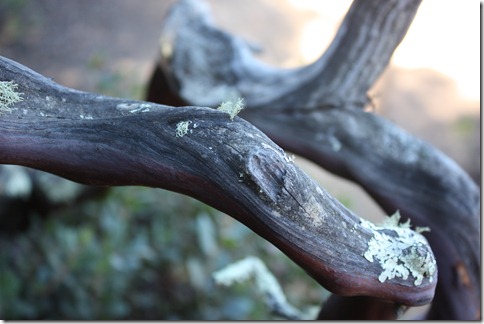 Manzanita is a really cool tree/bush.  It's one of the hardest woods in the world and it feels cool to the touch-actually kind of cold.  Our birds perches are made out of manzanita because it's so hard. Plus it's pretty!
Yesterday was a FABULOUS day!  In addition to the hike, folding, and tree decorating, we FINALLY got the bird's cage clean.  That's been on my to do list for almost a year.  We clean her cage weekly but a deep clean is needed once every few months.  Unfortunately Zulli (our bird) has had a hard time adjusting to Lucy.  She used to come out of her cage multiple times a day and now we're lucky if she comes out once a week :(  Yesterday we were determined to get her cage clean even if it meant I needed a few bites.  She did come out and only bit me once.  We just need to force her out of her cage everyday and then make that experience fun-yesterday Mommy cuddled and preened her.  I think if we do that we'll have our sweet birdie back.
Okay, I have a ton of work to do today.  Ciao!
Today is my last day!  I am thankful that I decided to post something I'm thankful about everyday in the month of November.  I did it everyday on Facebook and it was really a great experience.  I'm glad that it was one of those viral things that spread on Facebook and that I decided to partake!
Category: Uncategorized 6 comments »