November 19th, 2009 — 9:41am
…is croup!  I cannot stop coughing and feel pretty icky.  In adults, croup is more like bronchitis and man do I have it :(  I took Benadryl before bed last night and I slept really well, so that's good!
We went to the So You Think You Can Dance live tour last night.  It was fun!  I didn't bring my camera because I didn't want them to take it away.  It turns out I could have had it but oh well.  I did get one blurry iPhone picture of Shaun and I at dinner: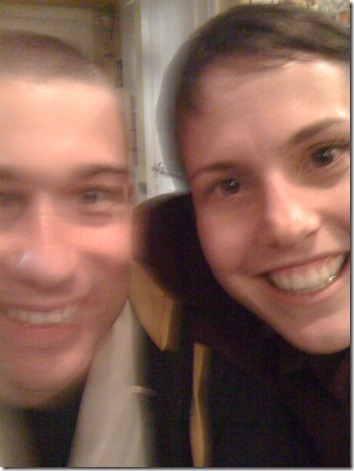 It was REALLY fun.  The shrieking squealing girls made us laugh so hard that I had tears running down my face.  It was hilarious and  was a window into the world we'll be joining soon with Lu. Unfortunately, Philip was hurt so we didn't get to see him dance but everyone was SO impressive.  I think Brandon and Kayla were the MOST impressive to me.  Brandon's solo was A.MAZE.ING and Kayla danced so many times that I was in awe.
Last night was a big night for us.  It was the first time that Lu was put to sleep by someone other than Mommy or Daddy.  She did GREAT!  Auntie Laina said she was a breeze and they had fun.  I kept getting text updates and pictures. I even got blurry iPhone picture updates: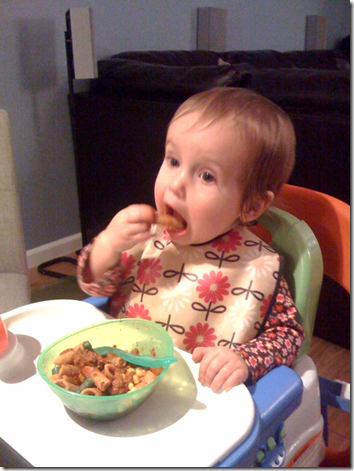 She ate her dinner, told Auntie Laina when she was "All Done" (she didn't throw her food on the floor but actually signed "All Done"!), and she ate 3 cookies and refused the fourth!  She went right down to sleep and even reminded Auntie Laina to close the curtains.  *sigh* I love that girl.
Tonight, we're having leftovers (happy birthday to me!) and I'm going to can my pumpkin butter and pack.  Lu gave the pumpkin butter 2 thumbs up.  She ate 2 pieces of Ezekiel bread with almond butter and pumpkin butter last night before I left.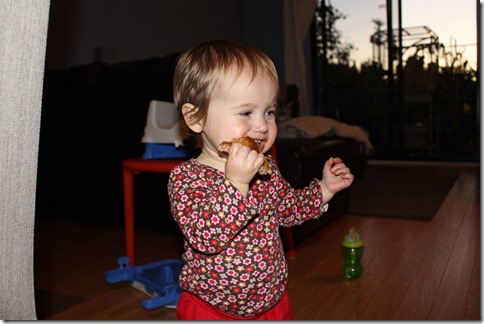 She REALLY liked it.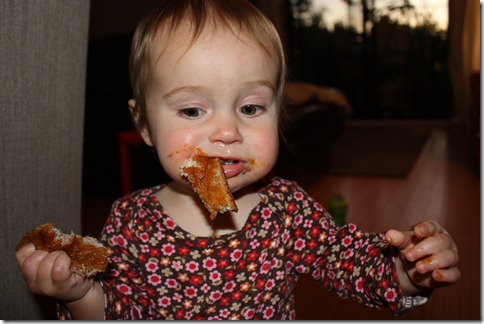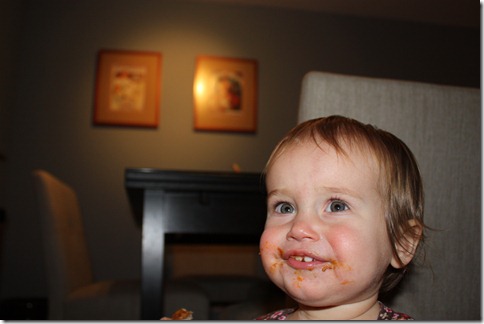 Elaina tried it too and said that she'd better get some.  So now I feel confident posting my recipe.  The hope is to get it up tonight!  We'll see though.  I do have to pack as well…
I did get a present from Lu yesterday.  It was supposed to be for Thanksgiving but I'll think of it as an early birthday present 😉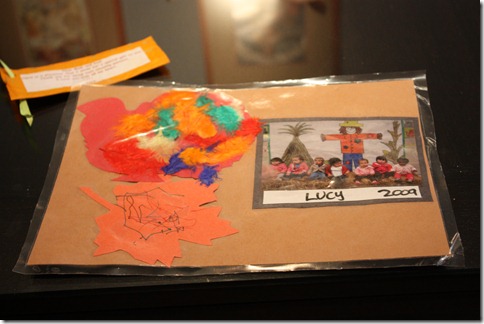 It's a placemat that she made.  She glued the feathers on the turkey and colored the leaf.  She's the third kid from the right in the picture (and the only one looking at the camera!).
It came with this sweet note: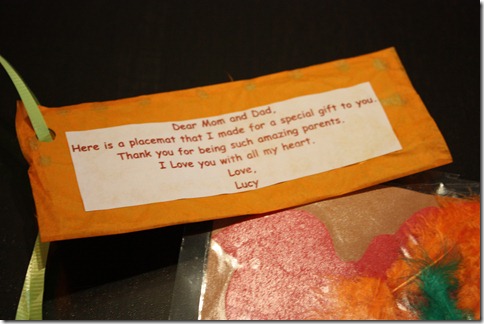 My daycare is GOOD 🙂
With that, I should go.  I've got a TON of work to do today.  BOO!
Gratitude
Today I'm grateful for my parents.  Without them, I wouldn't be here!  I'm also grateful for my friends.  I've gotten SO many birthday wishes already an it makes me feel really loved.  Thank you!