Finally right? It was worth the wait!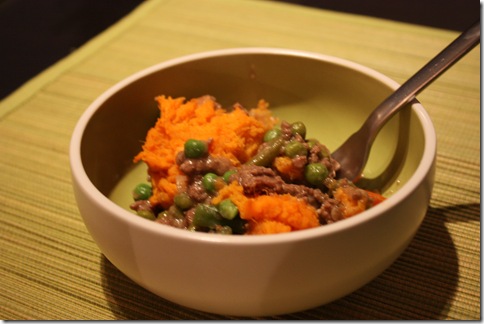 Ingredients:
-1 lb leanest ground beef
-2 tsp olive oil
-1/2 onion chopped
-4 cloves of garlic chopped
-1 carrot chopped
-~1/2 lb of green beans trimmed and chopped
-2 cups frozen peas
-Worchester Sauce
-1/2 tsp fresh chopped rosemary
-1/2 tsp fresh thyme de-stemmed
–Tony's Seasoning to taste
-S+P to taste
-1 bouillon cube + 2 cups of water or 2 cups of stock
-Flour to thicken
-Mashed sweet potatoes and/or mashed white potatoes
Instructions:
-Preheat the oven to 350*
-Over medium high heat sauté onions and garlic in olive oil. Once translucent, add meat and brown.  Once meat is browned, drain.
-Add carrots and sauté for about 2 minutes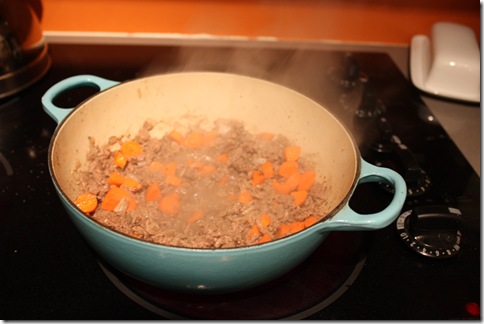 -Once carrots start to cook, add green beans and cook for about 5 minutes.  Add all spices.
-If using bouillon, add water and bring to a boil.  Once water is boiling, add cube. If using stock, add and bring to a boil.
-Once bouillon is fully mixed in or stock is boiling, add flour (I like to use whole wheat) and mix (trying not to get any clumps of flour) until you reach a gravy like consistency. 
-Add peas.
-If using a pan that can transfer straight to the oven, top with mashed potatoes.  If not using a pan that can transfer, transfer meat/veggie mixture to a casserole and top with mashed potatoes.
I used frozen mashed potatoes from TJ's for Shaun and I mashed my own sweet potatoes for me.  Next time I would prepare the frozen potatoes per the package and then put them on top.  I thought the little balls would melt down, and the really didn't.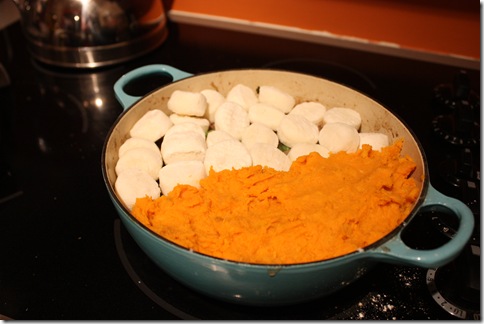 -Place in the oven and cook for 30 minutes.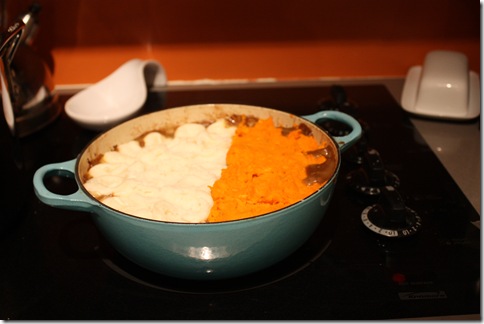 -Serve and ENJOY!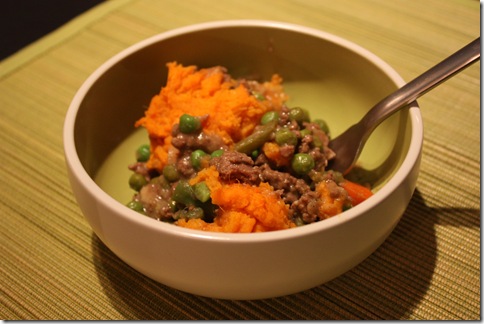 Shaun gave it 3.5 stars and I give it 4.5-I REALLY liked it.  Lucy ate an entire serving (what you see above). She LOVED it.
Category: Recipes One comment »