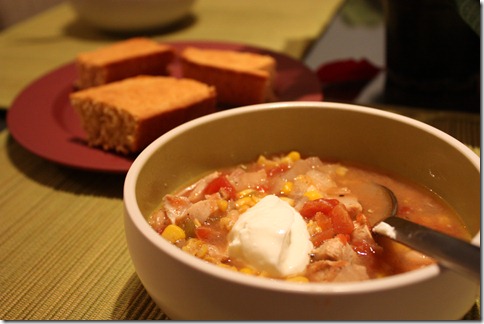 This was a yummy creation that I created yesterday.
Ingredients:
-1.5 pounds chicken breast
-1 small onion chopped
-2 cans of chopped tomatoes with chilies
-2 cans of great northern beans, rinsed well
-1 can of whole kernel corn
-1 can of creamed corn
-1 cup chicken stock
-1/2 a bottle of beer
-Juice of 1 lime
-2 tsp cumin
-1 tsp chili powder
-1 tsp garlic powder
-1 1/2 tsp salt (use less if you didn't use low sodium/no sodium above ingredients)
For Garnish:
-Plain Yogurt
-Cheese
-Hot Sauce
Instructions:
Dump all the ingredients into a crock pot and stir.  Cook for 4 hours on high or 6-8 hours on low. Shred/cut chicken up before serving. Enjoy!
Shaun's: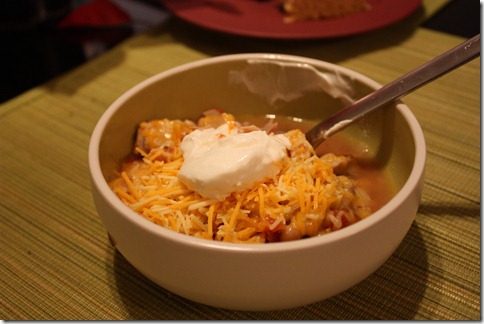 This was fantastic last night (I gave it 3.5 stars) but even better for lunch today.  Sooooooo good! Up to 4 stars the day after.  Shaun doesn't like chicken or soupy type things and he gave this 2.5 stars.  His comments, "It was pretty good, but chili isn't really my thing.  For chili, it was good."
I served it with corn bread that I used tonight in my Turkey and Stuffing Bombs.  Recipe tomorrow!
Category: Recipes 11 comments »