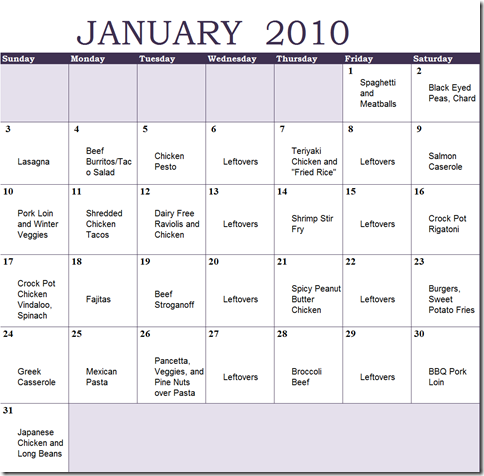 Category: Menus 5 comments »
5 Comments
you are so freaking organizing it makes me sick haha!

Wow–meal planning, what a novel idea! I'm hungry now. Who am I kidding, I'm always hungry.

I showed you some love on my blog! http://www.thecleaneatingmama.com/2010/01/what-nice-surprise.html

how do you pick what you're making and when? i buy based on sale prices (we're a meat-heavy family). my standby for days it's tough to cook is a big pot of beefaroni (or chicken-roni, or tomato-roni) that i make once a week, then when i have time during the week, i usually make the main course, like baked chicken or a roast, and mike's in charge of the sides. also, does shaun eat a lot of veggies?

Stephanie-I try to designate certain days as a type of food. So Monday=Mexican, Tuesday=Italian or whatever I feel that month. I don't buy based on sales BUT if I go to Costco, I stock up onmeat and just stick it in the freezer. Weekends are more labor intensive recipes.

I get NO help in the kitchen other than clean up.

As for veggies, I'd say Shaun is a moderate eater of veggies. He eats them but you'll never see him eat a salad AND every meal has to have meat.