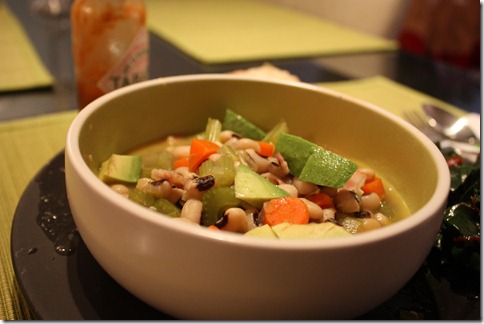 Ingredients:
-6 ounces of bacon (6 pieces)
-1 onion, chopped
-10 cloves of garlic, chopped
-1 medium leek, finely chopped-whites and light green part
-2 cups chopped celery, including leaves
-3 carrots, chopped
-48 ounces of chicken broth
-~20 ounces of black eyed peas, soaked overnight
-S+P to taste
-Tabasco for garnish (optional)
-Avocado for garnish (optional)
Instructions:
-Cut up bacon and brown over medium heat (I used my kitchen scissors and the worked perfectly).
-Add onions, garlic, leek, celery, and carrots and sauté until carrots are tender.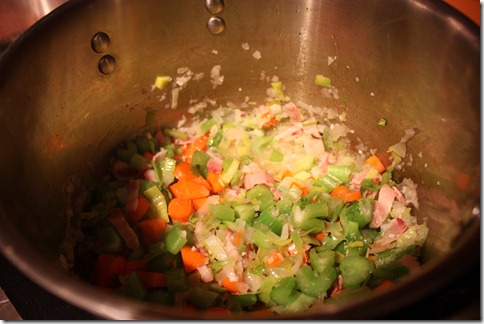 -Add broth, turn heat to HIGH and bring to a boil.
-Once broth is boiling, add peas, and cook for 15-20 minutes, or until tender.
-Add S+P to taste.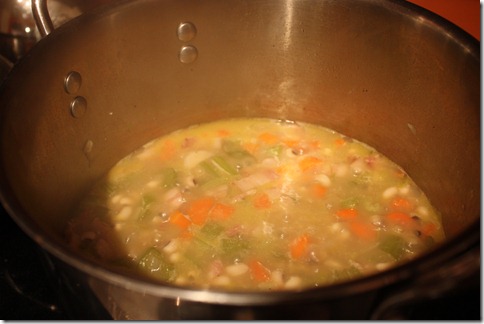 -Enjoy!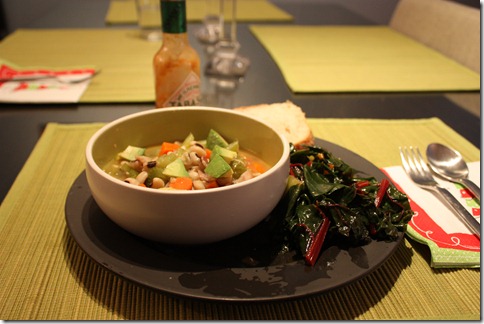 Can't do without the Tabasco!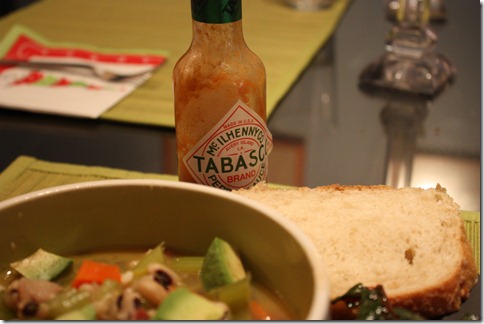 I know that avocado doesn't seem to go, but I had cut up an avocado earlier for Lu's snack and it was a GOOD avocado (Go Costco!), I added it and it was a nice touch. Parm would be good on this too.
Shaun gave it a 3 and said "This is GREAT!!! <5 second pause> …for soup".  I loved it.  Lu only liked the carrots.  She kept trying the peas, making a funny face and spitting them out.
Good Luck!
And for an added good luck bonus, I made some chard.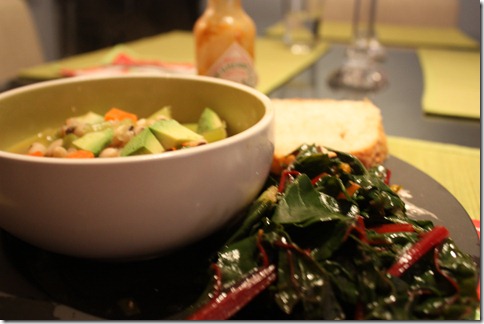 I simply sautéed it in chicken broth and when it was done I added some dark agave nectar (about 1 tsp for an entire bunch of chard) and tossed to coat. YOM.
Category: Gluten Free, Recipes 2 comments »