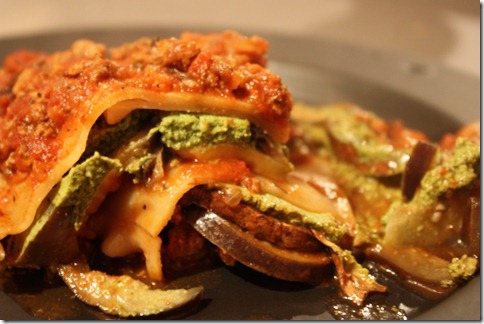 Now you may look at that and say "Hey, there's meat in the sauce!" Why yes, there is meat in the sauce but that's only so Shaun would eat it.  Everything else is meat, dairy, and egg free. No meat needed and STILL packed with protein! The meat added nothing to this dish other than Shaun eatability.
Ingredients:
-1/2 package whole wheat, no egg, lasagna noodles
-~20 ounces of marinara sauce
-1 bunch of parsley, de-stemmed
-3 cups baby spinach
-14 ounces of firm tofu
-1/4 cup vegetable broth
-2 tsp dried oregano
-2 tsp garlic powder
-1 medium eggplant, sliced thinly, salted and squeezed
-4 medium portabella mushrooms, sliced thinly
-S+P
Instructions:
-Preheat oven to 375*.
-Cook noodles according to package, after drained, let soak in cold water.
-Add the parsley and spinach to a food processor and chop finely.  Add the tofu, broth, oregano, and garlic powder to the greens and process until smooth.  Add S+P to taste. Mix well to incorporate S+P.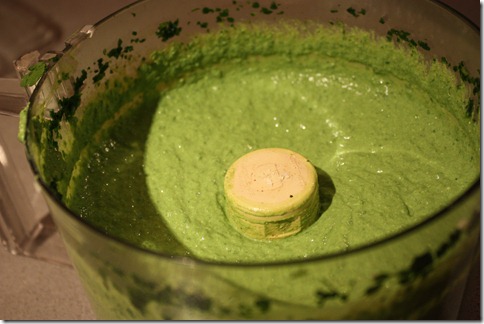 -Spray a casserole pan with nonstick spray (including edges) and cover bottom with your favorite marinara.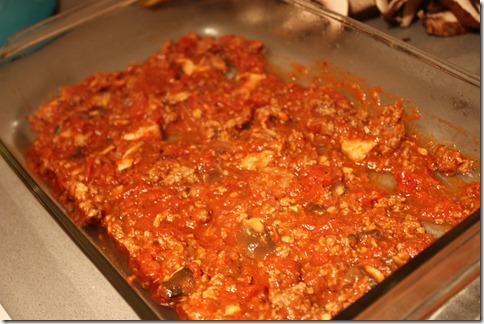 -Lay down one layer of the eggplant.
-Lay down one layer of mushrooms.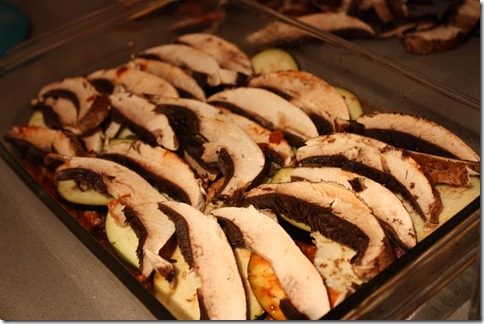 -Spread half of the tofu mixture on top of the mushrooms.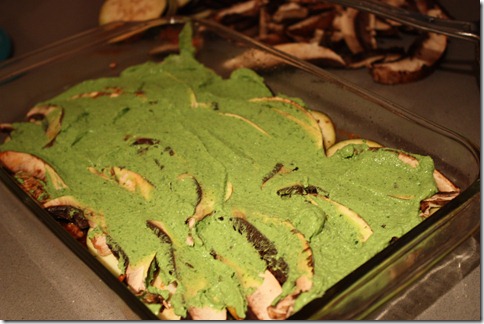 -Lay down one layer of noodles. (I almost forgot to take a picture before spreading the second layer of marinara.)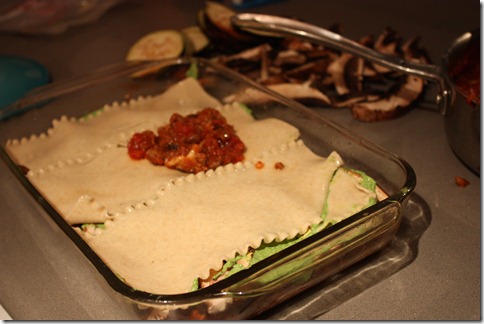 -Repeat the layering, with marinara, eggplant, mushrooms, remaining tofu mixture, and another layer of noodles.
-Cover noodles with remaining marinara.
-Cover with foil and bake for 1 hour. 
-After an hour, take the lasagna out of the oven and let it sit for at least 15 minutes, uncovered.
-Enjoy!
Shaun had 3 servings of this but commented that it shouldn't be called lasagna.  He said that when he thinks of lasagna, he thinks of "cheesy, gooey, goodness" and "more meat".  I suggested "Vegetable Bake" and he thought that described it better.  He rated it a 2.5 and said it would be a 3 if I added "much more meat." I give it 4 stars and will definitely be making this again.  I can't wait to have it for lunch this week.
Category: Recipes 11 comments »