I had plans to make pesto tonight with the basil off my plant.  I went out to harvest it and my plant was DEAD!  I totally had to improvise and what I came up with was a winner!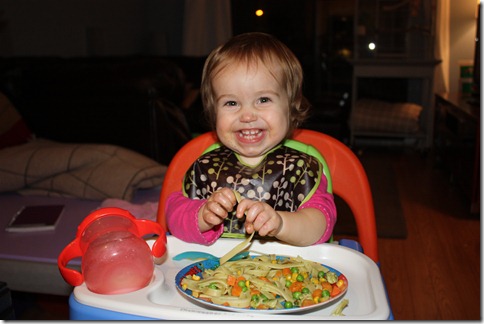 Ingredients:
-3 cups spinach
-3 sprigs rosemary de-stemmed (about a TBSP)
-1/4 cup pine nuts 
-2 tsp olive oil
-6 garlic cloves
-1/2 cup chicken broth (vegetable broth would work too)
-1/4 cup wine
-Juice of 1 lemon
-S+P to taste
Instructions:
-Throw the spinach, rosemary, pine nuts, olive oil, and garlic into a food processor. Process until smooth.
-While that's doing it's thing, reduce the wine and broth together.  (I actually cooked the chicken in the wine and broth and when I tasted the pesto the garlic was too strong and needed to be cooked down a bit-that's why I mixed the two)
-Add the pesto to the wine/broth mixture. Add lemon and S+P.
-Toss with pasta and top with whatever protein you desire.
Here's Shaun's: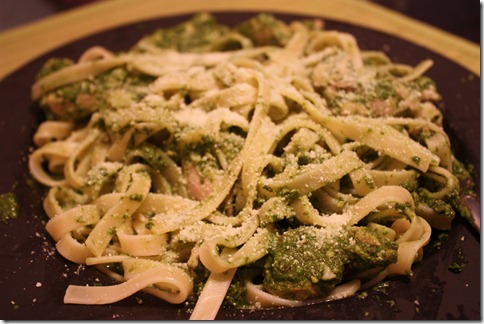 Mine (there is pasta underneath and that's vegan parm):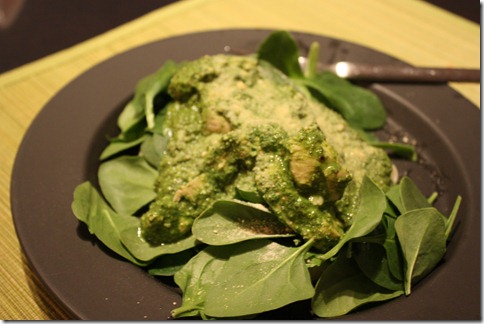 And Lucy's: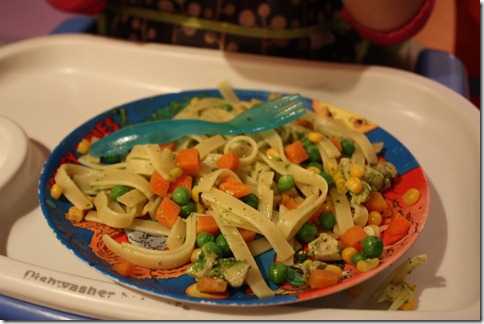 I originally didn't give her much sauce but she ended up LOVING the sauce, so she got much more.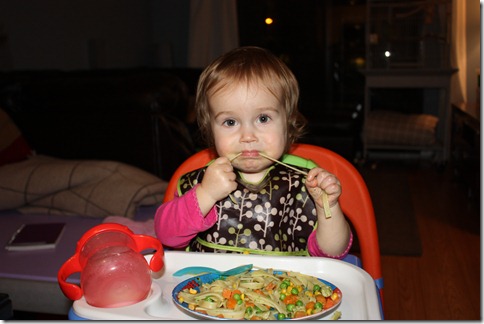 (Caption: "Mommy don't bother me, I'm EATING!")
Shaun and I both gave this a 3 out of 5.  Not bad!  Actually, quite delish!
To refresh your memory, in this household our rankings:
-1 = bad-don't ever make it again
-2 =okay, tweak it and try again
-3 = good, put this on the monthly menu!
-4 = very good, put this on the monthly menu in heavy rotation
-5 = FANTASTIC (this is reserved for really amazingly outstanding meals)
Shaun is a tough judge and a 3 from him is a great rating!
Lucy gave it a 5!
Category: Recipes 13 comments »