Every 26 days I feel down and out and kind of blue.  I get really frustrated and overwhelmed with life and I get all sad and morose.  Today was that day.  I hate day 26.  So does my husband.  I went for a walk this afternoon though and I've been in a better mood since then.  Thank goodness!
Lucy dancing around with my underwear on her head helped too:
Don't worry-it was clean!
For lunch I made a big salad with the leftovers from Friday night.  A bed of spinach with steak, brussel sprouts, mushrooms, quinoa, pear, and goat cheese.  Dressed with Annie's Goddess dressing with some balsamic.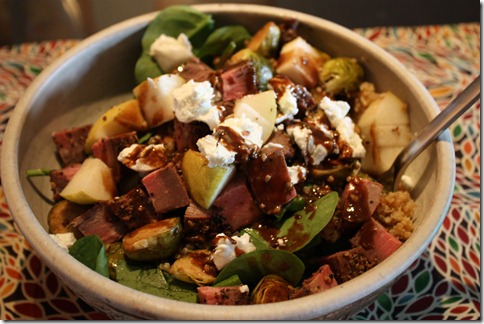 After lunch I went to Trader's to shop for the week.  I normally go to Whole Foods but I knew that I wanted pizza tonight and I didn't feel like making my own dough.  Trader's has great dough so I decided to do my shopping there. I hate that all the produce and meat is from so far away.  Their products are too.  I ended up spending about $60 MORE than I normally spend at Whole Foods and it was for food that left a HUGE carbon footprint.  If that's not a fail, I don't know what is.  I was feeling pretty sorry for myself and I ate an entire Trader Joe's dark chocolate bar.  A smaller 290 calorie one but still.  I woofed it down before I could take it's picture.
Before my walk I had some yogurt with Galaxy Granola-love this stuff!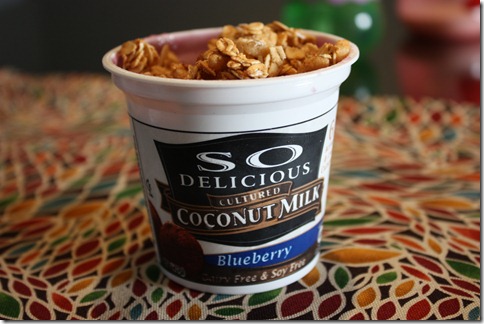 After my walk I normally eat a Larabar but decided to skip it because of the chocolate mishap 🙂
When we got home, I made pizza. Vegan for me.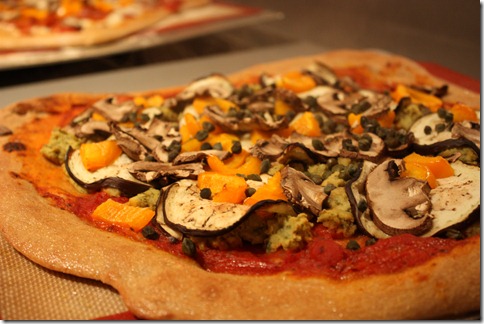 A more traditional pepperoni (turkey), cheese, pepper, and mushroom for Shaun and Lu: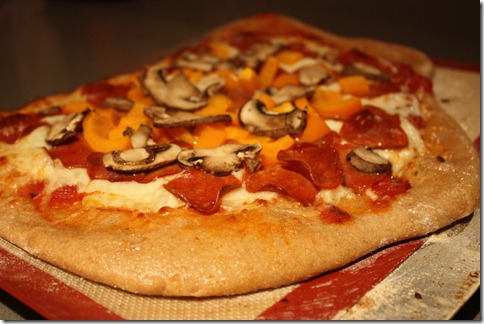 I ate this: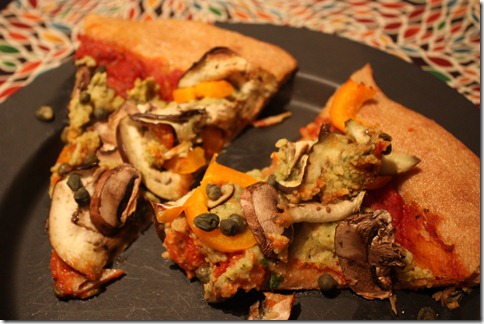 Plus one more piece.  It was really good.
While I was preparing it Lu munched on garbanzo beans (she LOVED those), peppers, and tomatoes.  At dinner, she didn't like the mushrooms or pepperoni but liked everything else.  After dinner I gave her her first Oreo.  We have some leftover from Shaun's Oreo Pie at Thanksgiving and this book I'm reading says to not make any food taboo.  So I gave her an Oreo. She HATED it.  She took one bite, spit it out and asked for her normal cookie.  Which is so healthy many say it's not a cookie 😉 No refined sugars, all organic, no milk or soy, and whole wheat.  We'll see if this sticks.
Before bed every night we spell her name to her.  It's on her wall and we say "L-U-C-Y Lucy!" We do it 2-3 times before she gets rocked.  Tonight she was saying "SUE SEE!" when we were saying Lucy. 
Category: Uncategorized 12 comments »