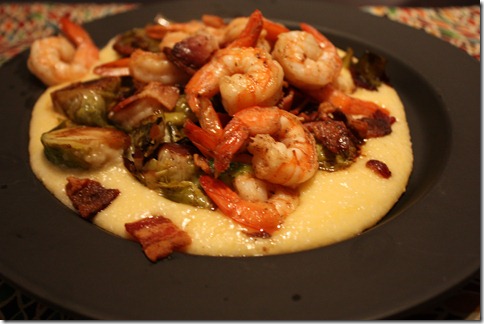 Back in October, we went to visit my aunt who is an amazing cook.  She made us shrimp and grits and Shaun could NOT get enough.  My aunt gave me the recipe and I promptly lost it.  It was a Paula Deen recipe and full of fatty goodness.  I decided to try and re-create the shrimp and grits on the fly and here's my version. Non-dairy for me. Full of dairy for Shaun and Lu.
Ingredients:
-6 slices of bacon, chopped
-1 pound raw, shelled shrimp
-1 pound brussels sprouts, bottoms cut off, and halved
-1/4 cup balsamic vinegar
-4 servings of grits, cooked according to the package (I used quick cooking)
-2 TBSP butter (optional)
-1/2 cup shredded cheddar (optional)
Instructions:
-Cook bacon over medium-high heat until translucent.
-Add brussels sprouts and vinegar to deglaze pan. Scrape bottom of pan.
-Cover and steam.  While the brussels sprouts cook, start the grits.
-After 8-10 minutes, add shrimp to brussels sprouts, cover and cook until shrimp is pink, stirring a few times.
-If using the dairy, add the butter and cheese to the grits.
-Enjoy!
Mine: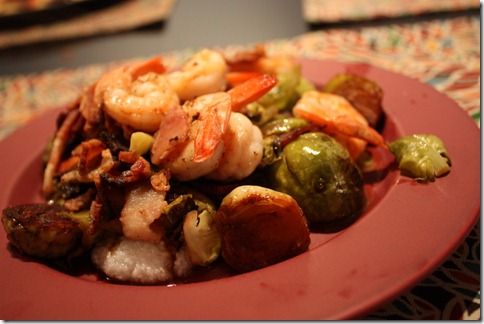 Shaun's: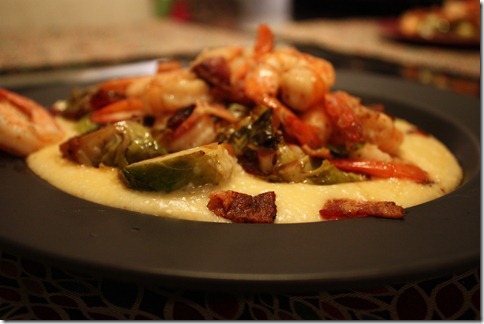 And Lu's: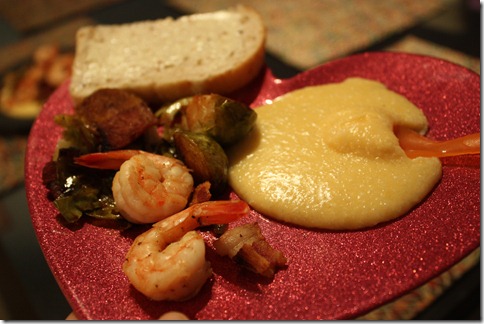 Lu didn't eat much of it.  Shaun really liked it and gave it a 3 out of 5 stars but said it was too rich to have too often.  I loved mine and give it a 4 out of 5 stars.
Category: Recipes 3 comments »