For lunch I went to Whole Foods to get a salad.  I only had a Larabar and a bite of a nasty pear (that I promptly threw away) before going to lunch.  I know that's not good but I was literally scared to eat.  It's not like if I ate something that I shouldn't that it would do anything serious but my brain said "BE CAREFUL".  It turns out that many of my snacks at work have gluten-boo.
Here's my salad: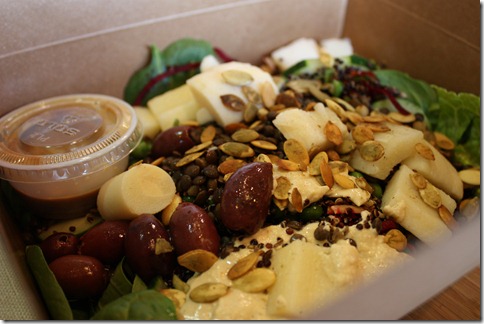 A bed of spinach with beets, carrots, cucumbers, lentils, red quinoa, hearts of palm (that I kept thinking was jicama and it was really disconcerting!), olives, pumpkin seeds, hummus, and some balsamic dressing.  It was really good.  I have to admit that I really like my salads DRESSED.  That whole dipping your fork in the dressing and then the salad thing? I hate it.
I decided to try some young coconut juice.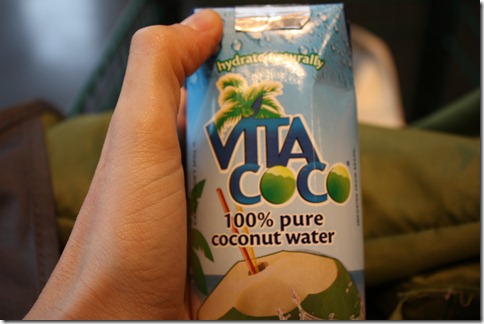 I wanted a "treat" and it seemed like all the chocolate had refined sugar in it.  This stuff was actually pretty good.  I enjoyed it.
They are carrying a new line in the bakery that is gluten and refined sugar free but they hadn't made today's batch yet.
I did a quick shopping trip to get some snacks.  I have to say that I was a bit overwhelmed.  I think the Whole Foods by my house will be better because they have an entire aisle of gluten free food.  At the Whole Foods by work it was all over the place.
Here's the haul from Whole Foods: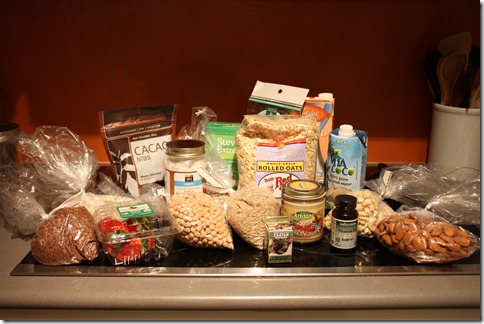 Flax seeds, strawberries, sesame seeds, cacao nibs, coconut oil, dried garbanzo beans, sunflower seeds, great northern beans, stevia, gluten free oats, a loofa, unsweetened almond milk, some more coconut water, za'atar (so excited!), cashew nut butter, vitamin D, cashews, and almonds.
Both of the beans are soaking now.  I have plans for some roasted garbanzos!
For my snack this afternoon, I had some organic strawberries and organic raw cashews that I didn't get a picture of.
Tonight was sushi night.  Rolls are a no go for me because of the sugar in the rice but I got some sashimi and put it over steamed rice and added some avocado and Braggs.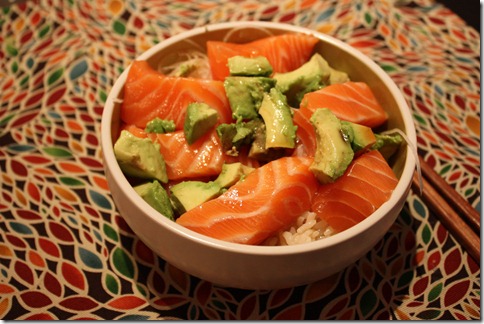 Two of those pieces of salmon did not get eaten.  This is more Chinese style sashimi and I've gotta say that real Japanese sashimi that is cut properly is about 1000 times better.
Here's what I got Shaun and Lu: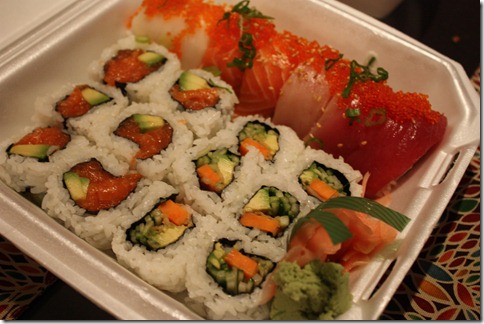 A salmon and avocado roll and rainbow roll for Shaun.  A yam, avocado, cucumber roll for Lu.
That would have been plenty of food but I also ordered this monster for Shaun.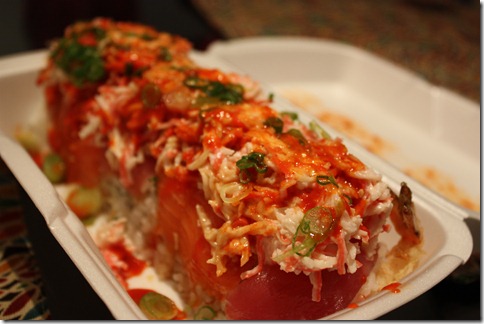 I DID NOT expect it to be so large.  What the description sounded like was tempura shrimp with tuna and salmon inside the roll, covered with crab, scallions, and spicy sauce.  Instead it was a California roll, with the addition of a tempura shrimp, topped with salmon and tuna and then crab on top of that.  Shaun said it was delicious.  I hate crab (imitation and fake) and can't eat it now anyway, so I'll take his word for it.  Shaun has a FULL meal left for lunch tomorrow.  I over-ordered 🙂
Lastly, I stopped on my way home from work (yay no traffic today!) and got some wool socks.  I'll have to report back on the foot treatment.  My Mom, Shaun, and Elaina all agree that the foot treatment is by far the weirdest thing.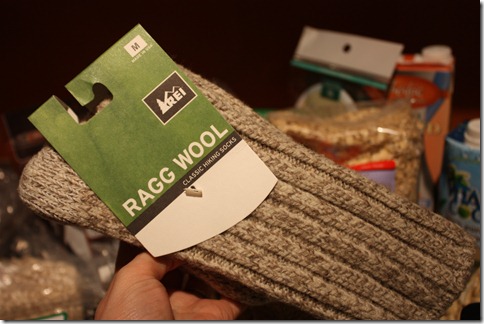 I thought the skin brushing was pretty weird but they all thing that the foot treatment is much stranger.
Again, I want to thank EVERYONE for their support.  I really appreciate it.  I'm sure some of you must thing I'm a quack but if you do, you're keeping it to yourself and that's helpful right now.  I really do enjoy discussion and invite it but I also just want to give this a shot.  I figure that I've tried everything else and it's not working so I'm going to be open minded!  I hope it works!
Category: Uncategorized 10 comments »