My grandma, Ma, used to make some amazing stuffed peppers.  I've updated and "healthified" and "deglutenized" her recipe.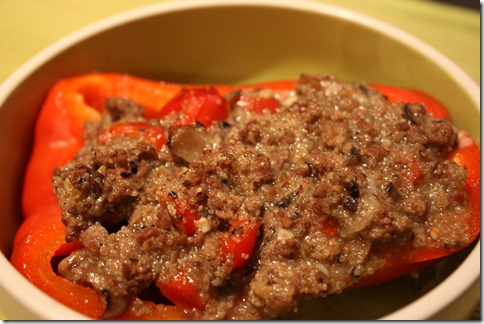 Ingredients:
-3 bell peppers
-1/2 onion, chopped
-6 cloves of garlic, chopped
-1 pound leanest ground beef (ground poultry works well too)
-8 ounces of mushrooms, chopped
-1 cup (uncooked) grain-I used amaranth this time but rice and quinoa also work well
-1 TBSP Braggs Amino
-2 tsp garlic powder
-Ground pepper to taste
-1-16oz can of chopped tomatoes (optional-I can't have tomatoes right now but I usually do add this)
-Cheese (optional)
Instructions:
-Cook grain according to package.
-Preheat oven to 350*.
-In a pan brown the onions and garlic until glistening.  Add ground beef.
-Chop up ONE of the bell peppers and add it to the meat mixture with the mushrooms.  Add seasonings.  Cook until done-taste the mixture and adjust seasoning to your liking.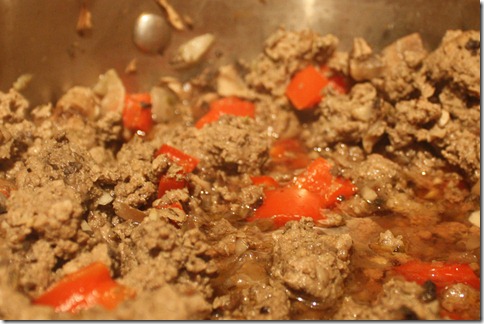 -While the meat mixture is cooking.  Cut 2 of the bell peppers in half and take out all the seeds and membranes. (side note: traditionally you cut the top off of peppers and stuff them that way.  This method adds the step of blanching your peppers since they don't cook as quickly standing up, if you cut them in half, no blanching is needed)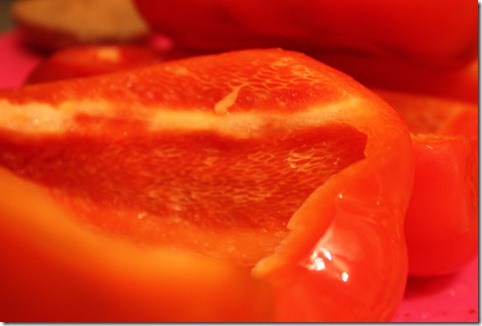 -Mix the grain and the meat mixture.
-Fill the peppers with mixture and place in an oven safe pan.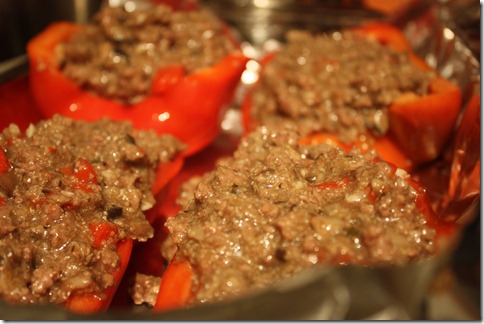 -Cook for about 20 minutes or until pepper is tender.  If adding cheese, top the peppers with cheese when there's about 5 minutes to go.
-Enjoy!
Shaun LOVED this. He rated it a 4.  I thought the amaranth got a little lost in this and would probably use rice next time (like normal) but he actually liked it better with the amaranth.  He said that he didn't know any grain was there and he thought it was all meat which is a good thing in his world ;).  Lu only ate the filling and really REALLY liked it.  It's pretty quick and easy.
Of note, this is my basic "filling" recipe.  When I make stuffed cabbage, this is exactly what I do as well :).
Category: Gluten Free, Recipes 6 comments »