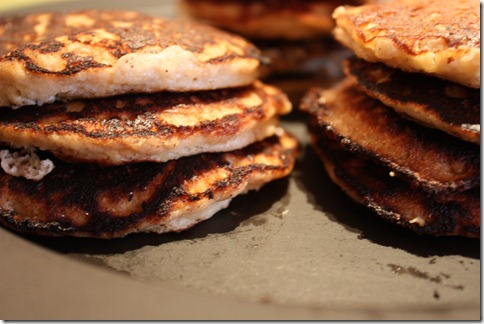 Ever since I was told that gluten was off limits, my sister has been sending me recipes to try.  I usually get an email that's like "You probably already know about this but look at this recipe!"  She has sent me some really AWESOME stuff.  A couple weeks ago a friend of hers made her these pancakes and she raved about them.  I knew I had to try them.  It looks like her friend combined these two recipes.  I altered mine a bit too. 
Here's my adaptation.
Ingredients:
-1 cup almond meal (also called almond flour)
-2 eggs
-1 banana, smashed
-1/2 cup unsweetened almond milk (or any milk substance)
-1/2 tsp cinnamon
-1 tsp vanilla
-Oil or non-stick substance of choice
Instructions:
-Preheat a pan on medium high heat.
-Combine all ingredients.
-Place oil in pan-I noticed that I had to use a little extra because these stuck to the pan at first.
-Cook about a minute and a half on each side (the bubble thing WILL happen).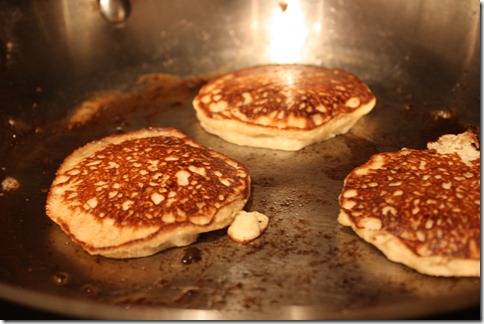 -Enjoy!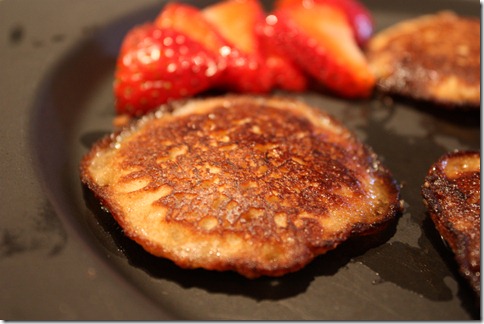 -This made 18 VERY filling but small pancakes.  I only needed 3 to feel full.
How did these rate?  I give them a 4.  Lucy gave them a 5-she ate 5 (!) pancakes (and 3 strawberries).  Shaun did not rate them since he doesn't like banana in ANYTHING.  I'm going to make a banana free version next.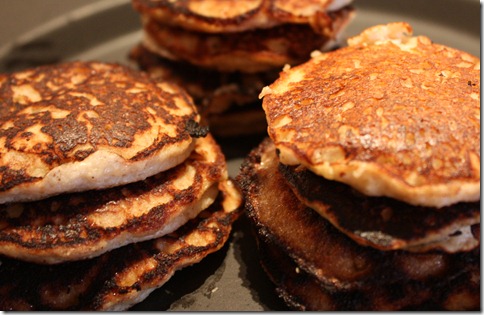 Thanks Liss!
Category: Gluten Free, Recipes 10 comments »