I'm married to a Pennsylvania boy and I'm a California girl.  When we met our food preferences were VERY different.  They still are but we've found some common ground.  One thing that Shaun asked me to make and that I had never had was Stuffed Cabbage.  An acquaintance gave me a recipe, which I modified (in true Chelsea fashion) and now this is one our most favorite meals.  It even awakened a love of Sauerkraut that I never knew I had!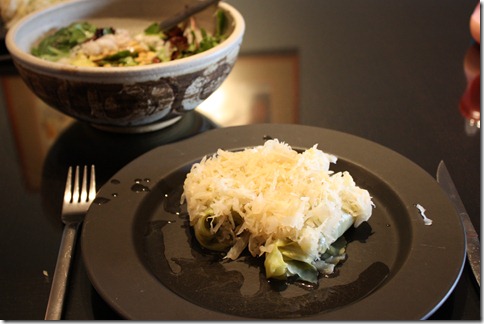 Ingredients:
-1 head of green cabbage
-1/2 onion, chopped
-6 cloves of garlic, chopped
-1 pound leanest ground beef (ground poultry works well too)
-8 ounces of mushrooms, chopped
-1.5 cups cooked rice/grain
-1 TBSP Braggs Amino
-2 tsp garlic powder
-Ground pepper to taste
-1-16oz can of chopped tomatoes (optional-I can't have tomatoes right now but I usually do add this)
-1 jar tomato marinara (optional)
-1 large jar of Sauerkraut
*The filling is the same as my stuffed peppers
Instructions:
-Preheat the oven to 350*
-Cut the stem off of the cabbage.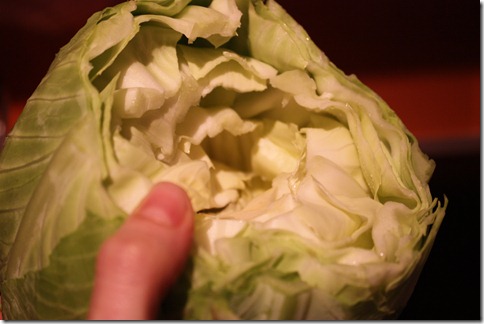 -Steam the cabbage for about 15 minutes or until the leaves are wilted but still hold shape.
-While the cabbage is steaming, brown the onions and garlic until glistening.  Add ground beef.
-Once the ground beef is almost cooked, add the mushrooms and seasonings.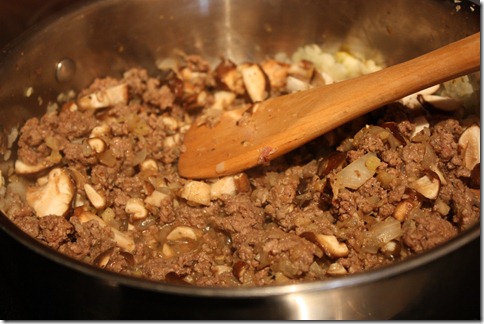 -Add the cooked rice and stir to incorporate.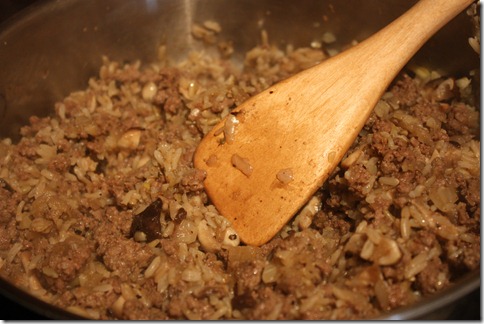 -I have an abundance of spinach so I added some of that too (really you can throw anything that wilts down in this filling). This is the point where I would normally add the tomatoes.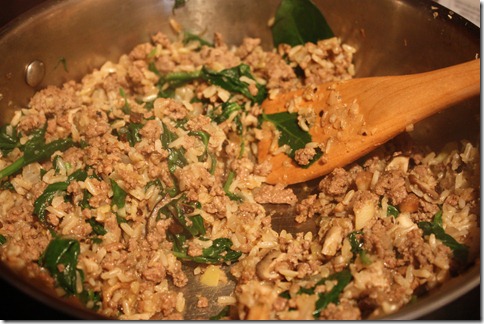 -When the cabbage is done, douse it with cold water so that you can handle it.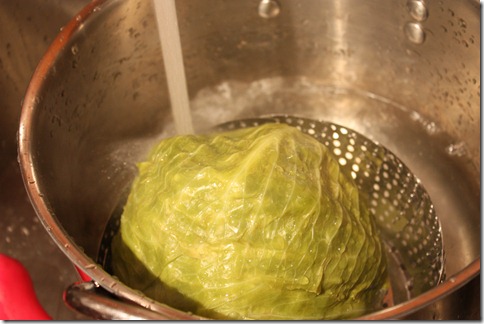 -Take one leaf of the cabbage and put about 1/4 cup of filling into it (in a rectangle pan).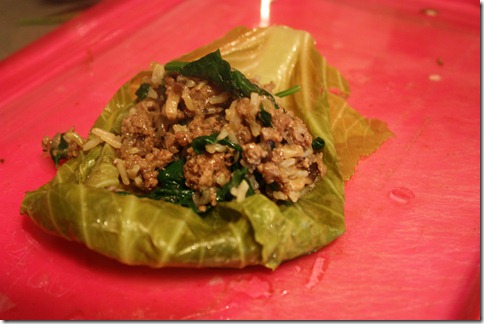 -Fold the cabbage around the filling to make a sort of burrito. I fold the sides in first and then use the stem and the base of my rolling.
-Repeat until you've used all the filling.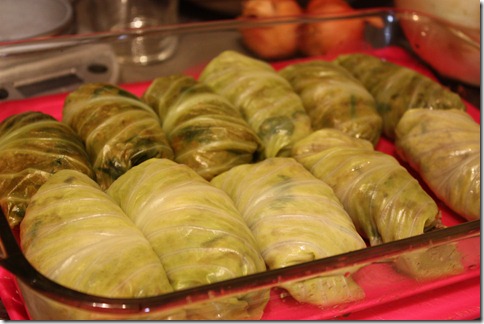 -Cover with sauerkraut-including the juice from the jar (and marinara, if using).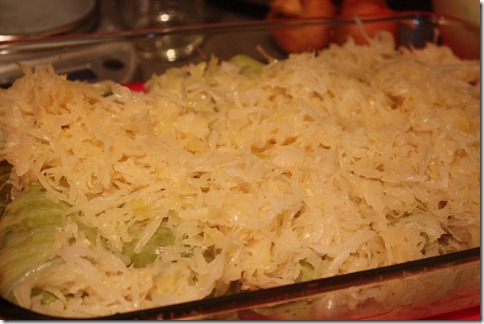 -Place in oven and cook for about 20 minutes or until the sauerkraut juice is bubbling.
-ENJOY!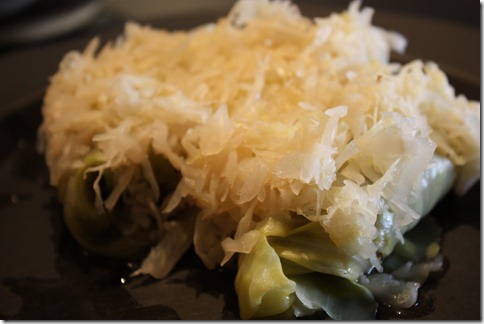 Shaun rates this a 5 out 5.  I give it a 4.  It's really good but I find I need some additional veggies to accompany the meal (see the salad in the first picture).  Before this recipe, I HATED sauerkraut.  The fist time I mad this I made two pans, one with and one without.  The without pan just had tomato sauce.  I decided to try Shaun's and it was SO.MUCH.BETTER.
See?  The Pennsylvania boy really did teach me a trick or two.  Don't even get me started on pierogies!
Category: Gluten Free, Recipes 13 comments »