I made mung beans for lunch and Lu gobbled them up!  She never ceases to amaze me.
For breakfast we both had oatmeal.
Mine was topped with ground flax and homemade almond butter.  It had about a tsp of maple syrup mixed in.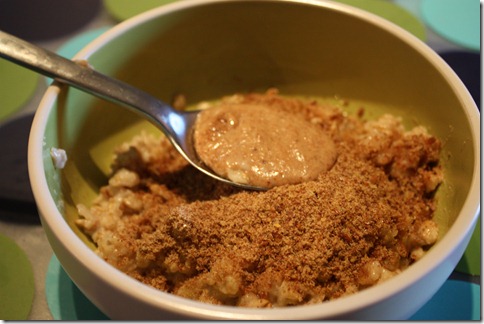 Lu's had some maple syrup and almond butter mixed in with bananas on top.  She liked it.
We went to her last swim class for awhile.  She FINALLY walked across the floating hippo!!!  YIPPEE for her.  She's blowing bubbles and kicking (sometimes) and she knows to hold her breath when she is on the edge and is jumping in.  I'd call it a success!
The weather was beautiful so I decided to BBQ some chicken for our lunch.  While I BBQ'd Lu gardened.
Look at that tongue!
Pardon the Cliff Bar on her face 😉 She was absolutely filthy when she got done.  I'm telling you, she's a kid now!
Lunch was BBQ'd chicken, mung beans, and broccoli.
And some roasted cauliflower.
When Lu gets up from her nap, we're going for a hike!
Category: Uncategorized 3 comments »