I was feeling particularly down about my body and my weight struggles last week and my husband lovingly responded that I should workout more since it makes me feel better about my body.  Rather than get mad at that statement-which I totally could have-I agreed with him and I've committed to working out more.  No more excuses.
This morning was my third day of working out and I didn't hate what I saw in the mirror while I was on the spin bike.  Hooray for small victories!  I am taking a day off tomorrow because I don't want to overdo.  But I have plans for a run on Wednesday.
Before spin this morning I had half a granola bar: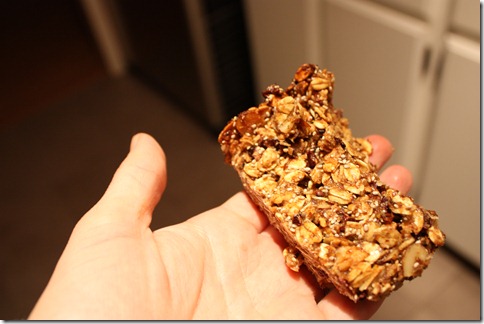 I know I've already said it but I LOVE these things.
Class was good!  I could definitely feel the hike and run on my legs but not in an awful way.
After I got home, showered, and took Lu to daycare I got to come back home and make some eggs: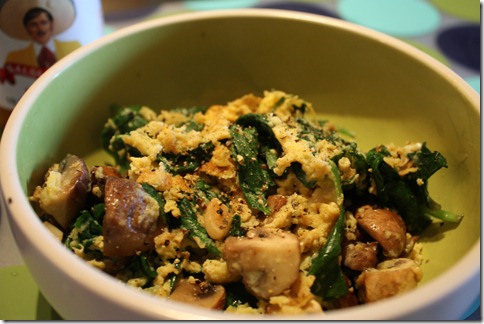 5 mushrooms, a handful of spinach, garlic, and 2 eggs.  Oh and of course some Tapatio!  Señor Tapatio Hombre says "WAZZUP!" from the upper left corner 😉
Eggs are such a great breakfast food but I REALLY have to be in the mood for them.  I love eggs over easy or poached with toast but scrambles?  I have to have a craving.  This was extremely yummy.  Maybe when I'm working from home permanently you'll see more of them. 
Today, I'm WFH because I have a dentist appointment to get a cavity filled.  Of note though, since I've stopped eating gluten and started my new regimen, my gums have VASTLY improved.  My dental hygienist was actually cheering!  I take extremely good care of my teeth and gums and still have issues (bad genes) but they are getting better!!!  It makes sense though, I was all inflamed from feeding myself poison (for me) and now I'm not, so my gums aren't inflamed either. Win-win!
Okay, off to go do the job that pays the bills.
Category: Uncategorized 5 comments »