I hate it when I conceive of something that I think is going to be so good and then it's gross.  That was dinner tonight 🙁
First though, LUNCH!
I had a mish mash of stuff for lunch and I was really worried that I would be hungry after this: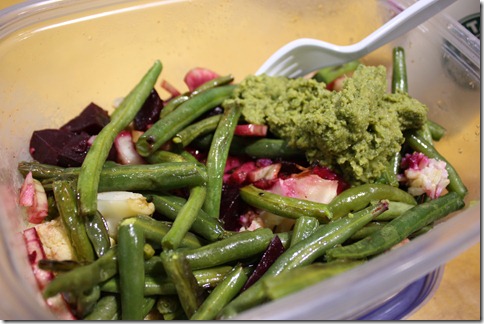 Rice, green beans, beet salad, cauliflower, and some hummus.
Surprisingly, I didn't even think about being hungry until my drive home at 5 PM.  I had a peach and some cashews.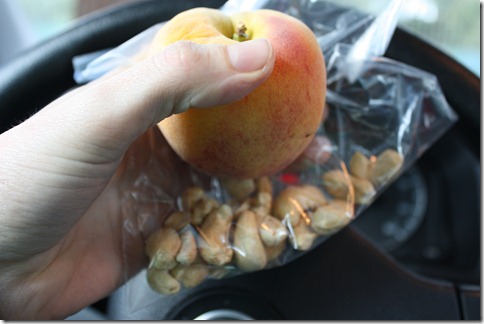 Work was a doozy today so that could explain why I didn't feel hungry OR I just wasn't legitimately hungry.
On my drive home I created a masterpiece in my head.
In reality?  Not so much.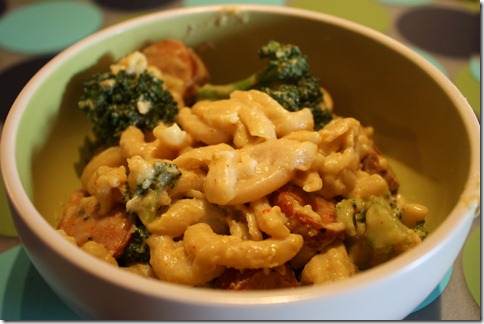 I tried to make Gluten Free and Dairy Free Mac and Cheese with sausage and broccoli.  I loosely based my recipe on others out there using nutritional yeast and cashew nuts ground up.  Ummmm….ick.  It was really unappetizing.  It was totally edible but it wasn't yummy.  We did eat it but the leftovers did not get saved.
Lucy, who hates real Mac and Cheese, gobbled it down.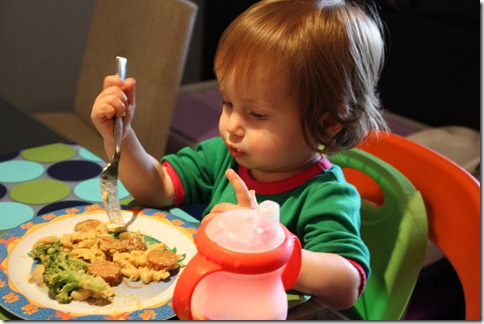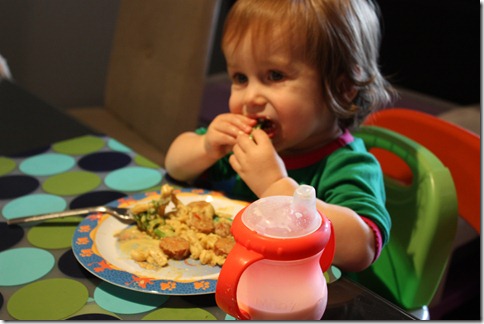 Crazy kid.  I was just remarking to Shaun that in the last 7 days or so, her intelligence has really started to shine through.  She's also able to communicate MUCH more than before.  It feels like overnight she went from a cute little kid to a SMART and cute little kid.  Like REALLY smart.  Some of the things she says and does just amaze me.  I know I'm biased but when your 19 month old is building cars and houses out of Duplos (the big Legos) and following all the commands in a book and DOING THEM correctly, it makes you go "hmmm….she GETS it. WOAH."  Yep, she's awesome 😉
I mentioned earlier today that I saw a Life Coach yesterday (I feel incredibly silly saying that) and that she had some great techniques for me.  The first?  Think of myself as an adolescent girl with low self esteem that has come to stay with me for awhile.  Anytime I feel bad about myself or start putting myself down, treat ME like I would that adolescent girl.  This seems really simple and obvious but it was a big breakthrough for me.
Another one? Say the things that I want to hear to myself. Don't rely on others to give that to me.  Give it to myself.  LOVE IT.
And the last little tidbit that I'll share?  By accepting ME for ME, it doesn't mean that I'm forever going to have this body.  It just means that I love myself and I am going to take care of ME and the body will follow.
Again, not groundbreaking but SUPER helpful.  Even though today was quite difficult, it wasn't difficult emotionally for me and that's a SUPER WIN.
Category: Uncategorized 3 comments »