Well, it didn't actually EAT my post but it prevented me from having time to post a post :)  I fell woefully behind on laundry folding and had about 2 weeks worth to fold.  We spent ALL NIGHT last night folding laundry.  It was fab.
Rewind to yesterday's lunch.  A whole bunch of goodness thrown into a bowl.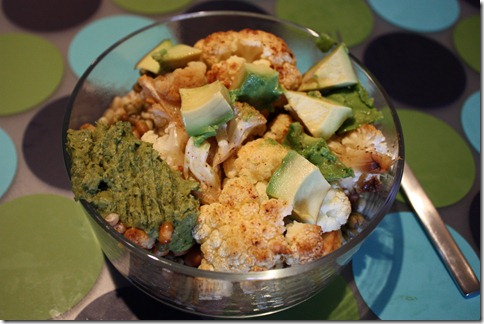 Rice, mung beans, pinto beans, roasted cauliflower, roasted garlic, avocado, and hummus.  YOM.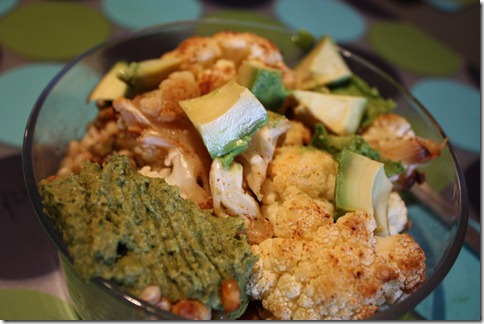 The hummus REALLY developed more flavor overnight and tastes EXACTLY like Trader Joe's version.
For my snack, I had my first peach of the season.  It's organic but from Mexico :(  My list of fruit that I can eat is so limited right now that I decided to go for it and actually it was really yummy.  Sucks that it was from Mexico though.  At least it's not Chile!  I say that because of the distance it traveled, not because I have anything against Chile.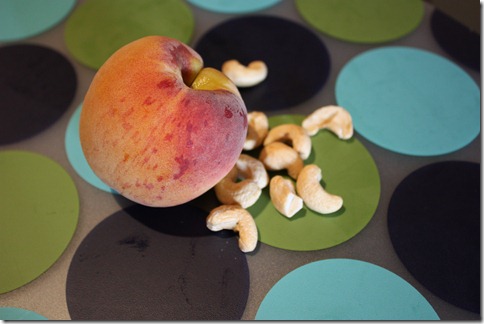 Dinner last night was fabulous.  Salmon, green beans, rice, and a beet and fennel salad.
Lu gobbled this up and LOVED the beets!  We kept hearing "Moe. Beets.  Moe Beets.  Moe Beets Pwease!"  She ate ALOT of beets.  So many that I had to warn daycare that she may have pink/red output today and that they shouldn't worry.
While folding and watching the best show on TV (Parenthood), I had a scoop of fruit sweetened soy ice "cream" topped with the other half of my granola bar.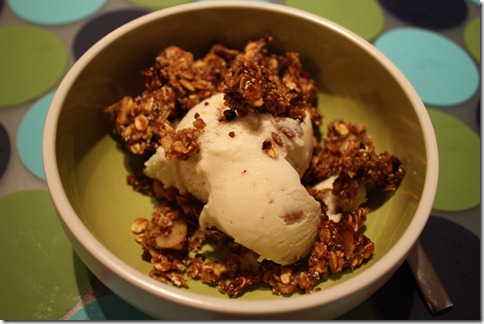 This morning was a rest day from exercise and so I had (big surprise) a granola bar for breakfast!!!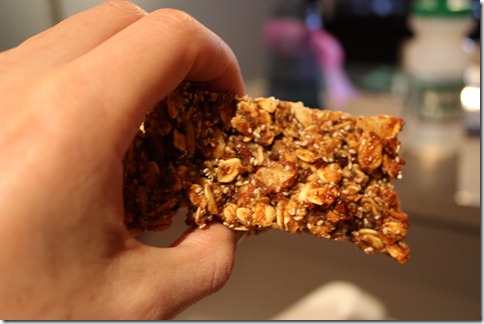 Of note, I fired my therapist last week.  She was great for everything BUT my body issues.  I was having MAJOR issues last week and I went in there and was basically told that I was acting crazy.  She told me that Ritalin would help me lose weight or alternately I could try anti-depressants that have the side effect of weight loss.  She also brought up liposuction.  I pretty much left there traumatized-worse than I was before I went. 
SO, I'm trying 2 new people this week.  Yesterday I saw a "Life Coach" and she was seriously AMAZING.  Tomorrow, I see a therapist and if I gel with her, I may use her with some supplementing from the Life Coach because insurance doesn't cover the Life Coach but does cover the therapist and I do think I need to see someone every week but can't afford the Life Coach every week.
I'll be back later to discuss some of what the Life Coach shared with me.  It was VERY powerful stuff.
Category: Uncategorized 5 comments »