April 22nd, 2010 — 6:47pm
Tonight I had my recent "go to meal." You know the one that you almost always have the ingredients for and the one that almost always sounds good.  But first, lunch!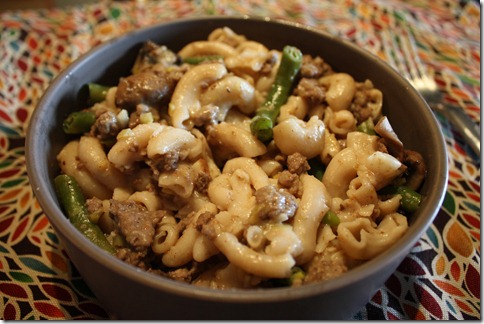 This is a goulash that I made the other night. In that bowl is leeks, garlic, green beans, grass fed ground beef, salt, curry, coconut milk, and GF noodles.  I just threw it together last minute the other night and it was GOOD.
Here was my snack, with my new placemats: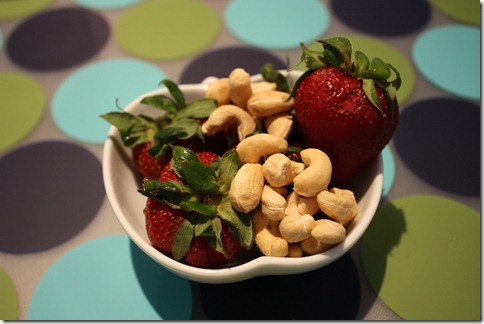 ~15 cashews and 5 strawberries.
And then, onto my go to dinner: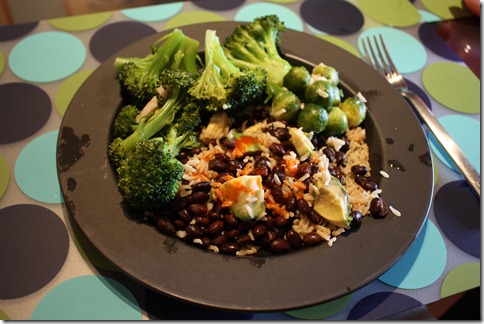 Rice, beans, avocado, and Tapatio.  YOM.  I also made some broccoli and brussels sprouts with garlic and a bit of coconut oil.  'Twas delish!
It was girl's night while "Dada. Go. Bike." (according to Lu).
Lu says "What?"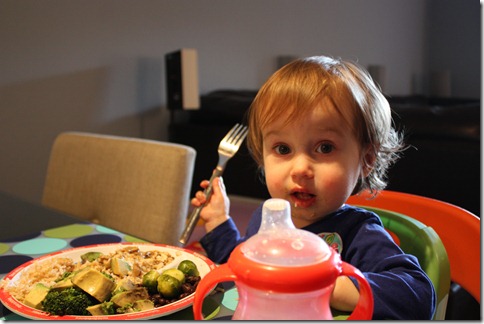 She no longer tolerates a baby fork. I tried to give her one since our smaller metal forks were all dirty but she begged for a metal one.  So I gave her a big one. Surprisingly, she did quite well.
She's getting too cute for words.
Lastly, I had a really gross looking dessert.  I took about 1/4 cup oats, 2 TBSP ground flax, 2 TBSP water, 2 tsp honey, and 1 tsp cocoa powder and mixed it up and nuked it for about a minute.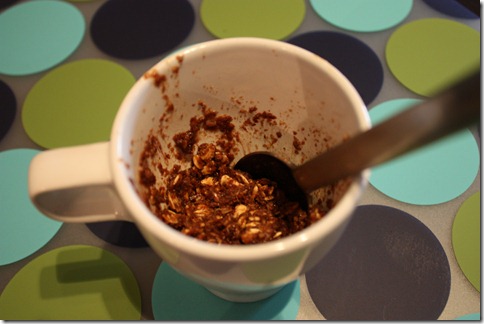 It wasn't my best concoction but it certainly wasn't my worst!
Survivor's on tonight!!!!  YIPPEE!!!