Heather's post today is a perfect explanation of how I've been feeling about the blog lately.  I have been extremely busy but at the same time, I've also been struggling with what I want to do here and what's healthy for me.
I've been doing a TON of soul searching and have plans for a revamp of what this space is once I move and I'm settled.  I KNOW I've lost readers while doing this soul searching but that's okay.  My philosophy is that once I figure out what *I* want this space to be that it'll be more genuine and attract more people.  And?  I don't necessarily want it to be about attracting more people.  I want this to be a space where I can write and share useful information that may help people.  That's it.  I think that's a pretty good goal, don't you?
So that's the story.  I'm still thinking on it and hopefully will have A TON to write about once this move is OVAH. 
We leave in 11 days!!! And our house is about 90% packed.  WOO HOOO!
In the meantime, here's a cut picture of Lu from a few months ago.  She wore this outfit yesterday and I can't believe how long her hair has gotten.  Otherwise this is a perfect representation of my cute daughter from yesterday 😉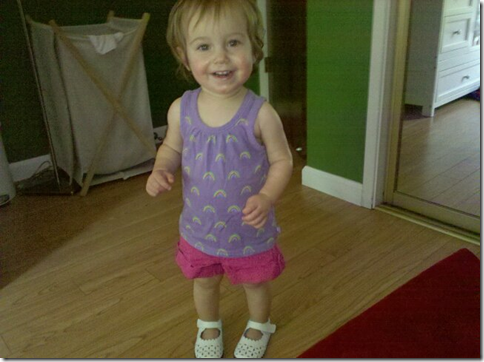 P.S. She is not happy with this move stuff. :(  Her schedule is all off and the last 2 nights she woken up screaming "AWAKE! UP! AWAKE! UP!" Both nights we went in and rocked her and she'd fall fast asleep and then as soon as we'd put her down she'd start screaming again.  On Saturday, it was 12:30 am – 1:30 am and last night it was 4 –4:20 am.  I'm tired. *yawn*
Category: Uncategorized 16 comments »