I'm headed to Virginia on business (I'm on the plane as I write!) and the rule in our house is that I'm not allowed to cook the day before a trip.  It always stresses me out and I sort of turn into a monster.  Me?! Really?!?  Yes, really. 
We've cut WAY back on spending since moving and haven't been out since we got here.  I think that's a record for us. Thankfully, Shaun's awesome mountain bike buddies gave us a gift certificate to a local ale house that just so happens to specialize in local food-a match made in heaven for Shaun and I.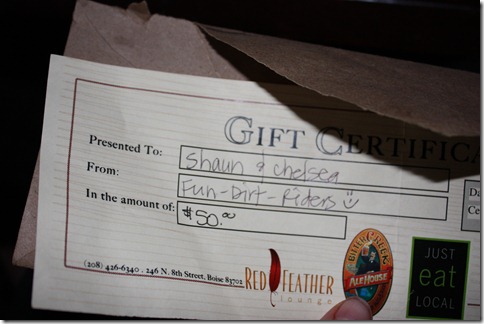 We drove the 2 miles to the restaurant since it was 100 degrees out.  I can see us easily biking or walking in more moderate weather 🙂
Here are my 2 favorite people walking up to the Bitter Creek Ale House: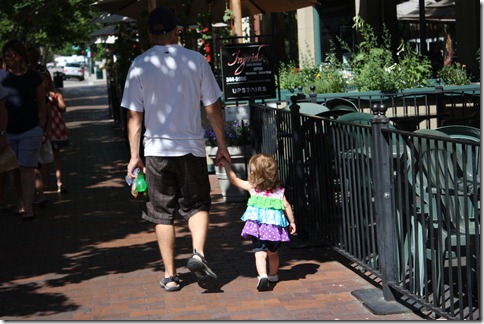 They have a great sign: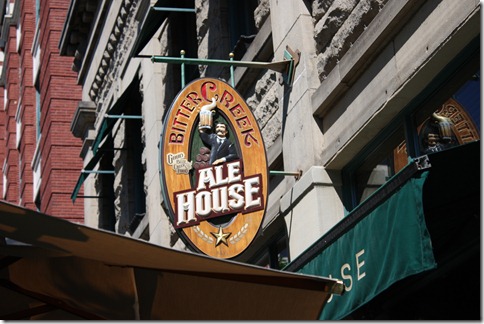 With an awesome garden outside: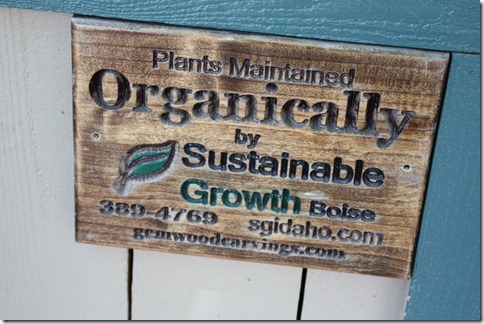 Once inside, it definitely looked like a comfy bar:
They are serious about selling local!
Shaun got an amber larger (I didn't note which one):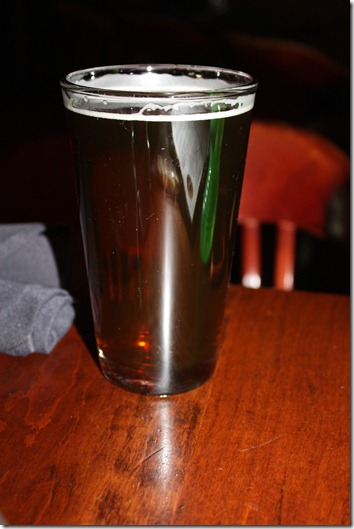 Since beer has gluten and I'm not a big fan anyway, I got a frou-frou cocktail that was made with lemon, herbal tea, and local vodka: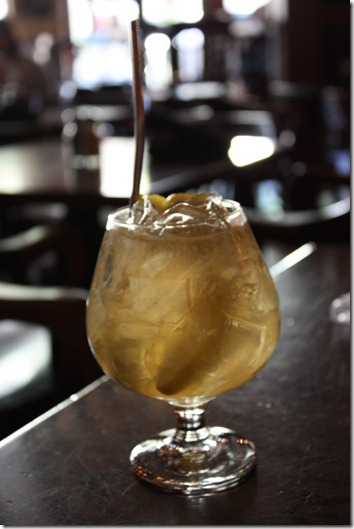 Super YOM!
It had an awesome little metal spoon straw (that was quickly bogarted by Lu):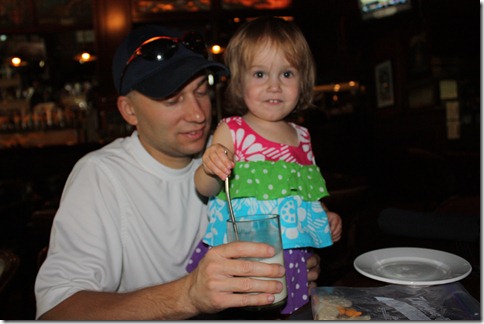 Shaun got some chips and salsa to start: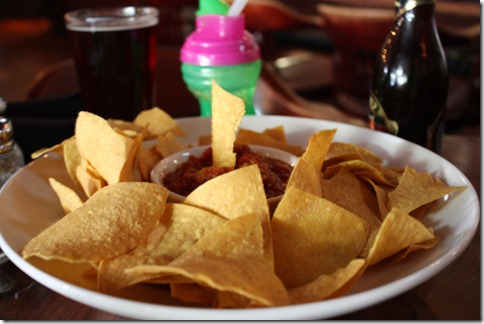 The salsa was made on the premises with local fruits and veggies.  It was SPICY!  We like spice and this was a little much for us.  I didn't have any chips but had a few fork fulls of salsa.  HOT!
I got a hummus plate for Lu and I to share: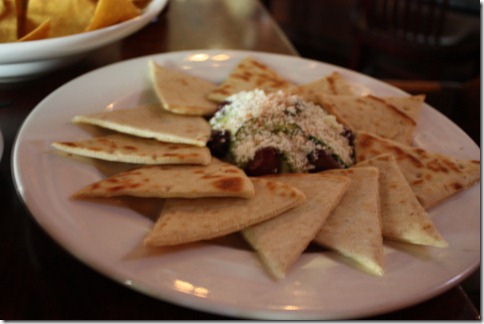 The hummus had goat cheese (which I can tolerate!), kalamata olives, and cucumber.  It needed salt but was really good.  I got it more to top my salad than anything else :)  Lu LOVED the pita bread.
For my entree, I got the spicy lamb burger (hold the bun) with an undressed side salad (hello hummus!).  It too was topped with goat cheese.  It also had fresh jalapeño and crispy onions (that I forgot to ask for them to leave off-the "crispy" is gluten FULL-I picked them off and gave them to Lu).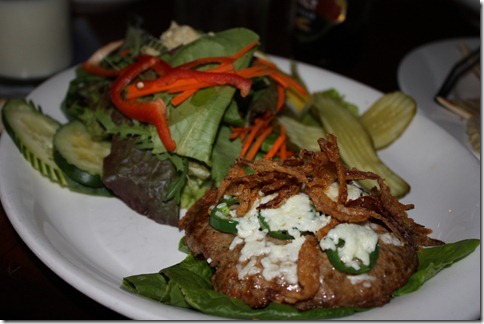 It was DELISH!  The pickles were awesome too.  I saved them for last.
Shaun got what he always gets if it's on the menu, Fish and Chips with Pacific Cod: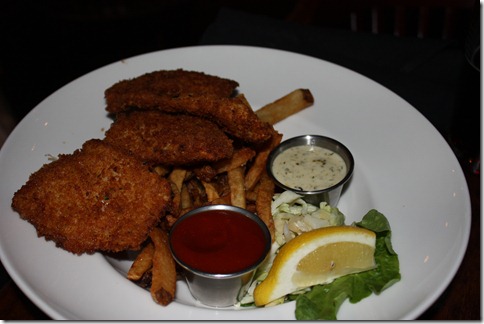 He said it was delicious!  Lu liked the chips and the cabbage too.  (She wasn't so in to my lamb).
Since they had such an extensive beer list, I asked if they had a gluten free beer and what do you know-they did!  I don't know what got into me, but I ordered one: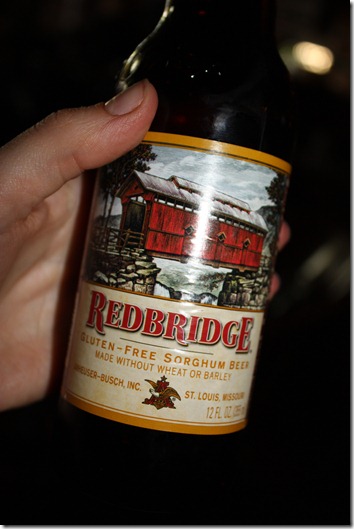 I usually HATE the aftertaste of beer.  I love the way beer tastes right as it hits my lips but then once it's down my throat I HATE IT.  Guess what?  I LOVED THIS.  None of that nasty aftertaste.  I wonder if my body was reacting to my allergy?  I can't wait to have this beer again.
We loved our experience at Bitter Creek.  Shaun commented "That is real pub food!" and yet they had MULTIPLE items on the menu that I could eat too.  And? It's mostly ALL LOCAL.  Which is awesome!  We got all of that for under $50-can you believe it?!?!
We will definitely be back.  They have a Tasting Tuesday series every Tuesday and I'm sure Shaun would LOVE to go.  The fact that we can take Lucy (until 10 PM) is a major plus too.
There was NOTHING like this in San Mateo.  Maybe in San Francisco (30 minutes away) but 10 minutes away? Nope.
Have I mentioned that I LOVE Boise lately?
~~~~~
In other news, I heard today that our stuff will be delivered Friday!!!!  FINALLY.  They owe us a BUNCH of money now but at least it's going to be here.  Let's hope it's all in one piece.
Category: Uncategorized | Tags: Bitter Creek Ale House, BitterCreek, fish and chips, Gluten Free Beer, hummus, Just Eat Local, Redbridge Beer, Sorghum Beer, spicy lamb burger 6 comments »