Okay, so work has been INSANE for the past 3 weeks.  I had to work everyday on my vacation and this week has been beyond crazy. BEYOND.  I'm doing the job of three people right now and it's hard and stressful.  I was up until 4 am on Wednesday night/Thursday morning working.  BUT, they pay me AND they give me awesome perks.
Look at this one (sorry for the blur and smallness):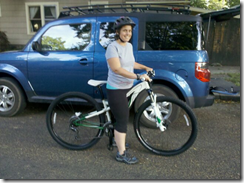 That's a 2011 Specialized Myka Expert 29er.  It's the first women's 29er widely available, I've already gotten comments from bike geek about how cool it is. 
My company gives us a set amount to spend on exercise equipment each year and there's my exercise equipment.  Isn't it beautiful?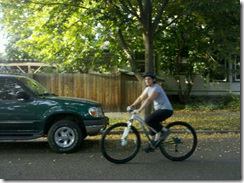 Shaun and I are going to go mountain biking on Sunday morning and I can't wait!
Category: Uncategorized | Tags: bike, happy, mountain biking, Myka Expert 29er, Specialized, work One comment »