"You are beautiful. You are strong." That was my mantra while running yesterday.  I went into the race with a goal of running 12 minute miles.  I finished with an average of 12:02 minute miles.  YAY!
Here I am before the race with Shaun and Lu: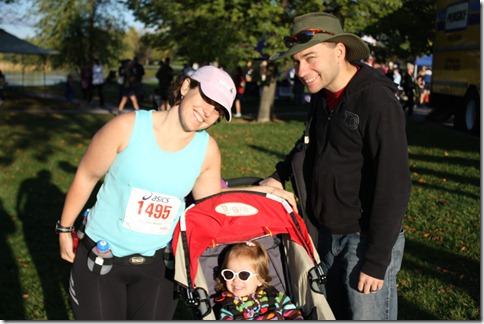 and Luke and Megan: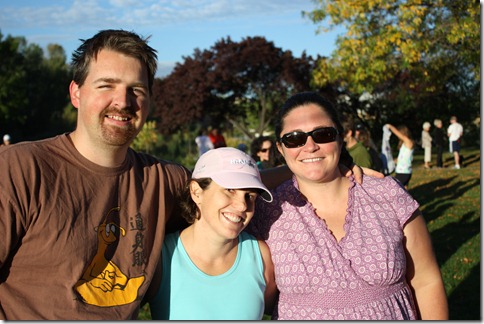 I was confident I could do it but worried about my hip.  I had started to have some twinges of hip flexor pain on the left side earlier in the week.  The last time I ran a half marathon without swimming and biking beforehand (Half-Ironman Distance Triathlon) I hurt my right hip flexor.  I got bursitis and tendonitis in my right hip after the 2005 Nike Women's Half Marathon and was in physical therapy for months.  I thought I'd never get to run again. Of course I did run again and even did the Ironman 2 years later. 
Running exclusively has always been hard for me and I've learned that I can only run 3 times a week.  The rest of my training has to be cross training or I hurt myself.  I've attempted to train for 2 marathons and both times, I hurt myself.
ANYWAY, I was worried.  I did a ton of stretching and tried to think positive thoughts.  I didn't think about my race much but the morning of I started really worrying that my hip would fail me.
I tried to put that thought in the back of my mind and lined up to race!  First, let me say that this is the smallest race that I have ever been a part of.  We drove up and parked right across the street.  I got there 45 minutes early and I could have arrived 15 minutes early.  It was crazy how cozy and not stressful it was-CRAZY.  At about 8:55, they announce, we're starting in 5 minutes, make your way over to the start!
Start we did! There I go!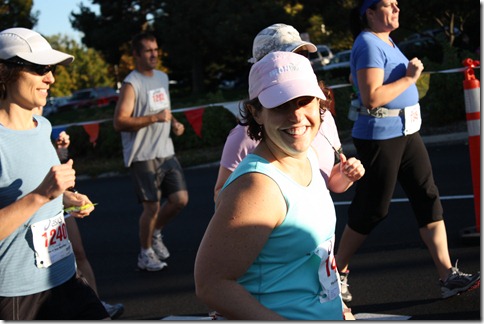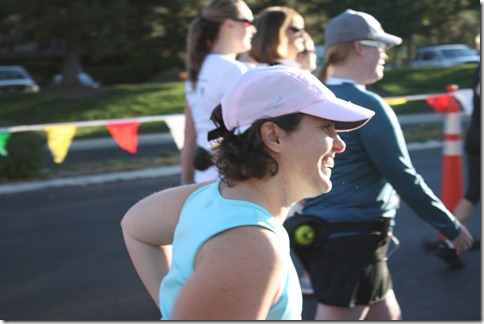 My first mile was my fastest and most painful.  My hip REALLY hurt and I was feeling VERY discouraged.  When my phone announced that I ran the first mile in 10:50, I decided to slow down and massage my hip a bit.  By the 4th mile I was feeling pretty good and by the 6th mile I was in my groove.  The course started off pretty, then was UGLY, then was really pretty again.  Around the time that it got pretty again (mile 11) I was starting to feel it.  I slowed down (and had my slowest mile at mile 12) and got discouraged again.  Then I told myself that ANYONE could run 2 miles and that that it was less than half an hour of pain.  Thankfully my awesome cheering squad (Luke, Megan, Lissa, Tessa, Shaun, and Lucy) had set up camp just after I heard that I had run an almost 13 minute mile.  They almost missed me because the girls were having so much fun playing.
I saw them yelling and running towards me and I though "Ha! Those people almost missed the person they're cheering on. That's funny. OH wait, those are MY people!"  They came running and I got cheered on by some of my favorite people in the world.
Here's Lu and Megan cheering on other runners and giving them fives: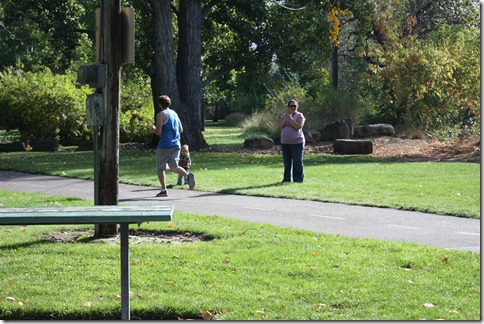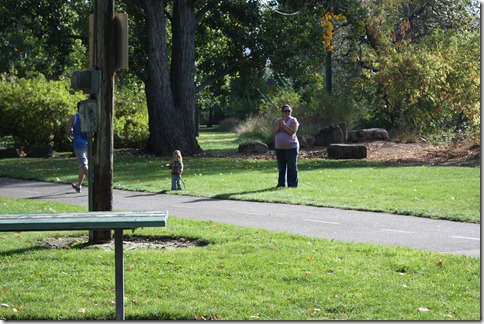 They were seriously at the right spot!  It was all I needed to light a fire under my butt and make me run!
When I hit mile 13, I started crying-they were happy tears.  At some of my lowest times after Lu was born and I was being so hard on myself, I thought my racing days were over.  They're not!  I finished strong and my cheering squad was right there at the finish line!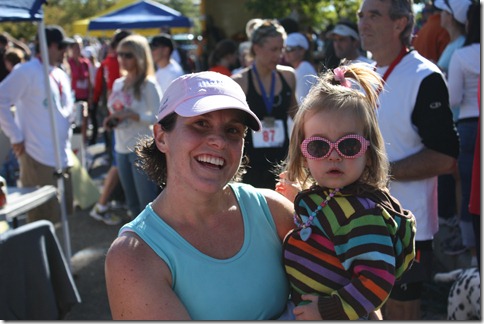 Stats:
Mile 1: 10:50 min/mi
Mile 2: 11:36 min/mi
Mile 3: 12:09 min/mi
Mile 4: 11:56 min/mi
Mile 5: 12:13 min/mi
Mile 6: 11:48 min/mi
Mile 7: 11:50 min/mi
Mile 8: 12:08 min/mi
Mile 9: 12:06 min/mi
Mile 10: 11:58 min/mi
Mile 11: 12:33 min/mi
Mile 12: 12:50 min/mi
Mile 13: 12:33 min/mi
Finish time: 2:37:41 Average 12:02 min/mi
I mentioned above that I "heard" my pace and that my phone "announced" how fast I was going.  My Garmin broke about 2 months ago (it won't turn on) and I downloaded a free app for my phone called Endomondo.  It's awesome!  It tells me at every mile how fast I went and how long I've been running.  I just put it in one of the pockets on my fuel belt and I have a great training partner PLUS if I get in trouble, I have my phone to call home.  I will not be getting a replacement for my Garmin!  You can also set a "goal" time and it will tell you if you're going too slow.
Look at the cool readout it gives me online: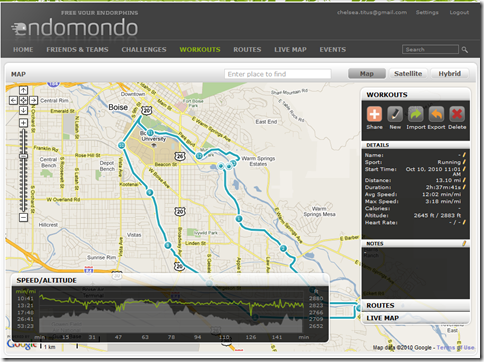 I highly recommend it!  It works with: Works with: Nokia, HTC, iPhone, BlackBerry, Android, Samsung, Sony Ericsson, LG, HP, Eten, Palm, Motorola, as well as Garmin devices.
So, there you have it.  I did it!  I'm really proud of myself and can't wait for the next race!
Category: Uncategorized | Tags: city of trees half marathon, endomondo, half marathon, Lucy, race report, running, Shaun 11 comments »