November 30th, 2010 — 10:38am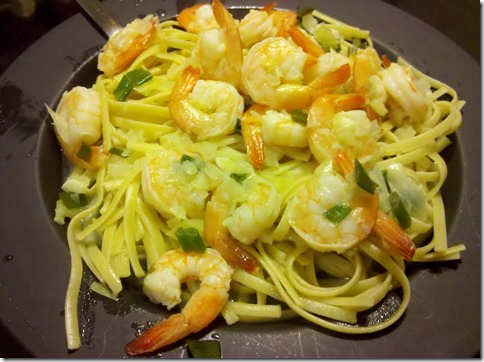 As amazing as my husband is, he DOES NOT cook. When we first met, his refrigerator had ketchup, tarter sauce, and beer in it.  That's it.  The freezer had pot pies, tater tots, and fish sticks. YUM! I did teach him how to make Mrs. T's perogies-you know, boil water, put them in, wait for them to float, drain them, add some butter, and seasoning salt. I also taught him how to make scrambled eggs.  He was REALLY proud of himself when he made his first egg.
We've been together for 7 years.  If I don't cook, we go out.  Since we're trying really hard to save money, that means that I cook A LOT. I love to cook.
BUT.
Quite frankly-I'm exhausted.  I NEED SOME HELP!  One of the problems is that I have so many food allergies that we can't just throw a pizza in the oven and Shaun can't make eggs or pirogies for me.  We've talked about me teaching him to cook but we never do.  Well…
Last night was the night! Look at what my hubby made me!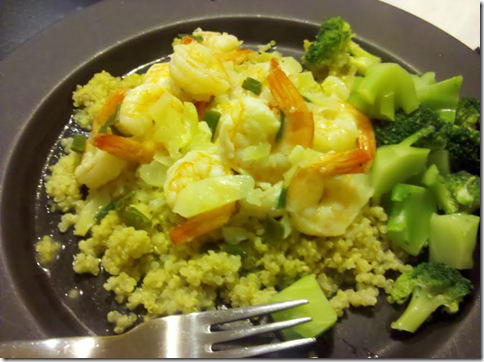 (These are all phone pictures since I was too lazy (Yes I am THAT exhausted) to go downstairs and get my camera.)
I picked what I would teach him (and he freaked out and said it was too much too soon) and then I told him how to make it.  He did it ALL himself. 
Here's the recipe, so that he can make it again.
Ingredients: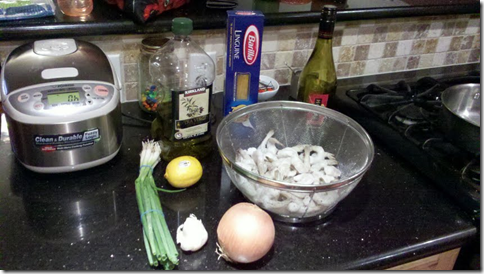 (He took this picture for himself-the idea for a post came when he said he'd never remember how to make this.)
-2 TBSP olive oil (a turn or so around the pan)
-1/2 onion
-5 cloves (pieces) of garlic
-1 pound frozen shrimp
-1/2 cup wine
-Juice of 1 lemon
-The greens of green onions, chopped
-1/2 tsp salt
-A few grinds of pepper from the pepper mill
-Half a box of pasta
-Quinoa, rice, or rice pasta for your wife

Instructions:
-Put the frozen shrimp in a colander and soak in cold water.
-Put water in a big pot on the stove and turn on high.  It needs to boil for the pasta. Once it boils, cook the pasta according to the package.
-Get a big skillet (the one with the big sides) and put the olive oil in it.
-Chop the onion (a Slap Chop is great for this!), put it in the pan.
-Chop the garlic, put it in the pan.
-Chop the green onions. DO NOT PUT THEM IN THE PAN.
-Cut the lemon in half. DO NOT PUT IT IN THE PAN.
-Turn the stove on to Medium High.
-Stir the onion and garlic mixture until it starts to look a little slimy-about 3 minutes.
-Add the defrosted shrimp.
-Add the wine and the lemon juice.
-Stir occasionally until the shrimp is pink-about 5 minutes.
-Once the shrimp is pink, add the green onions, salt, and pepper.
-Stir and turn off the stove.
-Serve over pasta, rice, or quinoa.  Microwave some frozen broccoli for a side.
Viola!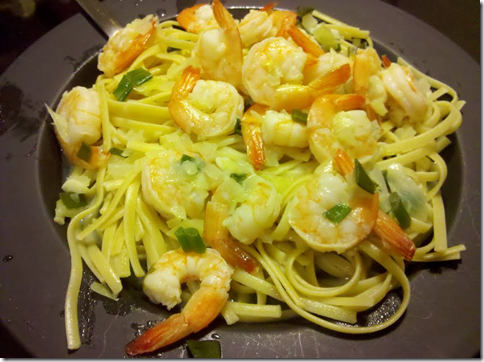 Lucy loved it!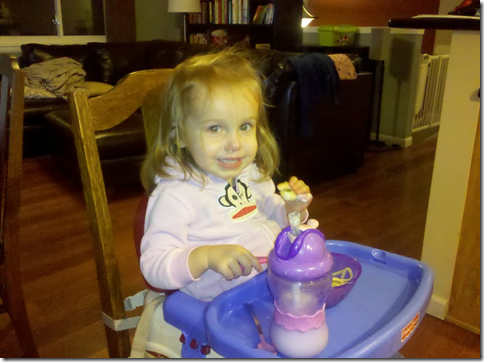 It was fabulous!  Thank you honey!