Oh man is Lucy at a fun age.  Even when she does something she isn't supposed to it's cute.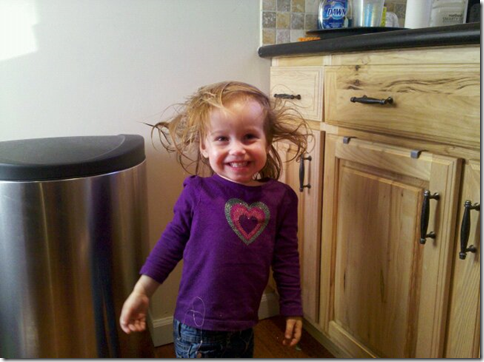 On Thursday Lucy didn't take a nap at daycare.  On Friday, she was at my sister's house with our sitter in the morning.  I went to pick her up for naptime and the sitter said that she was REALLY tired (not surprising).  I brought her home and she DID NOT want to nap.  I rocked her for 10 minutes and she was still wide awake.  I put her to bed and she babbled for 40 minutes.  I went into her room and told her it was time to go to sleep (in my sternest voice) and rubbed her back. That seemed to help but as soon as I left the room she started babbling again.  Finally at 3 (I put her down at 1:30) there was silence and I thought, "Success!" 
I was working away when about 25 minutes later I hear light knocking.  I ignored it thinking it was just my house making noises.  About 2 minutes later I hear more knocking.  I get up to go answer the front door and as I pass by Lu's room I hear the knocking coming from HER room.  I open the door and there stands my 2 year old on her stepstool in front of the door.  Apparently she had been trying to get the door open.  That silence?  Well that was her getting out of bed (which she has never done before without either Shaun or me in the room), taking her stepstool and using it to get her blankets and books off of her shelves and then to try and open the door. Oh yes, and to get into the vaseline.
I didn't notice at first that she was covered in clear goo.  I brought her upstairs to Shaun (who was home sick) and asked him to watch her for a little bit longer so that I could finish up work.  I came back upstairs and notice that she's VERY shiny.  I asked, "what's on her?" and Shaun said, "I think it's spit."  I go to wipe it off and know IMMEDIATELY that she had gotten into the vaseline.  The picture above is after I tried to get it out.  Lovely, huh?  And she's so dang proud of herself too!  Luckily she only got it in one place in her room (on her rocker) and after a good bath her hair is mostly back to normal, albeit a little greasy.
In other Lu news, yesterday she told me, "Mama, behave!"
It's a good reminder

~~~~~
Food and Exercise Update
I did my first Zuzana workout on Friday and OMG, I am very sore.  I'm going to get out and do a run later today and I hope that that will help the soreness.  A girl can hope!
Yesterday, I went a did a big stock up grocery trip and I made hummus, pumpkin date oatmeal bars (still perfecting the recipe but they are GOOD), and raw almond butter (it is so much cheaper to do it at home, vs. buying it at the store!).  It was a good day!
Category: Uncategorized | Tags: bodyrock.tv, Cute Age, high intensity, hummus, Lucy, pumpkin date oatmeal bars, raw almond butter, Terrible Twos, Vaseline, zuzanna 2 comments »