First, before I get to exercise, I'll share an awesome picture that the photographer at my brother and SIL's wedding got of Lu, as a flower girl.
There's a few more pictures of the wedding at http://www.danieljireh.com/blog/.  I can't wait to see them all.  I love that picture.
Now, exercise! In the past year I haven't exercised as much as I used to.  I stopped because I was having disordered thinking about it.  I was exercising to burn calories.  I wasn't having fun, I wasn't enjoying it-I was exercising to eat more. No bueno.
What I've come to realize is that I REALLY, REALLY, REALLY like to exercise.  It makes me happy, like REALLY happy.  Got that yet? Exercise makes me REALLY happy

. I no longer use a heart rate monitor to track how many calories I burn (I haven't in about 5 months) and I exercise because I want to. 
As I mentioned yesterday, I'm doing The Artist's Way and one part of it, are the "Artist's Dates".  Artist's Dates are 2 hour chunks of time where I'm supposed to do something for myself with myself (and no one else) that foster's my creativity. Some of my dates? Going to get my make-up done and getting a lesson (and buying said make-up).
A recreation: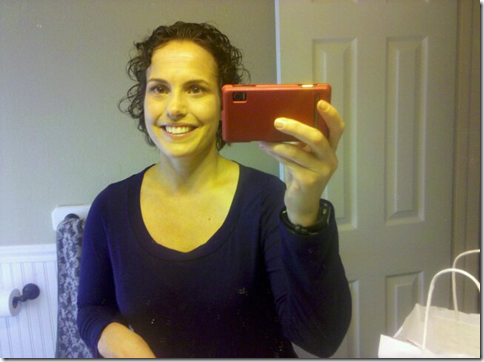 Going shopping for myself and only myself.  Wandering the aisle's of art stores to see if anything catches my eye, trying soccer for the first time, RUNNING.  Yes, running.
When I run, it's my "me" time.  It's when I reconnect with me and talk to myself.  A LOT gets done in my head when I run.  It's one of the reasons I love doing it so much and by myself.  I really like to run by myself.  I like being stuck in that 'ol brain of mine

How about you?  Do you like to exercise?  If you don't, do you do it anyway? Do you find other ways to be active?
Category: Uncategorized | Tags: exercise, Lucy, running, soccer, The Artist's Way 5 comments »