I don't think I have talked about my love of Vaseline.  I mean it, I LOVE Vaseline. I use it, without fail, EVERYDAY. Love it!
As you know, I now live in Boise.  What you may not know is that Boise is the high desert. What that means is that it is DRY here. There is very little humidity and what that results in is very dry skin. Now that I live here, I basically bathe myself and Lucy in Vaseline on an almost daily basis.  I realize that it's Petroleum but I figure that that does come from the earth and it works.  Plus it's CHEAP.
I do not use it on my hair.  We all know how that turns out. Need a reminder?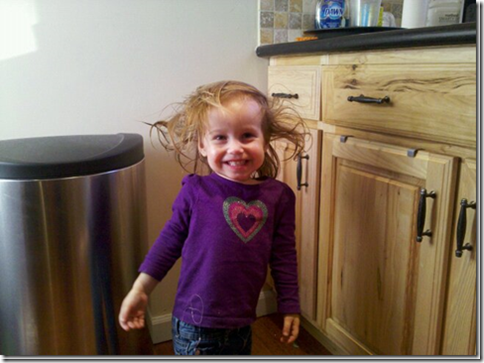 Yeah, not a great hair product.
But as a skin product? It's awesome.  I use it on my feet, my legs, my hands, my elbows, my arms, my lips, to remove make-up, as an eye "cream", as face "cream".  On my face, I only use it at night-it gives me quite a sheen and Shaun always asks me "What's wrong with your face? I can see you shining in the dark." Apparently, it can be used as a night light as well

.  I use it on the rest of my body as soon as I get out of the shower and I apply it to my hands and lips multiple times a day.
I have a tub in my bathroom, a tub in Lucy's room, and a tube in my car.  The only problem with the one in the car is that it gets cold and it's hard to get out.  In that case, I sit on it with my seat warmer on and it'll come out in about 5 minutes.  Sometimes I'll forget that it's there and I'll get to where I'm going without ever using it. Evidently I am not a princess, nor would I feel a pea.
Lucy has super sensitive skin and I can only use Vaseline or CeraVe lotion on her skin. Even Aquafor (for whatever reason-probably the lanolin, which I have issues with) breaks her out.
On my birthday, I went and had a facial.  Usually, I get told that my skin is a mess and needs all sorts of help.  Not this time.  I was told that my face was in beautiful condition and to continue what I was doing which includes CeraVe cleanser morning and night and Oil of Olay (with SPF) moisturizer in the morning. I use make-up about twice a week that has SPF in it as well (Bobbi Brown). The esthetician did recommend that I use powder with SPF in it throughout the day as SPF wears off after about 90 minutes.  I haven't started doing that, but I'll try.  Those years competitively swimming, life-guarding, and teaching swim lessons have done a number on my face but it's nothing a little Vaseline can't fix.
For those of you worried that it will give you blackheads?  Worry no more-it's actually noncomedogenic. Who knew?!?!?!
You do, now

Category: Uncategorized | Tags: Boise, dry skin, tips, Vaseline 6 comments »