It's the second edition of Shaun Can Cook!  This week's selection? Green Curry!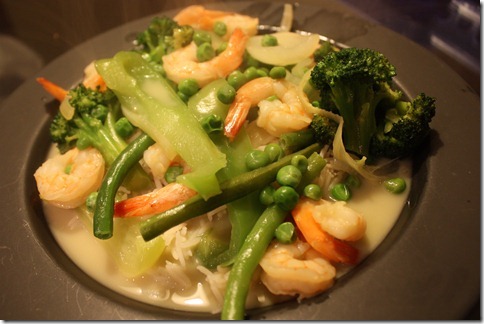 Ingredients:
-Cooked rice (Use the rice cooker)
-Half an onion
-1/4 pound green beans
-2 heads of broccoli
-1 green bell pepper
-8 oz frozen peas
-8 oz-1 pound protein (I gave Shaun the choice of tofu or shrimp and he chose shrimp)
-2 TBSP honey
-1 TBSP Braggs Amino
-1 tsp green curry paste
-1 can coconut milk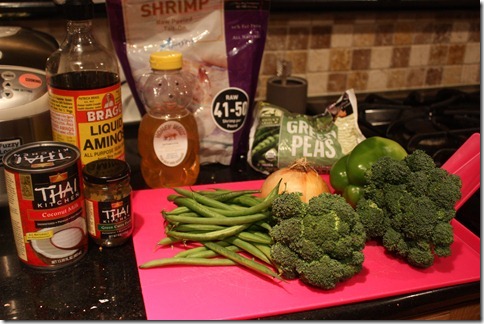 Implements Needed:
-Cutting board
-Knife
-Big skillet or Wok
-Strainer to defrost shrimp
-Spoon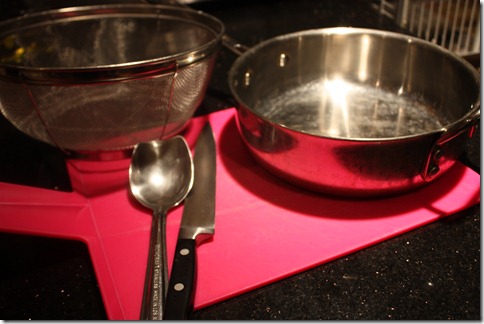 -Measuring spoons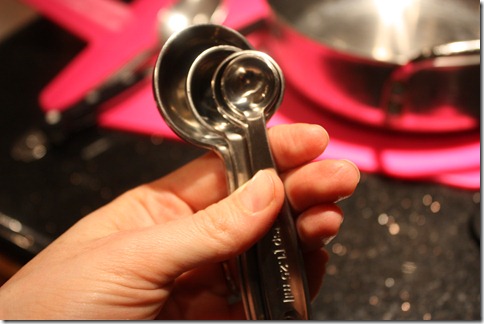 -Can Opener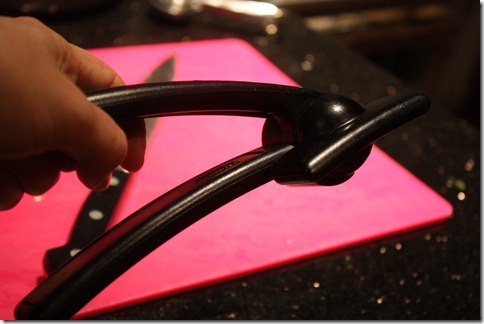 -Lid for the pan.
Instructions:
-Make sure your child is sufficiently occupied. She likes to sort food into different colored bowls.  Sunflower seeds being a favorite.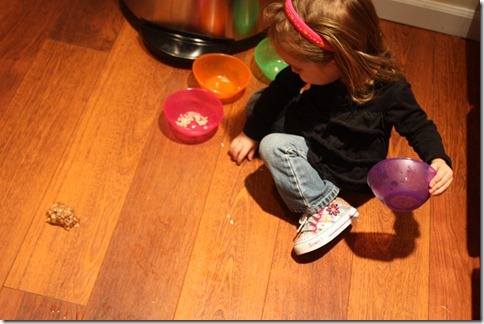 -Place shrimp in the colander and run cold water over them or soak them for ~5 minutes. If you are using a different type of protein, cut it up into bite sized pieces.
-Cut the onion, first in half and then into longer pieces.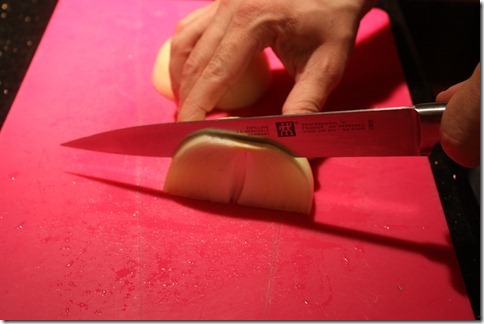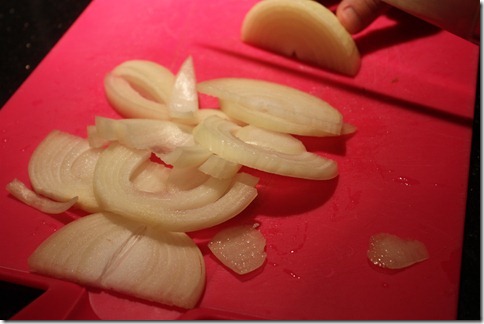 -Put aside on a plate (not in the pan)
-Trim each end of the green beans.  You can do multiple at one time.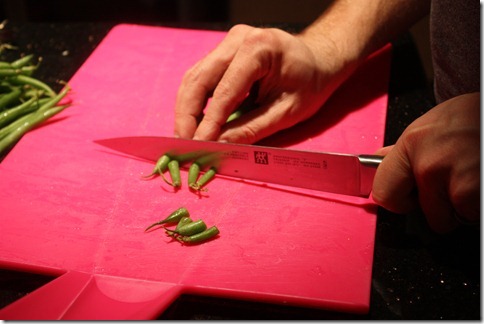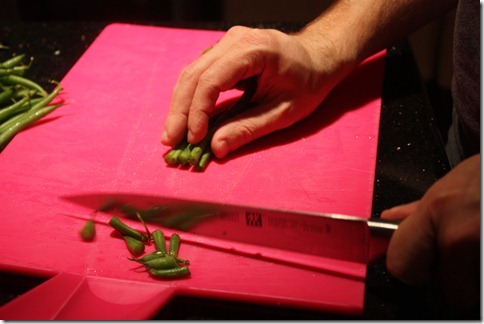 -Set aside on a plate.
-Trim broccoli so it's just the tree part.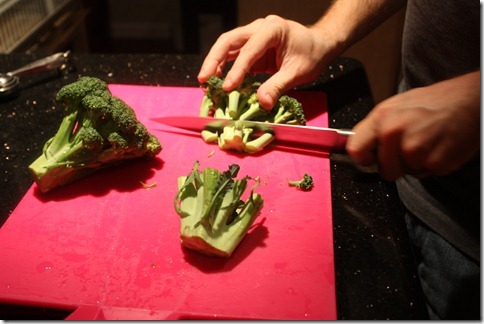 -Cut the bell pepper in half.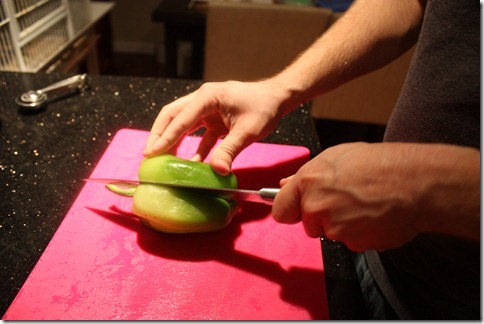 -Cut out the stem, seeds, and white membrane.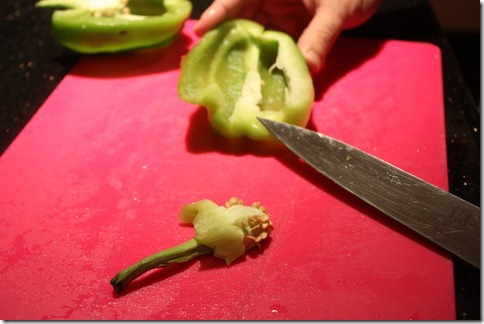 -Chop into long pieces.
-Turn the stove on to medium high heat and put 1 tsp of green curry (more if you like it spicier and are not feeding a child) and the can of coconut milk in the pan and stir it up.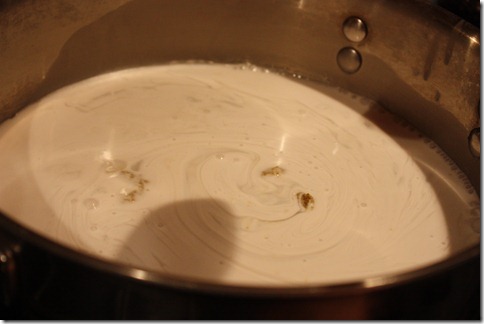 -Next add 1 TBSP of Braggs and 2 TBSP of honey. Stir.
-If you're using meat or tofu, add it now and cook for about 5 minutes.
-Add all the veggies you chopped.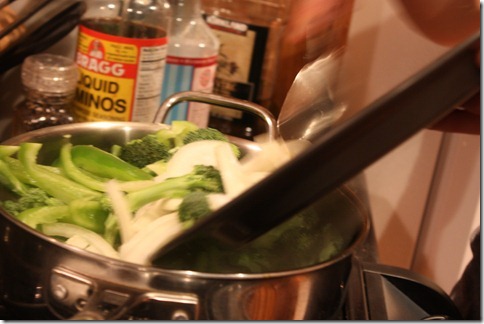 -Cook for about 5 minutes, covered.
-If you're using shrimp, add shrimp and peas.
-Cover and cook for 5-10 minutes more-until the peas are no longer frozen and the shrimp is pink.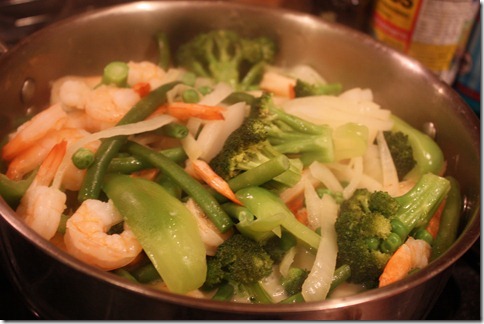 -Serve on a bed of rice.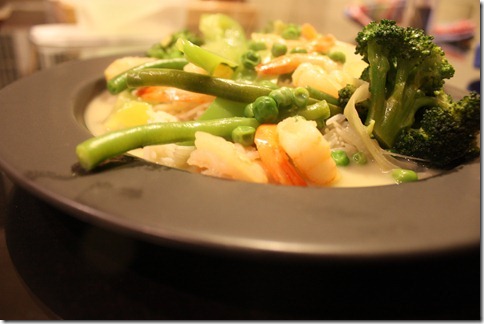 -Sit back and watch as your daughter eats it all up and asks for more.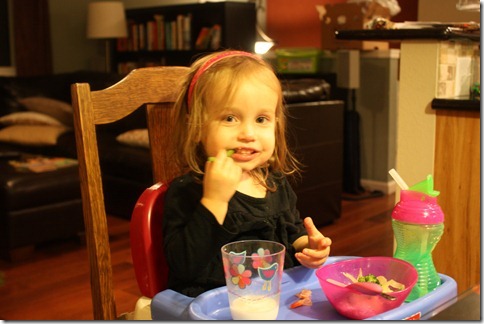 Another HIT by Shaun.  He's doing great!  See?  Cooking is easy!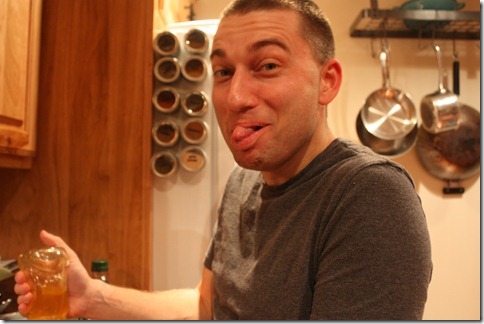 Category: Gluten Free, Recipes | Tags: green curry, recipe, Shaun, Shaun can cook, shrimp 3 comments »