January 31st, 2011 — 1:36pm
A couple of weeks ago I was at a loss for what to have for lunch and pulled gluten free pizza dough out of the fridge, then I added tomatoes, peppers, and thought to myself, "I need protein." so I added chickpeas.  It didn't quite feel complete so I added olive oil and curry powder.  The result? O.M.G. I've now made this pizza multiple times and it's been requested for a party.  I thought I'd share with y'all.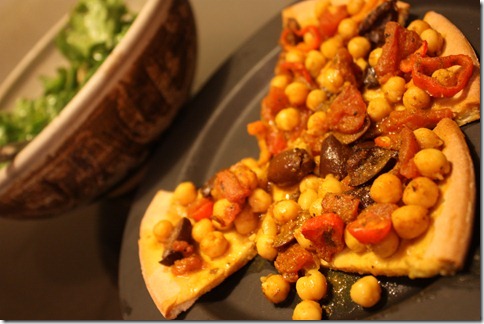 Ingredients:
-GF pizza dough (I like Udi's)
-1 cup stewed chopped tomatoes
-1 cup rinsed chickpeas
-1 small bell pepper, sliced, or 5 mini bell peppers, sliced
-10 kalamata olives, sliced
-1 TBSP olive oil
-2 tsp curry powder
-Salt to taste
Instructions:
-Preheat oven according to pizza package.
-In a bowl, toss together all the ingredients, except the dough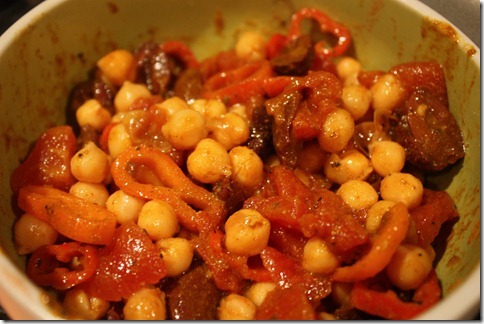 -Place mixture on the dough.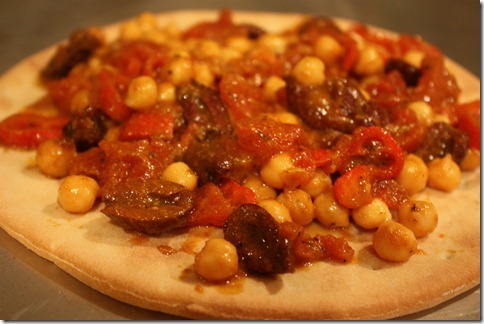 -Bake until the dough is crisp (about 10 minutes)
-Enjoy!
Next time I may add some chopped up fresh cilantro after I remove it from the oven-YOM!