Today I'm thankful for kind words.  In the last 24 hours I've gotten 2 emails from people that were so incredibly nice.  These people had no need to email me and yet they did and what they said just made me smile. So thank you

To make YOU smile, I'll share a blurry phone picture from this weekend: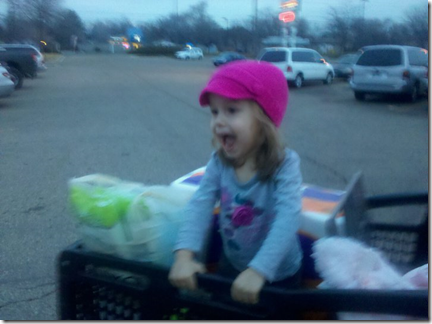 I got a hat like that for Christmas from a close friend and Lu LOVES it.  When I found one at Shopko (like a local KMart) for $5, I knew Lu had to have it.  Her Daddy was letting her be a daredevil and stand in the cart.  I love how happy she is in this picture.  I strive everyday to have moments of happiness like my daughter.  Today in yoga during the final savasana, the teacher said, "A happy life is about happy moments, go make those happy moments.  If you sit back and wait for them, you won't be happy.  Go be happy."
Go be happy.
Category: Uncategorized Comment »