We had a really fantastic weekend.  Saturday Lucy, my sister, Tessa, and I went to the first Farmer's Market of the season.  There wasn't much in the way of produce other than spring greens but it was nice to see all of our favorite vendors and walk downtown on Saturday morning.  I ended up getting 2 heads of romaine and a bag of spinach.  I also got some Rooster Peanuts from City Peanut Shop.  Peanuts roasted with Sriracha-YUM.
Saturday afternoon was spent in the garden!
I made a raised row and planted kale seeds.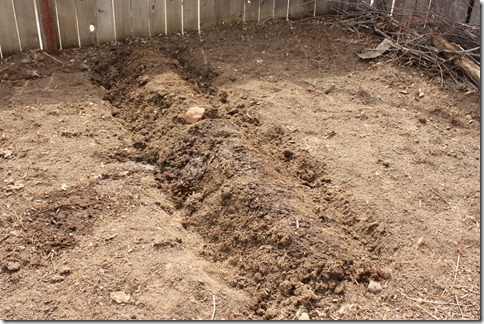 And planted my peas, which I had already started inside.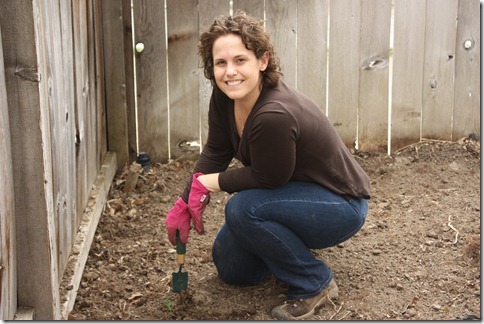 Those are the two crops that are supposed to be okay in the frost.
Lucy helped!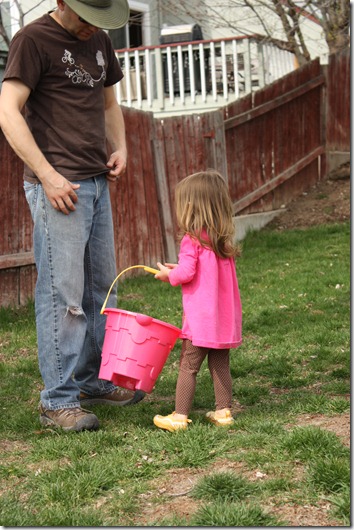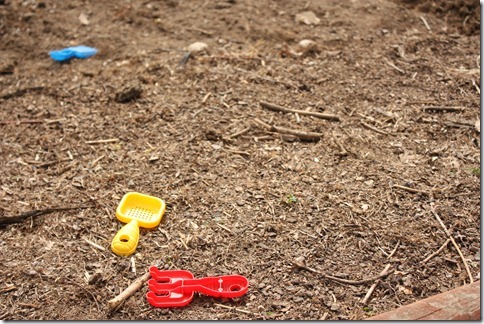 That night, we went over to Megan and Luke's for dinner.  Megan's brother was in town and it was great to see him.
On Sunday, we went to Zoo Boise for their Easter Egg Hunt.  We had NO clue it would be so busy!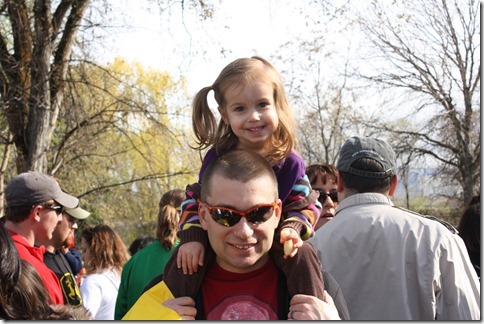 It was Ca-RAZY!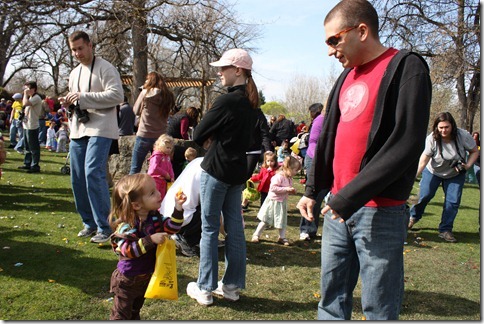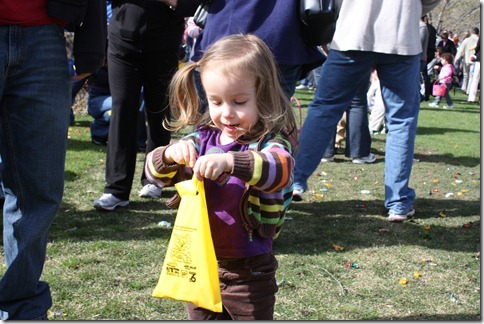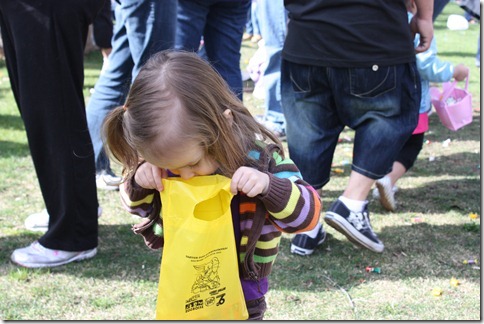 After going home for a nap, I took Lu to swim lessons where she is doing REALLY well.  We have 6 more lessons left and I bet by the end, she'll be able to do a little unassisted swimming!  Tessa will be for sure!  It's really fun to see the girls get more and more comfortable in the water and to see their different personalities.  Tessa has no fear and wants to do everything herself.  She went under water at least 15 times yesterday.  Lucy on the other hand, is more cautious and hates going under water but DID!
We ended the weekend by going to The Ram. It's one of our favorite restaurants to go to as a family.  They have a pretty extensive menu, good (not great) food, great beer (for Shaun), and they are really kid friendly.  In fact, on Thursdays and Saturdays, kids eat for $1 and that included an appetizer (carrot sticks and ranch), a kids meal, milk, and a scoop of ice cream. Can't beat that!
We haven't been going out quite as much because A) we're trying to save money, B) it's hard when you're in the midst of potty training, C) Lu has become my second skin.  Lucy wants to be in my arms AT ALL TIMES.  My once, very independent child wants to crawl inside my skin.  She's sitting on my lap, in my arms, or begging to be in my arms 99% of the time.  She's even taken to grabbing my face and talking to me lips to lips (it's very awkward).  Yesterday I took a shower with Lucy waiting patiently outside the tub. I love her and I am loving all the cuddles I am getting but I also need my space.  Last night was hard because I couldn't really eat and I was uncomfortable.  Shaun finally took her outside for a little walk (so that I could eat) but that wasn't any fun either.  I'd rather be with my family!  I know it's just a phase and it will pass and probably be replaced with a phase where she wants nothing to do with me.  At that point, I'm sure that all I want is for this phase to come back so I'm trying to embrace it.  It doesn't help that after my second skin goes to bed, the cat then takes over.  Last night I put the cat down and said, "GIVE ME SOME SPACE!"
I need get a picture or video of the talking to Mommy lips to lips.  That's one she'll want to remember, right?
Category: Uncategorized 9 comments »