Yesterday we had a walkthrough with our landlords.  We're getting ready to sign a 2 YEAR LEASE to stay here and the landlords wanted to make sure that we were treating the property well and to look at the issues we want fixed (we have a tree growing into power lines and currently our workshop's power is supplied by an extension cord plugged into an outside outlet (?!?!?!)).  To prep for them coming over, we used it as an excuse to do a big Spring cleaning.  We are really clean people but I don't always wash my windows or organize Lu's toys.  While cleaning, I used the whole Shaklee line and I have to say that my opinion has been changed. I'm still not WOWED by the Scour Off-it's what I used last week and it was just okay.  Yesterday I cleaned using the All Purpose Spray, the Degreaser, and the Window cleaner.  It worked REALLY well and my house was sparkling in a way that I've never been able to achieve. What'd the landlords think? They thanked us about 100 times (I am not exaggerating) for taking such good care of the property.  They also asked if we'd be interested in buying the place.  I don't think we are but it was an interesting conversation to have.  It looks like we'll be here for at least another 2 years!
I also got some flowers on Monday.  I bet the landlords thought that this was just to impress them but I can say that I've had fresh flowers in my house since Christmastime.  I LOVE flowers but always thought that they were too expensive.  The Artist's Way convinced me that this is one "luxury" that I should provide myself.  They make me so incredibly happy and are totally worth it.  The most I've ever spent is $8 on flowers.  For that much happiness?  Totally worth it.
I normally get mums or spider mums BUT tulips are finally in season.  I LOVE tulips-they are one of my favorite flowers.  Shaun even commented on how pretty my flowers were this week.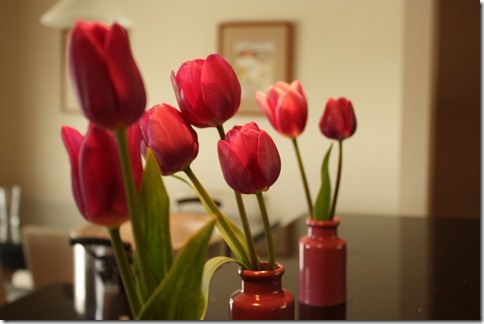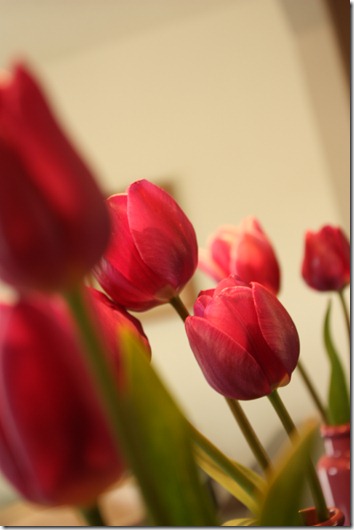 I always have a vase in my bathroom.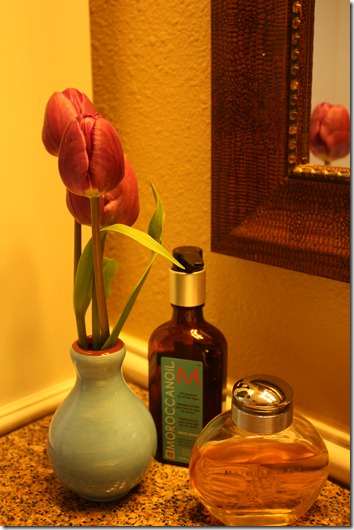 Aren't they pretty?
In other news, after yesterday's post I decided to make my own cottage cheese-Cynthia also mentioned this in the comments and my Mom sent me an email about it-we're all on the same page people

.
I'm going to start the process tonight-I hope it's as easy as it looks!  I also thought about making my own cheddar but I would need a cheese press and an area that would stay 55 degrees through the summer-I don't think that's happening.
Category: Uncategorized | Tags: Cheese, cottage cheese, flowers, house, making cheese, Shaklee, tulips 5 comments »