I'm thankful that I'll NEVER EVER EVER have to travel for this job ever again!  I'm done in 3 days and boy am I ready!
I had to go to Richmond on the tail end of my Pennsylvania trip and yesterday was supposed to look like this:
4 am-wake up
4:30 am-leave for airport
5 am-arrive at airport
6 – 7am- Flight to Chicago
9:45-12:45- Flight to Boise
1 pm HOME!
Instead it looked like this:
4 am Eastern Time-wake up
4:20 am-leave for airport
4:50 am-arrive at airport
5-7:30 am-watch as my flight keeps getting more and more delayed
7:30 am-get told that I'll miss my connection in Chicago and the next flight isn't until 12 hours later.  Get booked on a Delta Flight (instead of United) that will take me to Detroit, Minneapolis, and then finally Boise.  *Only* 6 hours later than planned, rather than 12 hours later.
7:35-fight back tears
7:45-8:30 wait for new flight
8:30-9 get screamed at to get out of the area as quickly as possible and watch as a bomb squad, firemen, and airport officials rush an area of the Richmond Airport
9-find out that a metal light fixture exploded and they had to make sure it wasn't a bomb.  Severe electrical burning smell makes me gag. Board plane.
11:15 am-Arrive in Detroit-surprised by how nice it is.  Get lunch
1-Boarding flight to Minneapolis when everyone is told that they have to get off the plane and that we'll be taking the plane next to us.  The majority of the plane was already boarded.  Oh and the new plane had a different configuration so we all had to be assigned new seats.
2-board the plane an hour late.
3 pm Central time-Land in Minneapolis, try to find a snack, not very successful.
4:30-About to board last flight home, when we're told that boarding is delayed because a seat on the plane is broken and maintenance has to come look at it.
5-Board plane only 45 minutes late-this is an improvement!
8 pm Mountain time-arrive home!  Where my checked bag has miraculously made it!
*Only* 7 hours late!!!! And *only* 18 hours of travel to get home.
I was greeted by this: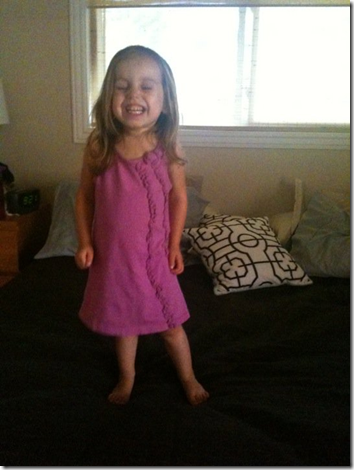 All is now well in my world.
Only 3 days to go folks!!!!
Category: Uncategorized 5 comments »