Bucket List:
1. Write a book
2. Own an actual house with a yard (NOT a condo!)
3. Get to 20% body fat
4. Bike Tour
5. Be totally debt free!
6. Tour Hawaii in a VW Vanagon
7. Visit France, Italy, and Spain
8. Have a real summer vacation-no working summer school!
9. Visit ALL of America's National Parks (I've hit 9 of the 58)
10. Work a summer in Yellowstone.
11. See a moose!
12. See Yellowstone in the winter.
13. Visit all 50 States (I'm up to 15-ha!)
14. Ride in a hot air balloon.
15. Ride the Idaho City Tour with Shaun-50 Mile Mountain Bike Ride
16. Take a helicopter ride.
17. Learn to juggle.
18. Go on an epic vacation with friends, sans kids.
19. Go sky diving.
20. Learn how to make pierogies.
21. Become the type of person who gives the perfect gifts. ON TIME.
22. Be a positive force in this world. Not a negative, judgmental one.
23. Support Lucy, unconditionally.
24. Have an awesome garden.
25. Take Lucy to Jamaica to show her where we got married.
Seven years ago today I married my favorite person in the world. He's still my favorite and I love him more today than I did 7 years ago.
We got married in a little fishing village in Jamaica called Treasure Beach. It was amazing. I want to share that with Lucy too.
Here are our anniversary flowers that I picked out at the Farmer's Market. My favorite-peonies and alliums.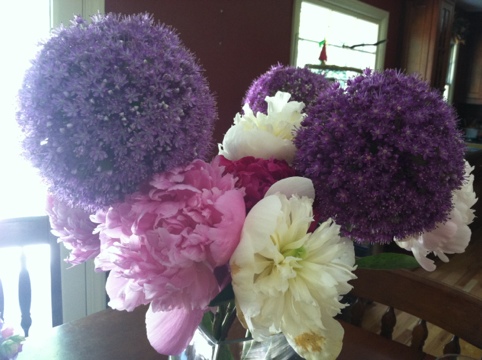 In very sad news, my Zoe kitty died peacefully in her sleep today. I made an appointment to have her put down today but when I went to get her, she had already died. We were able to give her lots of love before she went and I know that it was her time to go.
It's hitting me much harder than I thought it would. I'm really sad but I know that she had a happy life with me.
Category: Uncategorized | Tags: Bucket list Comment »