March 8th, 2011 — 6:46pm
Boise has many things…but it does NOT have good Indian Food.  I decided a few weeks ago to just make it myself.  I did a bunch of research and created my own recipe for Butter Chicken/Tofu.  Man is it GOOD.  I made it this past weekend for Friend Dinner along with Jenna's Chana Masala.  It was some good eats!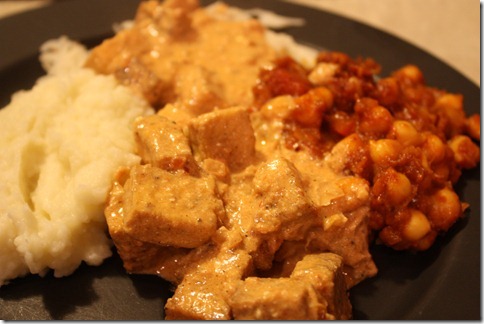 It's a lot of ingredients and it takes some time but MAN is it worth it!
Ingredients:
-1 TBSP grape seed oil
-1 shallot finely chopped
-1 small onion finely chopped
-2 TBSP butter
-Juice from half of a lemon
-1 TBSP minced ginger
-1 TBSP chili garlic sauce
-1/4 tsp fenugreek whole seeds, then ground (too much and it will be bitter)
-1 tsp chili powder
-1 tsp ground cumin
-1 tsp garam masala
-pinch cayenne pepper
-1 bay leaf
-1 can chopped tomatoes, pureed (I did this with my hand blender)
-1/2 cup heavy cream
-1/2 cup plain yogurt
-salt and pepper to taste
-1 TBSP grape seed oil
-1 pound chicken thighs, cut into small pieces or a block of tofu cut into pieces, coated with 1 TBSP grape seed oil, cumin, garam masala, and chili powder and baked for 30 minutes, flipped half way through (or half of each)
-1 tsp garam masala
-1/3 cup ground cashews
Instructions:
-Sauté onions, shallots, and grape seed oil over medium high heat until translucent.
-Melt butter and add lemon, ginger, chili garlic sauce, fenugreek, chili powder, cumin, garam masala, cayenne pepper, and bay leaf. Stir until well incorporated.
-Add pureed tomatoes, stir and cook about 5 minutes.
-Add cream, yogurt, salt and pepper. Stir well, turn heat to low and simmer while you prepare chicken.
-Heat oil in a separate skillet, add chicken and garam masala, cook until browned.
-Add chicken to sauce and stir in ground cashews, stir well, and cover. Cook until chicken is no longer pink.
-Enjoy!
(Shaun LOVES this with mashed potatoes and cauliflower-2 potatoes and a head of cauliflower, boiled, mashed, and then made like normal mashed potatoes.)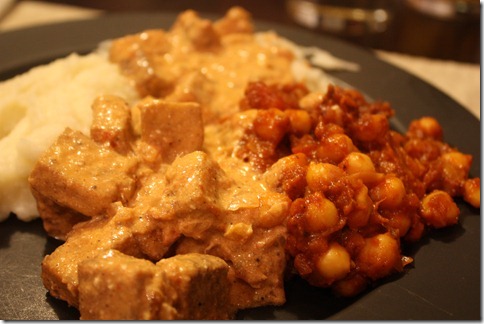 Shaun was so excited about getting Butter Chicken again (I made it a few weeks ago) that he found good Bollywood music/dance videos and had those on loop on You Tube AND he looked up how to say "Welcome" in Hindi.  He and Lu welcomed our guests.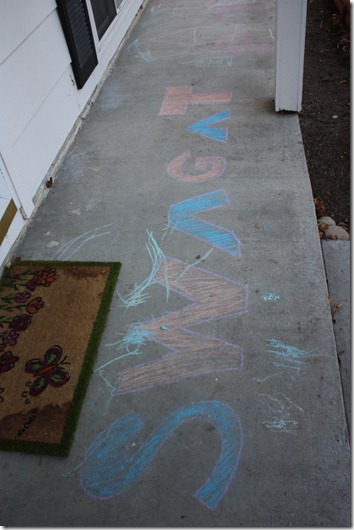 Boise has good Indian food now!