My grandma, who we called Ma, made the BEST corn bread stuffing.  I still make it every year for Thanksgiving and made it again this weekend for some Stuffing Bombs. This recipe is enough to serve 6 on Thanksgiving with leftovers.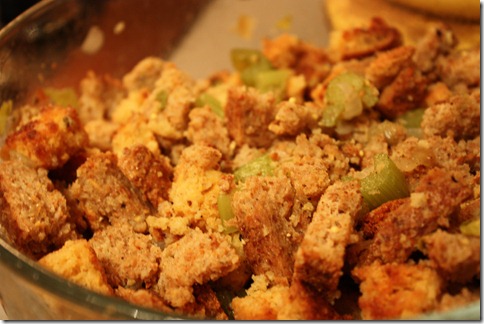 Ingredients:
–Corn bread
-1 loaf of sprouted grain bread
-1 large onion chopped
-1 bunch of celery chopped (including leaves)
-1 TBSP dried sage
-1/4 cup torn fresh sage (optional)-if not using, up your dried sage
-1 16 ounce carton of chicken broth
-S+P
Instructions:
2 days before the stuffing needs to be done, set your breads out to get stale.  I like to do this on a wire cooling rack because the air flows on both sides. Alternately, cut your bread up into bite size pieces and put on a cookie tray in one layer. Bake in a preheated 300* oven for 20 minutes, flipping halfway through.
Spray a pan with nonstick spray, or use a little butter or olive oil.  Sauté onions and celery until translucent.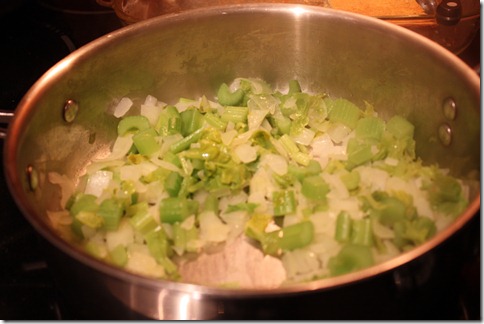 In a large bowl, combine the celery/onion mixture with the bread mixture.  Add the sage, S+P, and chicken stock.  I eyeball the chicken stock and stop adding before the stuffing gets too soggy.  Taste the stuffing and adjust spices as needed.
Bake in a preheated 350* oven for 30 minutes. Enjoy!
Category: Recipes 4 comments »