Back in 2005, when Shaun worked on an hourly help desk (oh how times have changed!), he had to work on New Year's Eve until 6 PM.  We decided to do dinner in and I found a recipe for cooking shellfish in one pot.  I wrote it out on a piece of paper and can't find the original anywhere.  I've modified it quite a bit since I wrote it out 5 years ago.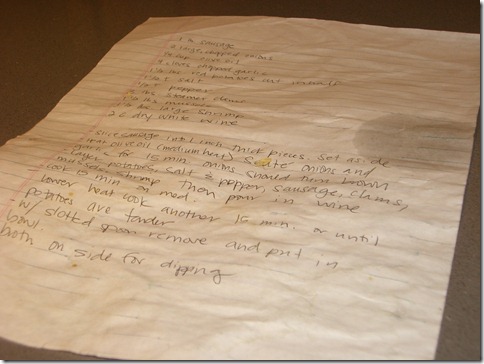 We've had this every year since then, except for the one year we spent in the Mojave Dessert camping for New Years 2007.  It's our own little tradition and we love it.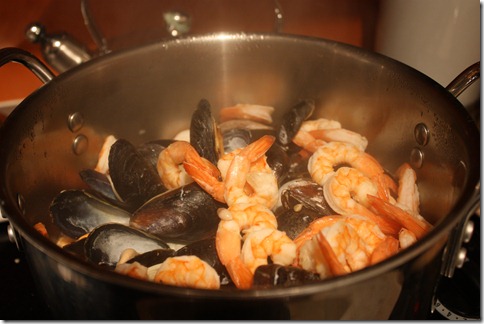 Ingredients:
-2 onions, chopped
-1 head of garlic, chopped
-1 lb or 6 links of chicken sausage
-2 TBSP olive oil
-1 pound new potatoes cut in half (or fourths if they're large). All the potatoes need to be approximately the same size.
-1/2 tsp salt
-1/2 tsp fresh ground pepper
-1.5 lb steamer clams
-1 lb mussels
-1 lb FROZEN shrimp 
-2 cups white wine
-Juice of 2 lemons
Instructions:
-Slice sausage into 1 inch thick pieces. Set aside.
-Over medium high heat, sauté onions and garlic for 15 minutes or until caramelized. Stirring frequently.
-Layer, in this order: potatoes, salt and pepper, sausage, clams, mussels, and shrimp.
-Pour in wine and lemon juice.
-Cook 15 minutes on medium.
-Lower heat to low and cook another 15 minutes on low or until potatoes are tender.
-Enjoy!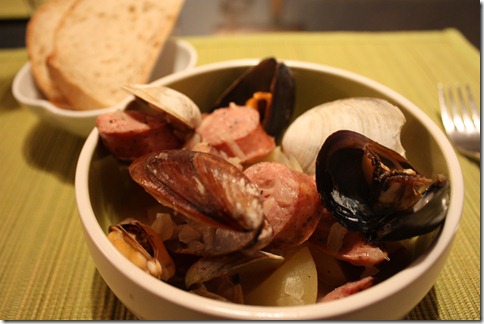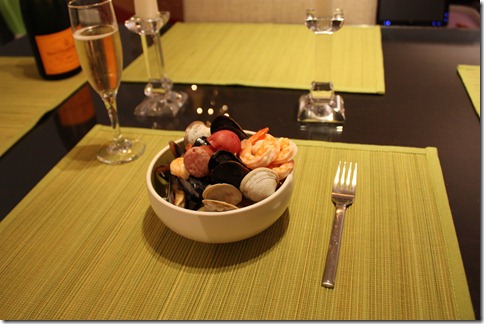 This serves about 4. It heats up well the next day but after that, I think you'd need to toss it.
Category: Recipes 4 comments »