Yesterday my Bikram studio brought Lynn Whitlow (a master teacher) in for a posture clinic. The day started with a normal 90 minute class taught by Lynn, followed by a 5 hour posture clinic.  I had no clue what to expect but I was excited!!!
In preparation, I had to think about fueling myself.  They were going to have food but usually that means I can't eat anything. I packed a TON of food: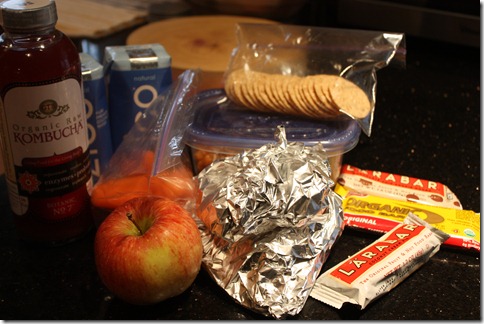 Kombucha, coconut water, carrots, roasted chickpeas, rice crackers, 3 protein bars, a "sandwich", GF brownie, and an apple.
I ended up eating the Kombucha, coconut waters, a few crackers, the "sandwich", brownie, and then hummus and olives that the studio provided.
My "sandwich":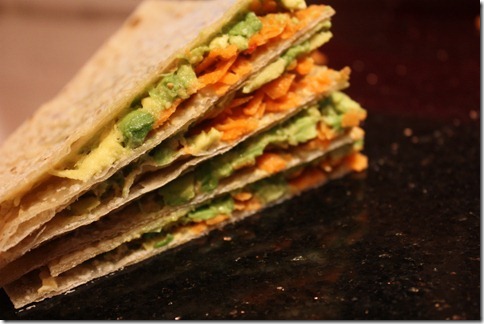 I took 2 brown rice tortillas and put hummus on one side, mashed up avocado on the other, and shredded carrot in the middle. It was SO good and a great option for whenever I need to bring a lunch somewhere (like a plane! No more crappy airport food!)
I also made GF brownies, knowing that they'd have some sort of "treat" and that I'd want some: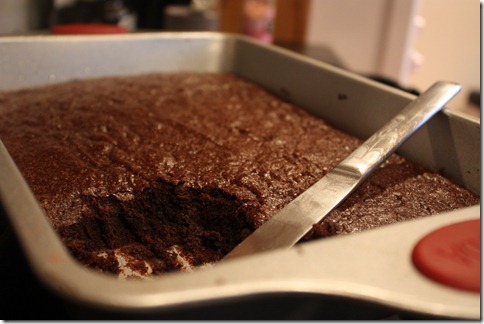 These were from a Namaste mix and  were really good.  Tip-do not use grape seed oil for nonstick purposes!  It doesn't work very well!
So I packed all my food, packed 2 different yoga outfits, 3 towels, and various other odds and ends and set off for my 8 hours of yoga.
First off the class was, by far, the hardest class I have ever taken.  Lynn had a way of explaining things that made the postures so much more effective and hard.  She was using the dialog but what she chose to focus on or highlight made a difference. She was also not shy about coming around and adjusting.  I had to keep reminding myself that I COULD do this and that I was strong.  It really helped that I knew what was coming next and knew how close I was to be done.  I did not give up hope!
After class we got to take a quick shower (boy did we all need it) and change.  Then straight back into the studio where we ate and started talking.  The studio was down to 80 degrees at this point-no worries!  Lynn joked at the beginning that she could talk to us for 12 hours straight but she'd try to make it fit into 5 hours.  I thought she was nuts and didn't know how I could sit there for 5 hours.
We then proceeded to talk through each of the 26 postures and breathing exercises in detail.  When people had questions she would have us do the posture and she would correct us and adjust us. O.M.G. I felt some of the most intense stretching/strength training of my life. I think we talked about the first breathing exercise and how to and for a good 45 minutes.  It was so enlightening! I had so many "A Ha"!" moments it's not even funny.  I used to think triangle was hard, now I think it's excruciating. Holy SHIT.
The day FLEW by and we ended up going until 5:30 (we were supposed to end at 5) and she had to speed up the last few postures to get through them all.  We could have sat there and talked for another 7 hours easy!  I can't wait to go to class today and put to use everything I learned! 
It was an amazing, amazing day which was followed by an amazing night!
My sister came over and cooked us dinner.  Megan and Luke came too (their first trip outside the house with Porter other than the doctor) and Lissa's in-laws were here.  I literally got home at 5:45 and by 6 I had a house full of people.  My awesome husband even cleaned (which I was not expecting him to do!).
My sister re-created the seafood feast from New Year's-she loved it so much and couldn't stop talking about it, so decided to make it herself.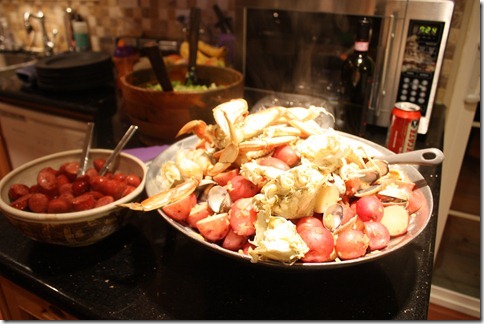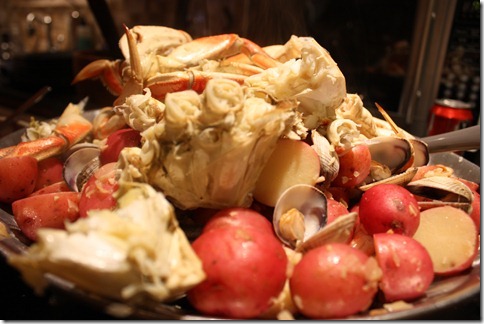 She put the sausage on the side (for me).
The table was ready!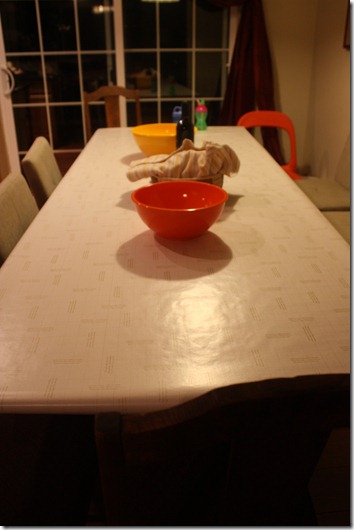 We chowed down!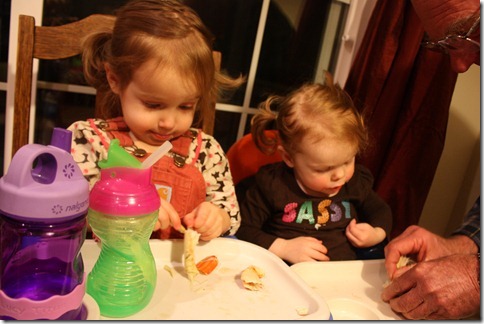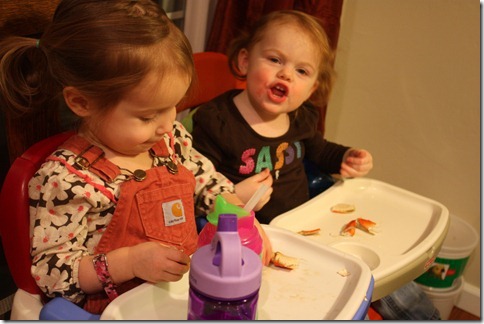 We also got some BABY TIME!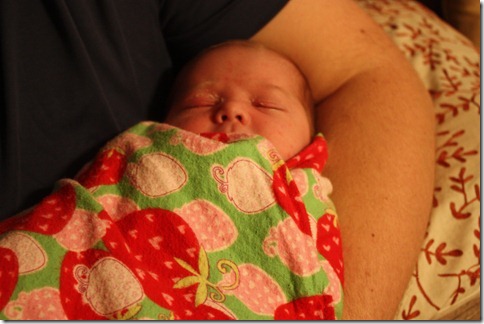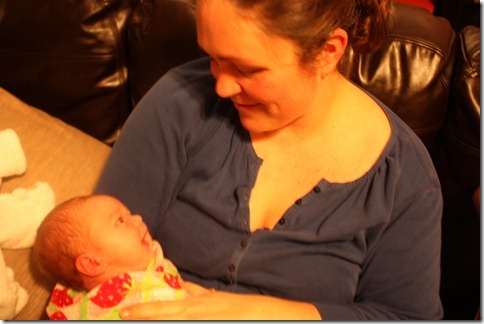 Have I mentioned lately that I LOVE my life?!?!?!?
Category: Uncategorized 4 comments »