I've been craving tomato soup and grilled cheese like mad.  Almost all the tomato soup out there has dairy so I thought I'd try to make my own.  I'm so glad I did!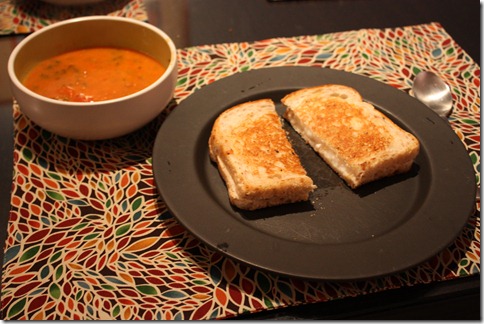 Ingredients:
-3 pounds of tomatoes (I used 2 pounds cherry tomatoes and 1 pound tomatoes on the vine, quartered)
-1 medium onion, chopped
-10 whole garlic cloves
-3 TBSP olive oil
-1 TBSP vegan spread (earth balance or smart balance)
-3-4 cups Chicken/Vegetable Stock
-1 cup roughly torn basil
-S+P to taste
Instructions:
-Preheat oven to 450*
-Place 2 pounds tomatoes, garlic, and onion on a cookie sheet and drizzle with olive oil.
-Cook for 30 minutes, stirring halfway though.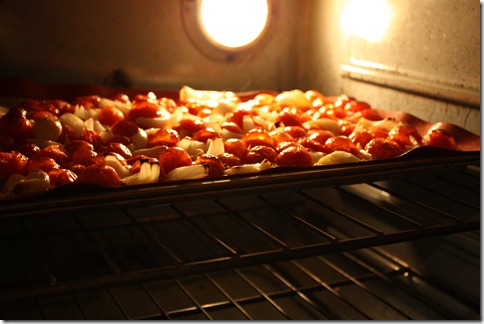 -After stirring mixture in the oven, melt vegan spread over medium high heat in a large saucepan and then place remaining tomatoes in the melted "butter".
-Once the mixture in the oven is caramelized (after about 30 minutes), take it out of the oven and add it to the pot on the stove.
-In addition to the roasted tomatoes, add 3 cups of broth and cook for 20 minutes.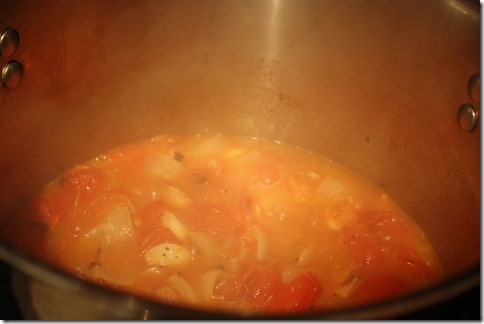 -After 20 minutes, add the basil. Stir.
-Blend with an immersion blender (I left some chunks in it).  Season with salt and pepper to taste. Add additional cup of stock, if needed.
-Enjoy!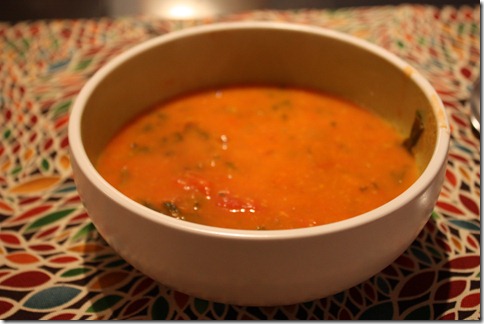 I thought this was AH-MAZE-ING and I give it a 5. Lu did too-she LOVED it.  Shaun "declines to state".  He is NOT a soup guy and says that the best soup in the world would still be a 2 in his eyes. I can't wait to eat this for lunch tomorrow!!
Category: Recipes 10 comments »