Four days in and I think it's going well.  For dinner tonight I modified my meatloaf recipe to make it gluten free and it was a success!  I'll get to that but first the rest of today's eats.
For snack I had some almonds and cashews and 2 kiwis.
Here was my YUMMY lunch: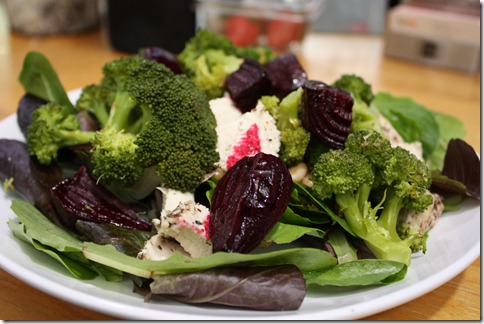 A bed of lettuce with great northern beans, chicken from the other night, roasted beets, and broccoli. YOM.  Someone in the kitchen even commented on how good my lunch looked.  It tasted better. 
This afternoon I finished up my nuts and had some strawberries too.
On the way home from work I stopped at the grocery store because I forgot to get creamed corn for Shaun for his potatoes.  He LOVES creamed corn on meatloaf night and I couldn't disappoint.  Guess what I found?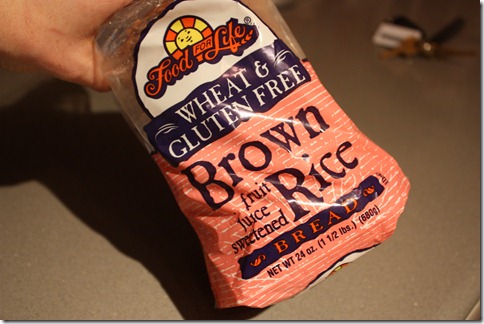 Hello breakfast!  The lady at the bakery said that they have gluten free pies where they use garbanzo beans for the crust!  I see some experimentation in my future 🙂
Our nightly schedule is pretty packed.  I get home around 5:45 and have to have dinner on the table by 6:30.  Lu is really scheduled (both Shaun and I are too-it must run in the family) and she gets VERY hungry at 6:30 and VERY tired at 7.  Tonight was even more jammed packed because I had to give her a bath.  Shaun's job while I rush to get dinner done is to entertain Lu.  Tonight they had a blast with a raw green bean.
I'm one lucky chick 🙂
As I mentioned above I made meatloaf gluten free tonight.  I used ~3/4 cup cooked quinoa instead of crackers, Braggs instead of Worchetershire Sauce (yes it has gluten), I also added some grated garlic.  I grated the onion and garlic and then mixed everything else in my food processor-it worked great.  The meatloaf turned out wonderfully.  For mine I left off the ketchup.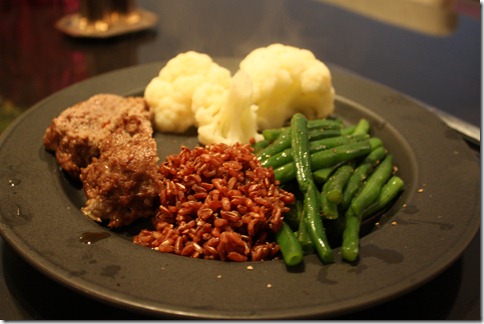 I made some red rice (which tasted like spelt), steamed cauliflower, and green beans sautéed in some coconut oil.  This dinner was awesome.  Shaun made numerous comments about how good it was-he and Lu both got mashed potatoes (thank you frozen section at Trader Joes) and the aforementioned creamed corn-no rice.  He told Lu about 4 times that she was lucky to have such a good cook for a Mom.  So contrary to popular belief meatloaf can be GOOD.
For dessert I tried Mochi again-this time with some preserves, pecan butter, and unsweetened coconut.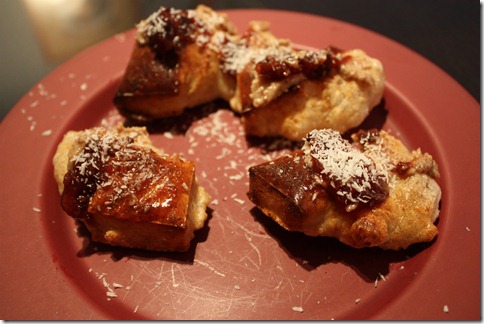 Meh.  I'm still on the search for a god "dessert" that doesn't have sweetener of any kind.
Category: Uncategorized 12 comments »