Our Thanksgiving Ham was huge and I froze 4 one pound bags of meat, one destined for Mac n' Cheese. My friend Sarah made amazing Mac n' Cheese at Thanksgiving but it's a secret family recipe that she holds close.  I only got a little bit of the leftovers on Thanksgiving (my fault-there was plenty) and Shaun was sad so I promised to make him some of his own.  I found the Fannie Farmer's Classic Mac n' Cheese online and I based this recipe on that.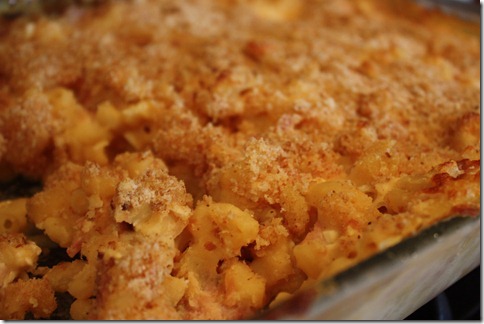 Ingredients:
-1 pound macaroni-cooked
-2 sticks of butter
-1/2 cup flour
-1 tsp salt
-pepper to taste
-3 cups milk (I used whole since it's all we have)
-1 lb medium cheddar cheese, shredded (thank goodness for a Cuisinart!)
-10 ounces muenster cheese, shredded
-6 ounces Mizithra cheese, shredded (this may be a regional thing-it's like a hard goat cheese)
-1 pound of ham cubed (optional)
Instructions:
-Preheat the oven to 400*.
-Melt the butter over medium high heat. Once melted add the flour, salt, and pepper and stir well so that there are no clumps.
-Slowly add the milk while stirring, keep stirring and bring to a boil and boil for 2 minutes (continuously stirring). Stir! Did you get that yet?  STIR!

-Reduce the heat and simmer the milk mixture for about 10 minutes, stirring occasionally.
-Once it's really thick (~10 minutes), add the cheese slowly and stir until melted-another 5 minutes or so.
-Add the cubed ham (optional).
-Put the cooked macaroni in a casserole dish and add the cheese sauce, mix well.
-Bake at 400* for 20-30 minutes or until browned on top.
-I actually used 1/2 cup breadcrumbs on top but I don't think they are needed or necessary.
-Enjoy!
Shhh, even though this is FULL of things that make my tummy go HMMMMM (gurgle, gurgle, POP!), I tasted this. O.M.G. Heaven on a fork.  It should be for all those calories!  Lu and Shaun loved it.  Shaun ate 2 huge plate fulls and rated it 4.5 out of 5.
Seriously, delish.
I actually wasn't planning on posting this recipe since it's so bad for you but I decided that I couldn't keep this from the world

.
Category: Recipes 2 comments »