I seem to have comfort food on the menu this week.  It must be the chilly weather.  Mexican Pasta is an old favorite in my household.  My Dad made it up one day when the cupboards were pretty barren and we all fell in love with it.  He used to make it MUCH more fattening than I do but it was oh so good.  I had to "healthy it up" as this is one of my favorite comfort foods of all time.  I will warn you though, that I described it to a friend at work and he said it sounded absolutely disgusting.  *I* think it's delicious and so does everyone else that's ever tried it.  I'll let you decide what you think.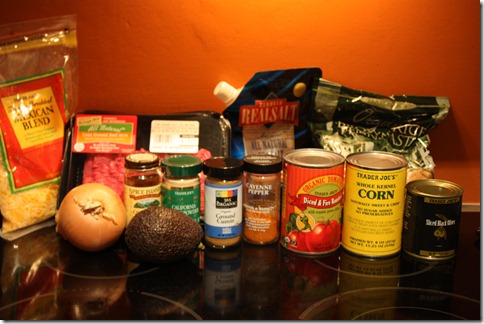 Ingredients:
-1 pound leanest ground beef-if you want to make this veggie you can use 1 can of black beans-it's good this way too
-1 pound of small pasta (macaroni, rigatoni, farfalle-I prefer macaroni. I used brown rice penne tonight)
-1 onion diced
-1 can of diced tomatoes with chilies (chilies optional)
-1 can of corn
-1 can of sliced olives
-1 taco seasoning packet or 1 tsp chili powder, 1 tsp cumin, 1 tsp paprika, 1 tsp onion flakes, 1 tsp salt, 1/4 tsp garlic powder, and 1/4 tsp cayenne pepper (omit cayenne to make it less spicy)
For Garnish:
-Cheese (my Dad used to mix a bunch of cheese in)
-Avocado
-Sour cream or plain yogurt
Instructions:
-Boil water and prepare pasta according to the package.
-While the pasta cooks sauté the onion until translucent, then add the beef and brown.
-Drain the beef/onion mixture if needed (I find 96/4 doesn't need to be drained)
-Add spice packet or spices, mix well.
-Add can of tomatoes, drained corn, and drained olives to meat mixture.
-When the pasta is done, add the meat mixture and mix well.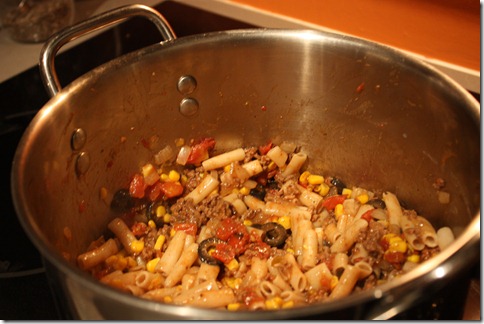 Serve with cheese, sour cream, avocado and Tapatio!  Shaun takes all the fixins':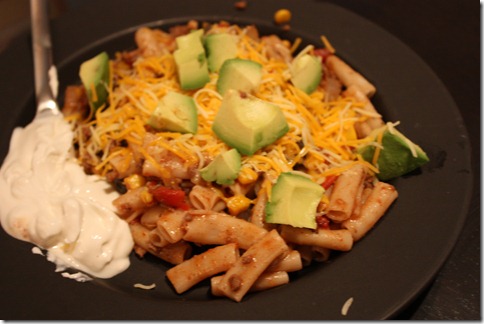 I take just the Tapatio and avocado: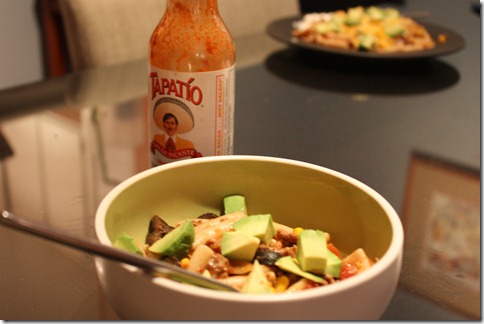 Lucy takes everything but the Tapatio: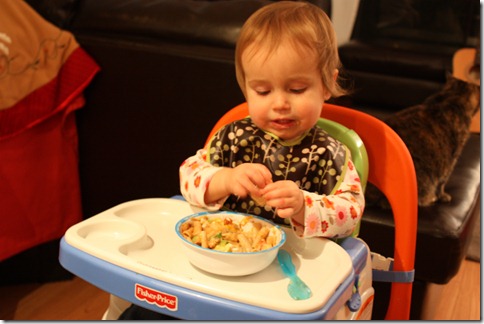 In the future I would omit the cayenne because it was a little too spicy for Lucy.  She LOVED it but kept making a "Woah that's spicy" face as she shoveled it in and drank double the milk that she normally does.
Shaun commented numerous times that this was "Awesome," "Amazing," a "Home Run," and "Delicious".  He even gave me a high five. And? Even with the weirdo brown rice pasta, he gave it 4.5 stars!!! For a meal that takes less than 30 minutes start to finish, that's pretty awesome!
Category: Recipes 16 comments »