I got a call today that Lu had a 102* temp.  100.4 and above is considered a temperature is wee ones and that's when daycare has you come get them.  I went to pick her up and she did have a temperature but she was acting FINE.  I couldn't figure it out. UNTIL…I noticed the swollen gum and bit of white poking through her gum.  She's getting her left upper eye tooth!  Poor thing. 
It doesn't seem to be bothering her:
She's trying to chew the necklace!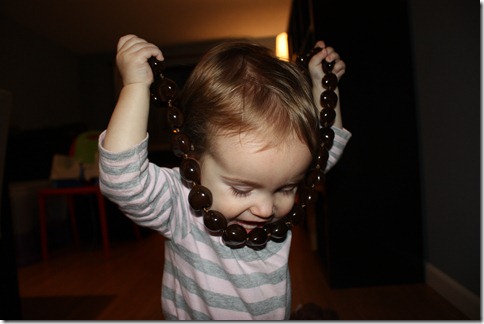 She finally got it!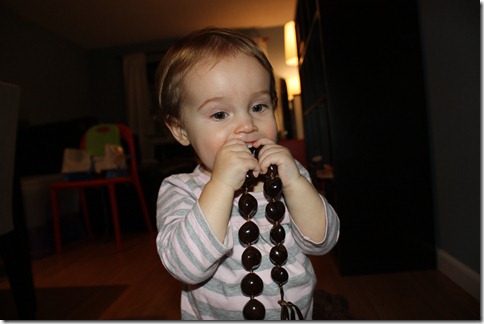 I also took video of her eating Greek Casserole.  I took 9 minutes of film and edited it down to 4.  Don't feel like you need to watch but if you want to see the mad eater in action-this is for you!
After Shaun got home from spin, we had some Mexican Pasta.  Here's Shaun's (yes he really ate all that sour cream):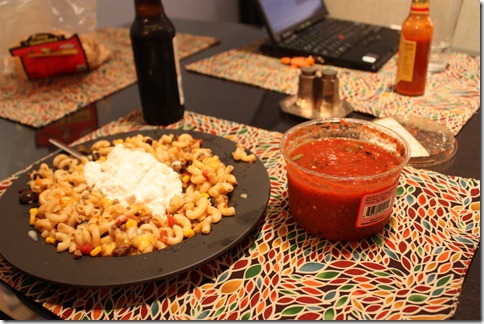 And mine: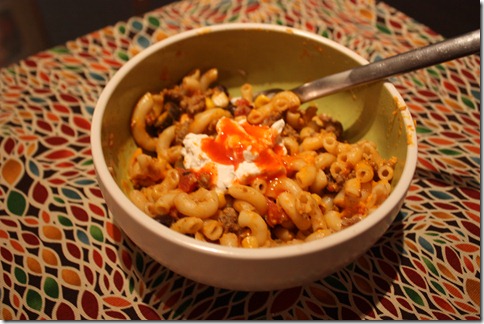 I have to stay home tomorrow with my "sick" kid-they can't come in within 24 hours of having a fever.
Off to go watch something with my honey!
Category: Uncategorized 16 comments »