I had a nice day.  Lu let me work (no working this weekend-YAY!) and we still got to hang out and have fun.  We had a playdate later in the afternoon but before that, I had some vanilla coconut yogurt with Ezekiel cinnamon raisin cereal on top:
My Mom's granola is WAY better.
We met up with Lucy's friend Avi.  Lu and Avi have been hanging out since Lu was 6 weeks old.  Here they are in December 2008-she's in the middle, he's the one on the end with one eye closed:
Here they are today: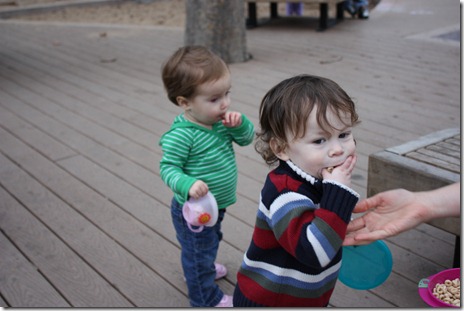 Wow :(  They were so active, it was hard to get a good picture. But you can tell-they've GROWN!
When we got home, I had a piece of toast with peanut butter, pumpkin butter, and cranberry jam.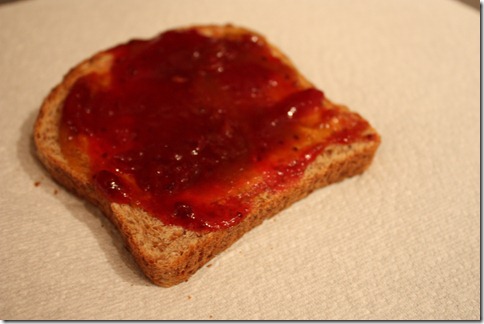 The pumpkin butter was kind of lost 🙁
Tonight's dinner was artichokes: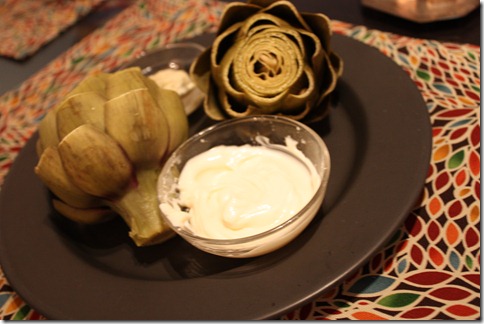 I did eat some mayo but mostly had mine with balsamic vinegar.
I also made steak, roasted brussel sprouts and mushrooms (with EVOO and balsamic) and quinoa.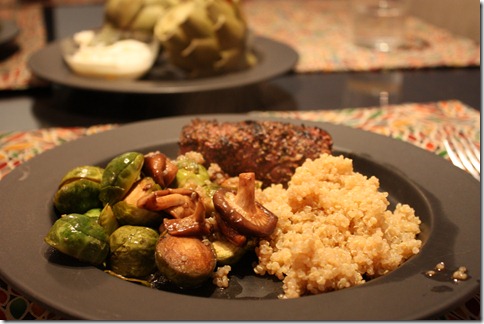 I cooked the quinoa with chicken broth and that's it-it was delish!  I gave this dinner a 5.  It was SOOO good.  Shaun gave it a 4 and said it would have been a 5 if I had made mashed potatoes and cauliflower instead of "fake rice".  He said the "fake rice" wasn't bad but it wasn't as good as mashed tater and cauliflower.  I told him it was called "quinoa" and he said, "to me, it is fake rice". "Fake rice" it is buddy.
I almost broke one of my own rules tonight!  Lu asked for some artichoke and I almost said "You won't like this." BUT! I stopped myself and gave her a leaf.
As you can see, she knew exactly how to eat it (she just copied us) and she LOVED it.  She ate 5 leaves.  She wanted to dip hers in balsamic vinegar (like Mommy) and I let her, expecting a sour face, but I got a "YUMMY" face and she asked for more.  My kid is a total foodie.
Category: Uncategorized 7 comments »